collection
By: leelefever on January 6, 2007 - 10:51am
As we're closing up, I wanted to share a small collection of our favorite photos from the trip. As I posted recently, we took over 14,000 photos over the course of the year, all with a point-and-shoot camera (a Pentax Optio WP). Like all our photos, these are untouched with the exception of minor cropping.

If you'd like to browse more photos, the "photos" keyword brings together our dispatches on this site. Also, you can see all our Top 20, top 220 and/or all 1500 photos we shared on Flickr.

OK, on to our favorites:

This is a Costume Play Kid in Harajuku, Tokyo, Japan.
Snow Flowers while dogsledding near Banff, Alberta, Canada.
This little girl just happened to step right into place at the Amber Fort, Jaipur, India.
A violent curl at Kaena Point, Oahu, Hawaii
A Mongolian Horseman on the Mongolian Steppe. Part of the Trans-Siberian railway.
Kabal Chai Waterfall near Sihanoukville, Cambodia
Cyclo in the monsoon, Hoi An, Vietnam
Thai Boy Fishing Near Bangkok, Thailand
Romance with guitar, Cadaques, Spain.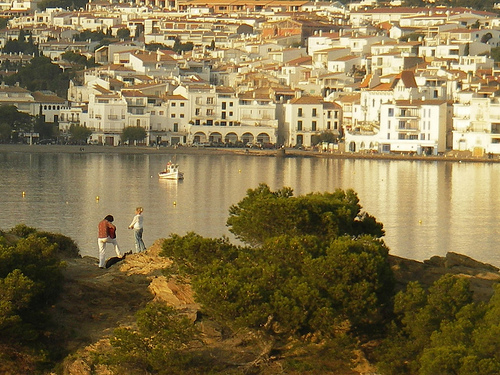 Brother and Sister, Sri Lanka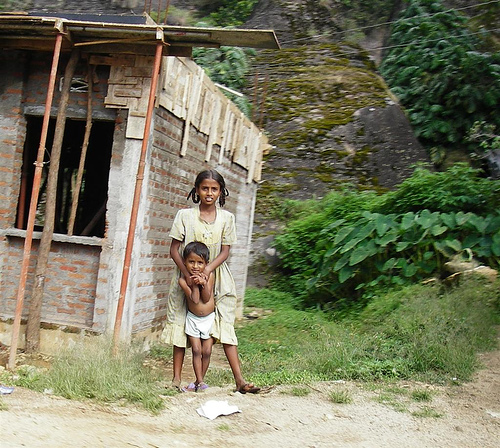 Plumeria, Luang Prabang, Laos.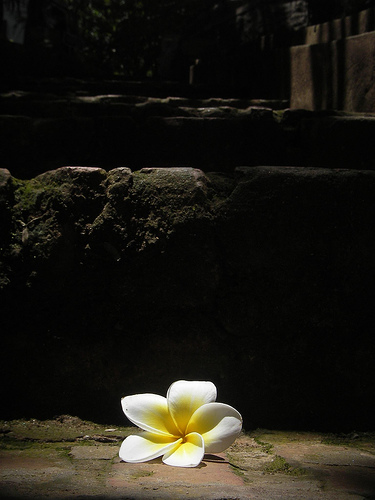 Lofoten Islands Fjords, Arctic Circle, Norway.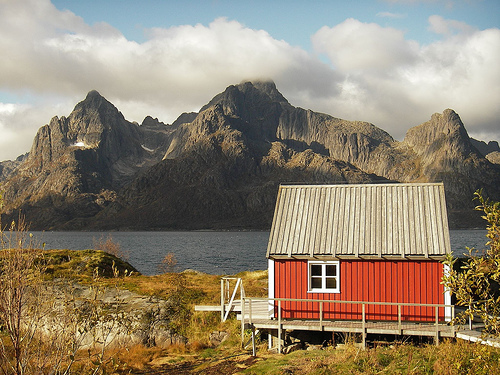 If you like these, I bet you'll dig the panoramas.
By: leelefever on December 29, 2006 - 1:42pm
I'll be posting "best of" photos soon, but for now I wanted to share a few that are not necessarily best-of, but have made an impression on some readers.
This guy in Vietnam with all the LIVE ducks on his motorcycle (next 2 photos) seemed to strike a chord with lots of readers. I couldn't believe how calm they seemed, considering.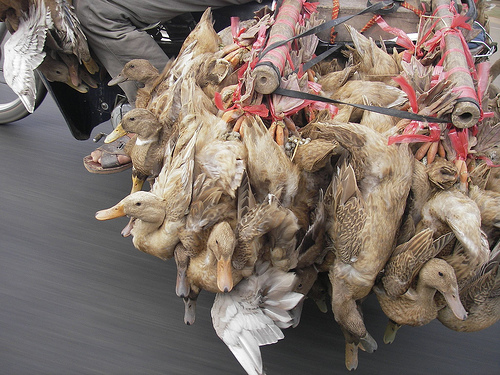 Speaking of motorcycles, this is how I look when I drive.
Speaking of ducks, Mongkol ate this one in Cambodia. A little too, um, mature for me.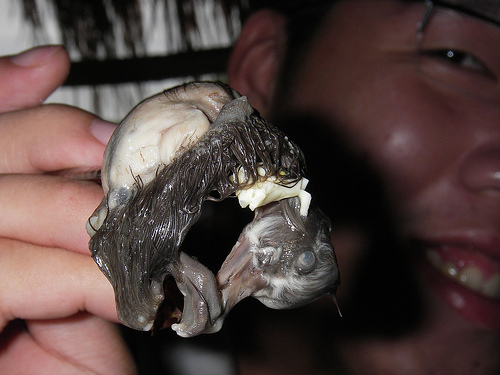 Speaking of eating ducks, this century egg nearly made me barf on video.

The next two photos go together too. As our friend Jeanine pointed out, they offer an interesting juxtaposition of Russia. The second photo is inside a Moscow subway.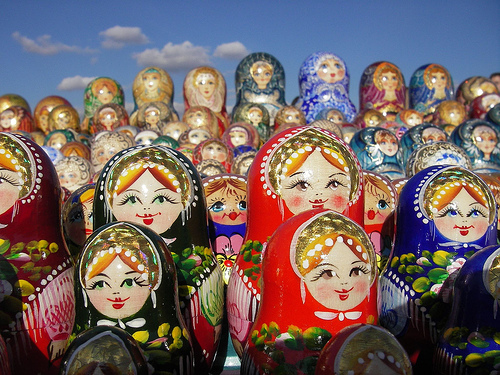 This pier in Koh Lanta, Thailand was not built for this kind of surf and as the waves approached it became rideable. It broke into pieces overnight.
Einstein is huge in Portugal.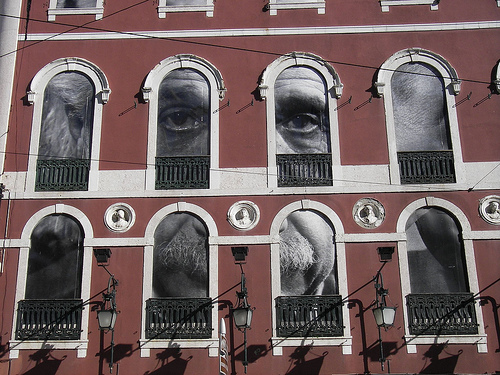 On and on in a crowded elevator.
Purchased at the China/Mongolia border, Johnny Worker was nearly the downfall of a few Tran-Siberian travelers.
This was just before I was decapitated at a hair salon in Shanghai. I recovered fully.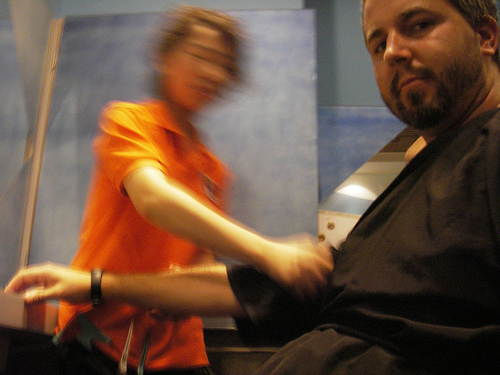 Gender bending Costume Play Kids in Japan. Sometimes cute, but in this case quite scary.
By: leelefever on December 19, 2006 - 10:26am
Over the course of the trip, I put together nearly 100 panoramas, using the Pentax Optio WP (which has a panorama setting) and Panorama Factory software. Here is a collection of our favorites. The country names link to all posts from that country.
Bay of Islands, North Island, New Zealand

Peka Peka Beach, South Island, New Zealand with Maitland.
Franz Josef Glacier, South Island, New Zealand
Doubtful Sound, Fiordlands, South Island, New Zealand
Suncorp Rugby Stadium, Brisbane, Australia
Long Beach, Great Keppel Island, Queensland, Australia
Singapore Rooftop
Sri Lanka, Negombo Beach
Sri Lanka Elephant Safari
Kandy, Sri Lanka, from Hotel Topaz
The Taj Mahal, Agra, India
Mt. Kanchenjunga at Dawn, Tiger Hil, near Darjeeling, India
Rai Lay Beach, Thailand
East Coast of Koh Lanta, Thailand
Koh Lanta Beach, Thailand
Pimalai Resort Pool, Koh Lanta, Thailand

Koh Phi Phi Thailand
Loh Dalam Bay, Koh Phi Phi Thailand
Matsumoto Castle, Japan
Vang Vieng Mountains, Laos
Angkor Wat, Cambodia
Hong Kong Harbour Peak
Three Gorges Dam, China
Henningsvaer, Lofoten Islands, Arctic Circle, Norway
Lofoten Islands, Norway
Lofoten Islands, Norway

Nyhavn, Copenhagen, Denmark
Siena, Italy from the Duomo

The Barrio, Lisbon, Portugal

Cadaques, Spain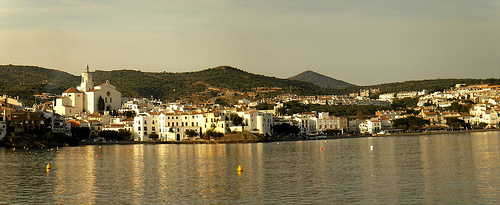 La Seu Gothic Cathedral, Barcelona, Spain

Grand Canyon, South Rim, Arizona, USA

Grand Canyon, South Rim, Arizona, USA
Zion National Park, Utah, USA

Lake Powell, Utah, USA
And finally, I shot this panorama from Myrtle Edwards Park in Seattle just days before we left. During the trip we would look at it sometimes to remember home.

new