gadgetry
By: leelefever on January 3, 2007 - 1:38pm
Throughout the trip, when the inspiration struck, we would type a few travel tips into our phone. The majority of the tips below came from spur-of-the-moment revelations on the road, now in more organized and long form.
Gadgetry:
To save battery power turn off mobile phones - being connected to or looking for the network drains the battery.

The same is true for laptops and wi-fi signals.

Turn em off.
When you get to a hotel room, open your computer and look for an unsecured wi-fi signal.

You'll be surprised often.
Carry two batteries for all gadgets.

Though, a computer battery may be an exception.
If you are using a mobile phone for more than a few weeks in a country, buy a SIM card for a local network when you arrive.

It's what the locals use and you would have a local phone number with free incoming calls from home

If you want to be able to charge more than one gadget at once, get a travel splitter or multiple outlet adapters for each format.

Always think redundancy - back up often and send home DVDs of your pictures.

DVDs hold a lot more pictures than CDs for back-up purposes - 3 times the amount.

Most internet cafes offer DVD burning services.
Invest in lots of camera memory (lSD cards, memory sticks).

You do not want to consistently be hamstrung by a camera that is full of pictures.

A 1GB card with 5megapixel photos was enough for us.
If you have a laptop, move photos from the camera to the laptop daily.

Always leave the room with 2 charged batteries and an empty memory card.
Take your computer to the Internet cafe and plug it into their network with the Ethernet cable.

They will know how.

Europe doesn't allow this, Asia does.
Wrap your computer in some sort of sealable plastic bag before packing it away. Wetness happens.
Keep your valuable electronics on your person when in transit. Don't put your computer in a bag under a bus.
People can't steal what they don't see.

Limit gadgetry use in public.
Hotel Living:
When leaving a hotel, take the complimentaries with you, like coffee, cream, tea, toilet tissue, etc.

Towels, bedspreads and hangers are not complimentary.
Never, ever miss an included breakfast.
Many cheap hotels require that you insert the key into a slot in order for the power to come on. While it saves energy, it means you can't charge electronics while you're out of the room.

Often you can use a business card in the slot instead of a key.
Don't leave the room for the day without a map, local currency, identification and the room key.
Try to resist giving the front desk your key when you leave – this is very insecure.

Notice that when you return, they will give you any key you request.

If your hotel does not serve breakfast, remember to go to a store on the way home at night to get something for the morning.
Unless the city gets full consistently, don't make reservations in advance.

Get there; find your favorite neighborhood and then a place to stay.

If you are going to be in one city for more than a week or so, consider renting an apartment.

A kitchen and washer /dryer are so nice sometimes.
If you know the part of the city where you want to stay, make a reservation in advance for a single night at a hotel in that area, even if it is more expensive. Then, when you arrive, walk around to hotels and find a better deal for the rest of your stay.
For most major cities, two nights is not enough as it leaves only one full day for exploration.

Three nights is usually a good amount if you're on the move. More is better.

The combination of your padlock is a risk.

You may be asked for it if your bags are lost on international flights (they may need to open the bag).

Make it unique - not associated with bank accounts, etc.
When unlocking your padlock for your bag, remember to spin the numbers once so your combination is not displayed for others, like the housekeeper, to see.
General:
Tear unused pages out if your guidebook.
In inexpensive countries like India remember to carry small bills and change - go to a bank to get the change you need. Making change is a pain.
When wandering a new city at night, adopt the moth strategy and go toward the light.
Buy clothes made of synthetic fiber - they are lighter, stay cleaner and are easier to wash and dry quickly.
Days of the week can start to blend together.

The biggest problems happen on Sundays when a lot of businesses are closed and Mondays when museums often close.
In packing your backpack, make sure you pack it the same each time, giving each item a specific place.

When something is missing you'll know.
Buy a backpack that is built for travel and not camping.

The best ones open from the side, allowing access to everything quickly instead of bags that open from the top only - requiring an unpacking to reach the bottom.
A clean and free bathroom is only as far as the closest McDonalds.
Take a flashlight.
In public, you will never be judged or create a spectacle for being too quiet.

This is made more difficult with alcohol.
Look for English language weeklies in cities to find out about events.
Check local pharmacies for prescriptions that are expensive from home.

Beware of fakes in China.
Do like the Spanish and have a siesta.

Explore for a few hours in the morning, nap in the heat of the afternoon and go back out for the evening.

This is sustainable for long periods.
Only rookies get sunburned.

Be liberal with strong sunscreen. Wear a hat.

When getting up from a park bench, airplane seat or any place where you sat, turn around and look back at the area to ensure you didn't leave anything.
Use the local mail service to send home items you are not using.

Most useful when changing climates.
Remember that you can't do everything. Relax, take a deep breath and enjoy what you *can* do.
By: leelefever on May 3, 2006 - 5:41pm
Gen Kanai is a Japanese New Yorker who has been living in Tokyo for about 3 years. In fact, he grew up within a couple of blocks from the Murray Hill neighborhood where we stayed in New York in December.
Anyway, Gen and I know some of the same folks and when plans were made to visit Tokyo, we made plans to meet Gen there. Last night we went out to a very nice and tasty tempura restaurant called Ginza Tenkuni, which has been around since 1885. More on the food in a minute.
What excited me was learning about the Japanese gadgetry. First, we met at the Apple store in the Ginza district and used their computers to find a restaurant. Then, Gen put the restaurant's phone number into his GPS-enabled phone. From that point, the phone guided us to the restaurant with voice commands as we walked through Ginza. In Japanese, the voice from the phone would say "In 50 meters, turn right". I was very impressed. Also, did you know that the Japanese don't use SMS (short message/chat)? They use email for mobile text communications. This is the mobile GPS system...
Once we got to the restaurant, it was obvious that we had entered a very fine and traditional tempura house, which is a bit like a high class sushi bar, but only serving seafood and vegetables fried in a light batter. The quality of food was equalled by the japanese service and ambience that could be described as beautiful. The experience was quite a treat.
One of the dishes I had never had was the fried shrimp legs. They were better than they sound- further proving my point that frying anything makes it better. :)
We owe a big thanks to Gen for his hospitality.
By: leelefever on March 20, 2006 - 7:05am
First, it looks like the we'll be able to use the Treo 650 smartphone from India. Yay!

Second, we were happy to catch Amos on the Skype video cam. To be in Mumbai India and see and hear live video of our dog so easily is almost unbelievable. We do miss that dog.

Third, I am a huge nerd.
By: leelefever on March 3, 2006 - 6:59pm
Sometimes you come across things that are a better mousetrap. If there was an product that needed innovation it is the bathroom hand dryer. I've always had a vendetta against them because they don't dry hands and the incentivize unsanitary practices. Environmentally friendly? Yes. User friendly? No.
In Singapore we have seen an innovation in hand drying that is sure to take the world by storm. It is a hand dryer that actually works quickly and effectively. It's made by Mitsubishi and it blasts the moisture from your hands instead of warming it off. I hope that the bathroom designers of world take notice.
By: leelefever on February 26, 2006 - 1:58am
Well, I am officially now cameraless. The Treo (my phone/camera/mp3 player) is gone and we're hoping to get ourselves back on track soon.
It all started a few days ago in Cairns, Australia. I awoke with a sore throat that got worse over that day and progressed into a full-blown head cold over the next two days. The biggest casuality was my nose, which became chapped from all the blowing.
We were making preparations to leave Australia, which had seen the demise of my normal camera. Though I was still sick, we arrived at the airport bound for Singapore last night. All was good.
I am known for a bit of carelessness and losing things easily and Sachi has been diligent in reminding me to look back at my seat after leaving a spot, so as not to leave things behind.
We sat at the gate for our flight to Singapore and I was writing some notes on the Treo and just before we boarded I went to the bathroom, came back, got my bags and we got in line. Just then, things changed. Sachi asked "Did you look back?" "No, Did you?" "No". We shrugged it off as if our karma would protect us.
Once we got on the plane and taxied to the runway it bacame clear that I had made a huge mistake. I left the Treo at the gate and had the chance to look back and didn't. I am an idiot. Stupid. Stupid. Stupid. Of course, this is an overnight, 7 hour international flight and despite having the captain telex the airport, no one could report the Treo. I called the phone last night and today to no connection.
In just under a week, we lost two of our most expensive and useful gadgets. We arrived in Singapore at about 3AM and slept a restless sleep. The first words out of Sachi's mouth this morning were "I have sore throat". Dammit.
It's OK though. We're in Asia! We have travel insurance and the cold isn't really that bad. I've learned a valuable lesson and we'll mark all this up to experience. This trip will go on and we'll be stronger for it.
The moral of the story is: ALWAYS, ALWAYS LOOK BACK.
By: leelefever on February 21, 2006 - 10:13pm
I had hoped to be posting more underwater shots today, but it ain't gonna happen. We got in the water for more snorkeling on the Great Barrier Reef and I noticed the camera didn't work. I figured the battery was in backward and went on knowing there was a second reef later in the day.

After getting back on the boat, Sachi noticed something ominous about the camera - moisture around the inside of the LCD screen. Water had gotten inside, possibly due to the backward battery preventing a solid seal. When we opened it up, the SD card and battery were dripping. This sucks. I suppose there is hope after a complete dry out, but I'm not confident. For now, get used to camera phone pics. :-(
By: leelefever on February 10, 2006 - 6:29pm
We often battle the technology gods in our quest for connectivity and blogability - it's part of our journey. Sometimes the gods are on our side, sometimes not so much.

Here a snapshot of a battle waged this morning - the outcome is undecided at this moment...

Start up laptop computer, load pictures from yesterday.

Review and save recent blog entry, written in Word.

Plug in USB pen drive, move pictures and post onto pen drive.

Shutdown computer, realize that blog post never made it onto pen drive. Crikey!

Notice that laptop battery is low and there's no time to charge.

Put pen drive in pocket for use in Internet Cafe, sans blog post.

Must make mobile phone (Treo 650) work in Australia - look up closest Vodafone store to buy pre paid SIM card.

Find store, get $10 SIM card, load with $30 of credit and register credit card for easy refills.

Call ahead to make tonights hotel res amid worries of effects of big rugby match.

Feel relief that phone works and hotel near stadium has room.

Test email via Treo. Bugger! Cannot connect - data plan (GPRS) costs extra and cust service is closed today.

Feel tinge of pain from not being able to blog/upload pics easily using Treo.

Note that SMS will work with pictures and test the network by writing an entry called "Tech Battles in Intl Mobile Blogging" to be posted to TwinF via Flickr using SMS.

Hope that messaging will do the trick.

Live to fight another day - and note to charge laptop at next stop.
Updated: Yay! The multimedia SMS or MMS (what Vodafone calls PXT) worked for blogging. I can post to TwinF from my mobile using MMS which posts to Flickr (photo and entry), which posts to this site. How cool. The only thing cooler right now is that our hotel has FREE WIFI. We were the hands-down victors in this battle.

By: leelefever on January 16, 2006 - 12:18am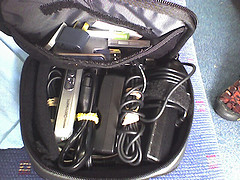 From time to time, I'll be posting about our gadgetry and how it's working for us (or not) on the trip. This is the inaugural TwinF tech report.

I cannot get over how pervasive the cell phone signal is in NZ. It is quite literally everywhere and MUCH better than the US, even to coverage within the Seattle city limits.

Having network access all the time means that our investment in a prepaid SIM card has paid off ($35NZ to get started). By getting a NZ SIM card, we basically use the network the same as the locals. We are using Vodafone.

Calls are .49 NZ

Text Messages .20 NZ

Web/Email by the kb

We have been very happy with how the Treo 650 has performed for mobile email and web access. A couple of tricks I've learned to save $ when browsing the web... disable images (a big help) and hit 'stop' before the page loads completely. I find that letting it get to about 25kb is enough.

Speaking of the Treo... The combination of a 2gb SD card and music player pTunes has made the Treo into a great little MP3 player. The external speaker does the job quite well for hanging out in the campervan.

Here is our blogging process...

We take a lot of pictures and load them onto the laptop. Then, we write a post and save it onto the laptop. We then plug a pen drive into the laptop and move the post and pictures onto the pen drive so all we have to take to a cafe is the pen drive. We sit down and immediately start uploading pictures to Flickr since it takes about 10 mins for 6 photos. Once uploaded, we copy in the entry add the pictures and we're done.

Of course most of the blogging can be done just like this post - by sending a picture and entry to Flickr via email using the Treo, which then posts it to the site. If we wanted, we could easily blog many times a day with the Treo. Sometimes though, we want to share more and better pics.
By: leelefever on January 1, 2006 - 11:59am
Sachi's brother Mark, a super-gadget-geek, is taking care of our dog and house and has hooked up the perfect solution to allow us to get our Amos fix while on the road. It's a video web cam focused on his bed that we can call "call" into using Skype 2.0. Only one person at a time can use it, so we can't expose the feed.
We can even hear sound along with the video and if there were speakers, we could talk to him, but we figure that might drive him crazy. Mark has been using it to watch Amos' movements during the day (he's a sneaky dog).

Mark, can you comment on the set up in terms of what people need to do something similar themselves? Thanks!
By: leelefever on December 6, 2005 - 10:20pm
Updated: The photo below was uploaded during a podcast in real time. Once the podcast is online, I'll link to it and you can list to me talk about posting this photo with my Treo 650. Here is the podcast of our talk.


new