hoian
By: sachilefever on July 30, 2006 - 6:53am
Thank you so much for the birthday wishes! We spent the July Jubilee mostly in Hoi An, Vietnam. We planned to stay for 3 nights, but ended up enjoying 6 nights in this little town. The housekeepers would ask us every day, "What time leaving tomorrow?" Our answer always seemed to be "Two more days." then they would giggle and practice a few more English sentences on us.
We had heard weeks earlier that Hoi An was wonderfully colonial, a pleasant place to shake travel weariness and that we should buy some tailored clothes while we were in town. Tailored clothes? I'm not much of a shopper, and all Lee has been buying are T-shirts to send home, so we thought tailored clothes were a faint possibility. Once we arrived and talked to some tailors, we decided to give it a try with a couple of dress shirts for work – just for fun.
That evening, the monetorium came up in discussion – in saving for the trip for two years, we did not buy new clothes and we would surely need clothes for restarting our careers upon our return home, when our bank account would look especially sad. So, having tailored work clothes made in Hoi An made sense – we could get better quality and fit for a fraction of the price. Picking up our first order was too encouraging – good quality fabric, nice stitchwork, and only US$18 for two dress shirts. By the end of the week we spent US$500.
I know, I know – that's a lot of money. However, think about a decent dress shirt for work – maybe $25 (at the cheaper end of the spectrum in the US) multiplied by 20 shirts gives you a $500 expense. That's 20 shirts for $500, bought in the US.
Now, consider what we got for that same amount of money in Hoi An: Along with 22 dress shirts, add 5 pairs of dress pants…add 3 blazers for Lee…add 2 jackets for me…. And finally, add 6 pairs of shoes, all tailored to fit us perfectly, and with fabrics that we chose. For the price of 20 $25 dress shirts in the US, we got all the items listed above.
With $68 in shipping expense we sent home 50lbs of new wear and were a little embarrassed heading to the post office the morning we left town. We realized we weren't nearly the only ones when we saw stacks of clothing boxes headed out that day.
There are certainly few guarantees – Maybe the fabric won't stand up to weather and washing like our other jackets and maybe our shoes won't last more than a season. However, I'd like to think we're just trying it out, and if it works well, we may be back to Hoi An in a few years with clothing designs and ideas in tow.
By: leelefever on July 24, 2006 - 1:54am
I don't hate ducks, I promise - it just seems that the world thinks that they taste delicious and in some cases, I just take the pictures. The other day we were traveling from Nha Trang to Hoi An, Vietnam via a rented car (and driver- US$120 10 hours). Along the way we were sure to tell the driver when a picture needed to be taken and before long, he was pointing things our for us. Looking up ahead, he turned to us and smiled and said "good picture coming up". We saw a motorcycle and a mass of something hanging off it. A bit like this...
Then, as we got a bit closer, it became clear what was hanging off the motocycle: live ducks who seem to be somewhat calm considering the circumstances.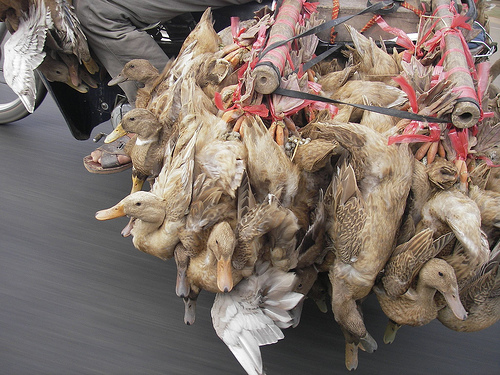 On a more more scenic note, the trip offered a few chances to see the Vietnamese countryside. The Vietnamese really do wear the conical hats, called a "nang".
The farming, in some places, is more traditional than I expected.
A village decided to create a salt farm about 10 years ago and it is now a success story in rural Vietnam.
And the boats in Vietnam seem to be painted the same everywhere - perhaps from the communist/collectivist days?
So, I don't hate ducks, but I do think they taste good and for those of you who have told me to stop eating them- it aint gonna happen soon as China is coming up and they serve ducks-a-plenty.
By: leelefever on July 24, 2006 - 1:44am
Anyone who has spent more than 15 minutes on the streets of SE Asia knows the street hawkers – the people selling goods and services on the street. The most dominant and tenacious of the hawkers are the drivers- people offering rides on their tuk-tuk or motorcycle. Others include people selling sunglasses, drinks or any other tourist consumable. I would guarantee with absolute certainty that the two phrases I've heard most over the last two months are "Sir! Where you go?" and "Sir! You buy something?" This morning over breakfast we denied no fewer than 6 offers for the Saigon Times newspaper.
We've gotten used to it, but sometimes we just want to throw all of our stuff on the ground and pitch a fit in the middle of the street screaming "I have had ENOUGH! NO! I DO NOT want a RIDE or a DRINK or a T-SHIRT and if I do, I WILL FIND YOU!!!! Most of the time though we just offer a polite "no thanks" and walk away.
The situation is not unlike the story we all know of the boy that really, really likes a girl. The girl is not so into him, but politely talks to him and smiles at him politely. The smitten boy of course perceives any interaction as a move in the right direction and pursues the girl with tenacity. He asks her out on a date every time they meet and over time, the girl tires of his advances to the point of becoming annoyed. Little does he know it, but with each interaction he drives her further and further away. Eventually the girl learns that the only way to deal with the boy is to ignore him completely and be leery of other boys like him.
Such is our situation with the street hawkers. With each offer, we find ourselves less and less likely to deal with them or even acknowledge that they exist. Like the smitten boy, they don't realize it, but their tenacity is actually preventing more business than promoting it.
See also: 10 Reasons Why Street Hawkers are Like Email Spam

new