Dog Sledding in Banff, Alberta, Canada
You are viewing one of Our Dispatches.
A Dispatch is a report from our trip. Browse via keywords or global map.
By: leelefever on December 6, 2005 - 3:20pm
Man, dogsledding was a blast. There is something special about dog power - it's environmentally friendly, efficient and a bit unpredictable.
We flipped our sled within about the first minute of the journey.
The route was about 6 miles round trip, we had 7 dogs and 4 people counting Jared, our trusty but rookie guide from Howling Dog Tours. The course was on a road beside a single lake called Spray Lakes (long story about the plural name). The landscape was unbelieveable and we got lucky with a bluebird day. Simply stunning.
The dogs, as we were told, were very friendly and like to give hugs. Upon meeting them, we found them to be very friendly, but not exactly huggable, like, say, a baby koala bear. Hugging one of the sled dogs would be more like hugging a squirming, barking, humping, wild animal that won't hurt you. It is very apparent that the dogs do love to work and are happiest while pulling a sled.
One of the most interesting scenes was right before we left. As the dogs get chained up, the excitement builds. It's starts with a little holwing and a bark, then more barks and soon enough it becomes a full-on chorus of 50+ dogs chomping at the bit to get moving- I could hear "NOW DAMMIT!" in the roar of the barks and howls. Some simply jumped up and down in place to express their excitement.
The shot below was taken right when we arrived, overlooking Spray Lakes. It's one of my favorites lately.
Dogsledding was an experience that we'll never forget and we feel very lucky to have had the opportunity. The Banff New Media Institute and other organizers of Blogs-n-Dogs deserve a lot of credit for a great event. Now, it's back to the blog workshop for another day or so...
And one more for good measure...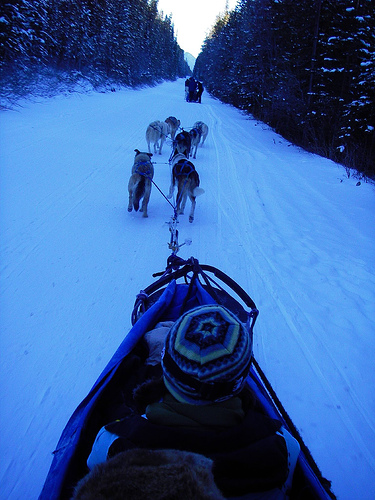 new