Dolphin Encounter, Kaikoura, New Zealand
By: leelefever on February 7, 2006 - 12:00pm
A few years ago, I went to the Bahamas with my family and I did a thing where you "swim with dolphins". These were well trained and captive dolphins in an enclosed area. I think I got a picture of one giving me a kiss. This Dolphin Encounter was much, much different.
Kaikoura, New Zealand is next to a great underwater canyon that goes down over 1200 meters. The waters are nutrient rich and many pods of Dusky Dolphins and Sperm Whales live off the coast of Kaikoura, making it a huge destination for folks like us, wanting to see marine mammals.
Like Sachi said earlier, our goal is to be "in" something and not just watching from afar, like the Kawarau River and Franz Joseph Glacier. This time, a company called "Dolphin Encounter" gave us this opportunity for $125NZ ($90US) per person. Note: Make reservations well in advance.
They suit you up in wetsuits and snorkel gear and take you out to the open ocean and drop you into the water near a pod of wild dolphins that often come investigate. For about an hour collectively, we were in the dolphin's underwater world, watching them through our masks as they navigate just feet and sometimes inches from us. It was an indescribable feeling to see them appear out of the blue and swim by.
What struck us both was that, for a fleeting moment, you got a feeling of connectedness a dolphin or two. They would swim by and turn there body to make clear eye contact and sometimes keep that contact while circling you. As the dolphin encounter people said, we are sometimes entertainment for them, especially since we were ,coached to make "dolphin sounds" underwater, which I'm sure they found entertaining.
The Dusky Dolphins are quite acrobatic and a few theories as to why they jump are: To scratch their back (remove loose skin), attract a mate (they are very promiscuous by the way) or purely for fun.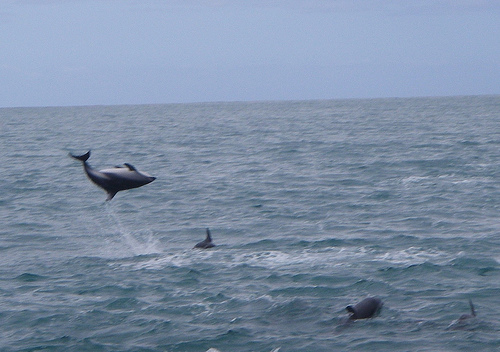 The Dolphin Encounter company is highly regulated by the government and can only allow so many people into the water for so long, so many times a day. The dolphins, though surely not used to swimming with people, are well protected – something New Zealand does very well.

new