adventure
By: leelefever on February 20, 2006 - 12:17am
The Hardy Reef at the Great Barrier Reef is a platform reef, which means that it has reached its full height and is now expanding outward. This means that when you dive or snorkel around it, there is a wall that goes from the surface to the sea floor, which is about 20-30 meters down. Swimming over it felt like flying out over a cliff.
I was in awe. I had never seen such a reef and it convinced me to get SCUBA certified soon, but it won't happen here- not enough time.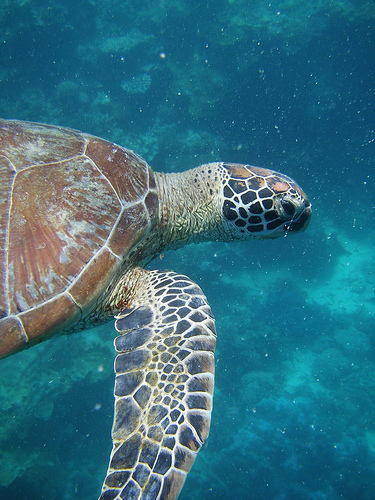 The water, the fish, the coral, all amazing...but what I enjoyed the most was the giant clams, which seems like a rather banal thing to be excited about.
First it was their sheer scale. Despite what you may have seen in a OO7 movie, they don't eat people, but they do react and close up if you get near them. The rings that you see are like tree rings- one per year.
Second was the color. They were by far the most brilliantly colored animals on the reef. Some of them glowed in the sunlight and designers couldn't put colors together more beautifully.
Third was the variety. They say that clams are like fingerprints, there are no 2 that are exactly alike and I never two that were even close.
By: leelefever on February 7, 2006 - 12:00pm
A few years ago, I went to the Bahamas with my family and I did a thing where you "swim with dolphins". These were well trained and captive dolphins in an enclosed area. I think I got a picture of one giving me a kiss. This Dolphin Encounter was much, much different.
Kaikoura, New Zealand is next to a great underwater canyon that goes down over 1200 meters. The waters are nutrient rich and many pods of Dusky Dolphins and Sperm Whales live off the coast of Kaikoura, making it a huge destination for folks like us, wanting to see marine mammals.
Like Sachi said earlier, our goal is to be "in" something and not just watching from afar, like the Kawarau River and Franz Joseph Glacier. This time, a company called "Dolphin Encounter" gave us this opportunity for $125NZ ($90US) per person. Note: Make reservations well in advance.
They suit you up in wetsuits and snorkel gear and take you out to the open ocean and drop you into the water near a pod of wild dolphins that often come investigate. For about an hour collectively, we were in the dolphin's underwater world, watching them through our masks as they navigate just feet and sometimes inches from us. It was an indescribable feeling to see them appear out of the blue and swim by.
What struck us both was that, for a fleeting moment, you got a feeling of connectedness a dolphin or two. They would swim by and turn there body to make clear eye contact and sometimes keep that contact while circling you. As the dolphin encounter people said, we are sometimes entertainment for them, especially since we were ,coached to make "dolphin sounds" underwater, which I'm sure they found entertaining.
The Dusky Dolphins are quite acrobatic and a few theories as to why they jump are: To scratch their back (remove loose skin), attract a mate (they are very promiscuous by the way) or purely for fun.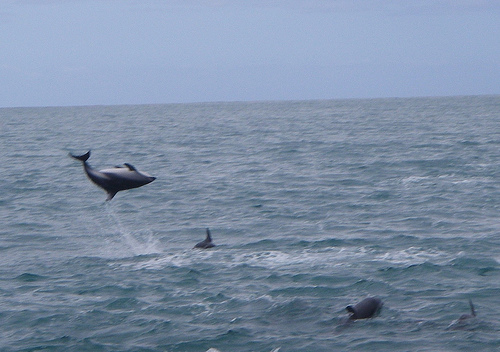 The Dolphin Encounter company is highly regulated by the government and can only allow so many people into the water for so long, so many times a day. The dolphins, though surely not used to swimming with people, are well protected – something New Zealand does very well.
By: sachilefever on February 1, 2006 - 4:36pm
Just about every activity here on the South Island, it seems, can be viewed from the air. There are numerous companies in each town offering seaplanes, helicopters, gliders and small planes that take you up and view the whales, glaciers, mountains or rivers. While this would be great to do, I am much more on the side of getting in close rather than viewing from above.
On the Franz Josef glacier, I wanted to be digging my crampons in the ice. On the Kawarau river in Queenstown, I wanted to be IN the water and rapids. Riverboarding offered wetsuits, lifejackets, helmets, a small boogie board and license to float or tumble your way through the class 2-4 rapids. The cold water rushing over the board felt so good! If any of you have been boogie boarding in the ocean surf, you know that leaning the board is a large part of your control. In the river - it does nothing. You are propelled by the current and have little control other than your fins.
The first few hundred feet of rapids threw me up and down over the waves and had me laughing through the entire section. I could see Lee through most of it. But then, the "Man-eater" class 4 rapid sailed me up and over. I ate it. My board went flying into others' who had found the same fate, and I finally bobbed up after swirling through a whirlpool. I laughed some more and hoped for another. There was a girl and her friend almost crying next to me. I think they were from Denmark.
It was a workout -always trying to swim in the line of the guide, but somehow never getting there in time before the rapid or whirlpool. My muscles are sore the day after and will be for a couple more days I'm sure.
In the café after we finished, we all swapped stories, and the girls from Denmark were adamant they would never do this again. I definitely would.
I wish we had pictures to share, but it was impossible to take the camera amongst the rocks and water, not to mention the need to swim.
Lee has a different story to tell.
By: leelefever on February 1, 2006 - 4:30pm
The river boarding was a great experience, but one that I have more memories of pain than pleasure. The basic idea is that you go down the 6kms (3.7 miles) of the Might Meg section of the Kawarau River with a wetsuit, lifejacket, helmet, fins and a boogie board all with class 2-4 rapids. It cost $129 NZ ($91US) per person through Mad Dog River Boarding.
I thought it might be lame, but I was wrong, very wrong. It was not lame, but somewhat harrowing and scary experience in an adventurous way. My problem was not the water or the equipment, but my body. From the first few hundred feet, my legs began to cramp and for a majority of the 3.7 miles, I was in excruciating pain as both feet and calf muscles cramped – even as the guides yelled to move across the river to avoid dangerous rapids. Had my legs not cramped, it would have been a different experience overall.
At the end, there were a few things you could do to finish off the adventure. One of which was jumping into the river from a 30 foot rock ledge. I love jumping off of things and knew this would be fun. The jump was great, but soon after I entered the water, my left arm exited the shoulder socket, dislocating my shoulder for a couple of seconds, sending unbelievable pain through me as I floated to the surface. Then, trying to fight the rapids to the shore, it happened again. I just wanted to sit on the shore and cry, from pain, exhaustion and from discouragement. Looking back, it's an activity I would recommend for those that are prepared for a physical, strenuous and a bit of a scary adventure. Some people cried while doing it, which is a sure sign it's not for everyone.
Sachi has a different story.
By: leelefever on February 1, 2006 - 4:22pm
I have a bit of a mental issue with Queenstown. I want to call it Queensland, which is in Australia. My brain will not allow me to call it anything but Queensland, leading Sachi to say things like "Maybe it's like that there too, in Australia".
QueensTOWN is known as one of the adventure capitals of the world. It was where bungy jumping was invented and has since spawned all sorts of adventure activities, some borrowed, some invented.
Among all the choices, we narrowed it down to two- things we'd never done and might not be able to do in other places around the world. They were jet-boating and river boarding.
The jet boating is one of the "big four" activities that people do in Queenstown, which also includes Bungy Jumping, River Rafting and Sky Diving. It cost $99NZ ($70 US) per person and included about 25 minutes on the water, run by Shotover River Jet, which is the best, from what we heard.
The boats are an amazing piece of machinery. They are like jet skis that hold 14 people have twin v-6 engines and can go in 6 inches of water. I've never seen anything handle like that, as they cruise through a gorge only inches from rocks. The combination of incredible speed, impressive scenery, precision driving made for a great overall experience.
By: sachilefever on January 26, 2006 - 1:51pm
The weather has been on our side – knock on wood. As we ended our hike in Abel Tasman, it began to pour and continued to drench the tent campers all night. We hid in Squeak all warm and cozy till the morning – as we planned to even without the rain.
Now, in Franz Josef village, the sun chased any clouds away and we headed up the glacier that was named after the Austrian emperor whose white beard it imitated.
It's a strange feeling hiking up a glacier. Ice stairs have been carved for your crampon wrapped boots. Climbing ropes act as make-shift and loose railings. You are part of a line of 7 folks venturing up these stairs together, some right behind the other, others leaving a few steps leeway. Four ladder bridges cross crevasses that seem too far down to look.
The sun is warm, so no one wears their jackets, but there is a light wind coming across the glacier that is ice cool and refreshing just enough that you forget the sunburn developing on your face.
Apparently, the glacier is advancing, unlike most in the world. We heard 2.5 months ago it was 30 meters shorter than it is now. The guides are constantly maintaining, with a large ice axe, the stairs and walkways and ropes. One guide mentioned that each stairway up the face lasts between 3 and 30 days, and then they carve out a new one. We could see the remnants of melting staircases across a crevasse on the left and then another on the right – a little spooky. When will the staircase we're standing on now be deemed unusable?
We went with Franz Josef Glacier Guides, which we found very professional and fun.

By: leelefever on January 16, 2006 - 4:43pm
As were getting a quick safety training session for the whitewater rafting, Puala asked if I had been whitewater rafting before. Unlike Sachi, I had not. Paula, one of our guides whispered to me with a devious look in her eye "don't worry we'll pop your cherry gently." I suppose it was gently considering the part of the Kaitunu that we did was a class 5 rapid and at 21 feet, has the highest commercially rafted waterfall in the world. Gently indeed.
This is river surfing..
We went with Raftabout, in Rotorua, which is one a few companies that do the Kaituna. The cost was $75 NZ per person, plus pictures. We enjoyed the folks and certainly the trip with Raftabout.

By: leelefever on November 4, 2005 - 6:23pm
We took a trip back to Sachi's teen years and went up to Maunawili Falls, which is on the other side of the mountains from Honolulu, across the Nu'uanu Pali. We stopped at the lookout and took this panoramic shot.
The falls are at the end of a 1.5 mile trail into the jungly mountain forests. The trail itself was pretty treacherous with the mud that was like lubricant. I swear, if you could straighten out the trail and take out the roots, you could take a running start and slide all the way to the falls.
The water was yoo-hoo colored from the recent rain. It's supposed to be green and a little more pretty. It didn't stop me from getting in and jumping off a few times. Some locals came gave me the run-down on the rocks, or more specifically, avoiding the rocks.
Apparently, this made me an honorary local.
Updated: You can watch a video of the jump.


new