art
By: leelefever on January 2, 2007 - 3:40pm
I wrote this just before coming home and it's hard for me to post it because I don't want to sound completely ignorant of art. I think my feelings are related to a distaste for the art critic establishment (or what I know of it).
---
I suppose you'll say I'm shallow, or cynical or lack sophistication, but I am not moved by the majority of contemporary art I've seen lately – particularly multimedia art. Yesterday we went to MACBA (Barcelona's contemporary art museum) and I left exasperated and with a crinkled brow after seeing slideshows, films, photos and sculptures that, aside from the meaning assigned to it, seemed to mean or symbolize very little for me. I think I'm growing tired of feeling like I'm supposed to feel, see or "get" something that I simply don't.
Over the past year, we've both tried to take a de-mystified look at the world we've seen and I think it has extended to art in some cases. This means looking at something in terms of what we really see or feel and not what we're supposed to see or feel. In MACBA, it frustrated me to read the cards by an art expert or the artist that decodes the artist for the layman. An actual example:
Though his oeuvre is difficult to classify in one specific tendency, it possesses a significant conceptual component that expresses displacement and lack of communication and thus a negation of the very existence of contemporary society.
Oh, I get it now. He is negating the existence of contemporary society.
For multimedia art, I don't want to have to be told that there is a statement about the world hidden in the slides of suburban Reykjavik. To me, it looks like a slideshow of houses in Iceland. That is, of course, until I'm again enlightened via a laminated card about the piece.
Aside from the artist's peers, art critics and the artists own statements, I wonder how meaning or statements would be derived? How closely would the artist's vision of the piece translate to those of us that operate outside the art world? And, if meaning is only derived from those privileged few, does it matter that I don't get it? Is it even supposed to have meaning for me?
Here's an example. This is a 22 second video from a Tokyo subway station. Is it art? Does it affect you? What does the experience of this piece make you feel about the world?
Now, consider the exact same video. Only this time, consider this statement:
The artist is clearly making a statement about the closed and oppressed nature of Japanese society. The commuters are being closed off from the rest of the world - even as they are squeezed from every side to fit in behind society's closing doors. It makes painfully clear the nature of the Japanese experience.
OK, maybe you see it a little differently now, maybe not. You know what though? This is what I was thinking when I shot this video – er, this was my vision for this piece:
I wonder if this is rude to video these people? Man, that train is crowded. I've really got to hold this camera still. Oh look, she's wearing mask - that will be interesting. They are so quiet. It is ever going to leave? I'm getting hungry.
My point is to illustrate how a lot of the contemporary art we've seen makes me feel by assigning extraordinary meaning to a video that was never intended to have deep meaning in the first place – it is just a video of people on the subway – right?
Perhaps I lack depth, intellect or an eye for art, but some of it just doesn't move me and I'm not going to pretend that it does just because its how I'm suppose to feel. The art establish may agree that a piece is a statement about transcendence of gender roles in urban civilizations, but to me, it's still just pictures of old people in a park. And I am OK with that.
By: leelefever on November 18, 2006 - 3:40pm
You've likely seen the people who paint themselves silver and pose on a box to earn spare change. The folks in Barcelona takes this whole idea to whole new level. The creative, the absurd, the animated, the banal, it's all there and it's all just so weird.
Correction: In the video, I mention an article by a UK paper called the Guardian. I meant to refer to this article in the Independent - not the Guardian.
By: leelefever on November 15, 2006 - 2:05am

"The graffiti people should be hanged" – that is what I heard from a business owner in Lisbon, where graffiti is starting to take over nearly every inch of space in the Barrio Alto area of the city. Walking through the Barrio, the graffiti is so dominant that it starts to blend into the look of the streets as if it is a mélange of paint and shapes. In some ways, it gives the Barrio a unique and atmospheric feel while at the same time being messy and senseless. Mostly it's messy and senseless.
And so it is for a lot of Europe from our experiences. In nearly every city we have been saddened by the amount of graffiti sprayed onto walls with aerosol cans in languages that we mostly don't understand – except the popular "Bush" reference. Some locals don't really mind – it's as if it is a part of living in the city. Indeed, it seemed that they had stopped noticing it and accepted it as normal and acceptable. For me, it is mostly not acceptable even realizing that graffiti has been around since the ancient Roman Empire.
I have enough of a counter-culture lean to like some forms of graffiti. It is an art form and there are incredibly talented people who do their work with aerosol cans and public walls. Unfortunately, these are the exceptions. 99% of the graffiti we've seen is not an attempt at art, but what appears to be late-night scribbles by disaffected individuals that wish to state publicly their discontent with politics, football, the environment, their personal lives, etc. This is the sad and ugly graffiti that plagues Europe.
There is of course, a beautiful side as we saw in Paris and Lisbon. Stencil graffiti, works done by spraying paint over a pre-cut piece of paper or cardboard, can produce artful, beautiful and interesting visual experiences. This is the graffiti I respect.
Jef Aerosol, in Paris has been doing stencil graffiti in Paris for a few years and we ran across some of his works just off Rue Mouffetard in the Latin Quarter.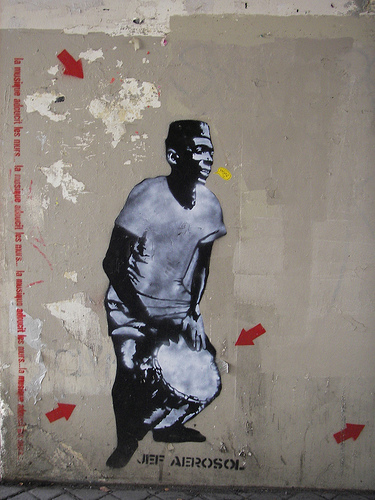 In Lisbon we saw a few pieces that I really enjoyed – particularly this one of the painter covering himself.
A few others struck me too.
In Seattle, where graffiti is also a problem, there is a city law that business owners must cover graffiti within a set amount of days or face fines. As it turns out, Europe has similar laws and Britain has led the way with the Anti-Social Behavior Act of 2003 which was is similar to a piece of potential EU legislation with the aim to:
…eliminate dirt, litter, graffiti, animals' excrement and excessive noise from domestic and vehicular music systems in European cities, along with other concerns over urban life.
The sad reality from our perspective is that graffiti appears to be taking over the walls of Europe's cities. Art, beauty, or not, I hope that something can be done because the experience of the visitor to these historic places is being altered in a way that reflects a feeling of degradation or mis-care. It appears that some cities are taking on the look of a "bad neighborhood" and nobody wants that.
Sometimes though, graffiti has a way of stating something that just wouldn't be as appropriate any other way...

new