lisbon
By: leelefever on November 15, 2006 - 2:05am

"The graffiti people should be hanged" – that is what I heard from a business owner in Lisbon, where graffiti is starting to take over nearly every inch of space in the Barrio Alto area of the city. Walking through the Barrio, the graffiti is so dominant that it starts to blend into the look of the streets as if it is a mélange of paint and shapes. In some ways, it gives the Barrio a unique and atmospheric feel while at the same time being messy and senseless. Mostly it's messy and senseless.
And so it is for a lot of Europe from our experiences. In nearly every city we have been saddened by the amount of graffiti sprayed onto walls with aerosol cans in languages that we mostly don't understand – except the popular "Bush" reference. Some locals don't really mind – it's as if it is a part of living in the city. Indeed, it seemed that they had stopped noticing it and accepted it as normal and acceptable. For me, it is mostly not acceptable even realizing that graffiti has been around since the ancient Roman Empire.
I have enough of a counter-culture lean to like some forms of graffiti. It is an art form and there are incredibly talented people who do their work with aerosol cans and public walls. Unfortunately, these are the exceptions. 99% of the graffiti we've seen is not an attempt at art, but what appears to be late-night scribbles by disaffected individuals that wish to state publicly their discontent with politics, football, the environment, their personal lives, etc. This is the sad and ugly graffiti that plagues Europe.
There is of course, a beautiful side as we saw in Paris and Lisbon. Stencil graffiti, works done by spraying paint over a pre-cut piece of paper or cardboard, can produce artful, beautiful and interesting visual experiences. This is the graffiti I respect.
Jef Aerosol, in Paris has been doing stencil graffiti in Paris for a few years and we ran across some of his works just off Rue Mouffetard in the Latin Quarter.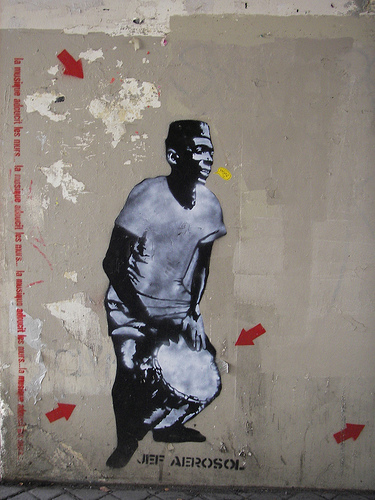 In Lisbon we saw a few pieces that I really enjoyed – particularly this one of the painter covering himself.
A few others struck me too.
In Seattle, where graffiti is also a problem, there is a city law that business owners must cover graffiti within a set amount of days or face fines. As it turns out, Europe has similar laws and Britain has led the way with the Anti-Social Behavior Act of 2003 which was is similar to a piece of potential EU legislation with the aim to:
…eliminate dirt, litter, graffiti, animals' excrement and excessive noise from domestic and vehicular music systems in European cities, along with other concerns over urban life.
The sad reality from our perspective is that graffiti appears to be taking over the walls of Europe's cities. Art, beauty, or not, I hope that something can be done because the experience of the visitor to these historic places is being altered in a way that reflects a feeling of degradation or mis-care. It appears that some cities are taking on the look of a "bad neighborhood" and nobody wants that.
Sometimes though, graffiti has a way of stating something that just wouldn't be as appropriate any other way...
By: leelefever on November 13, 2006 - 10:30am
Grilled fish and local cheese – that's what we heard we should experience from people like Nancy White and local Bev Traynor before visiting Portugal. They were right – within a few hours of arriving we asked our hotel about a non-touristy restaurant and they sent us to a place they described only by the address "#94" and an assurance that it wasn't "touristical". The first thing to hit the table in the flourescent lit room was a small wheel of delicious goat cheese that was followed by grilled "Rockbass" – surely the best grilled fish I've had.
But Lisbon is not just about food, but atmosphere. The sidewalks of the city are absolutely covered by black and white 2 inch square cobblestones in every imaginable pattern, all placed by hand. This makes the city appear to be a giant mosaic.
Most of the atmosphere of Lisbon must be felt, smelled or experienced – things that photos cannot capture. It is the sort of city that is perfect for wandering and letting the winding streets and scenes of real life seep into you. You need not visit a single museum to see the best of Lisbon – it happens every day on the streets and in the stand-up cafes.
Alas, we did take a lot of photos and these are some of our favorites…
This is a panorama taken while looking down a long set of stairs Lisbon Castle: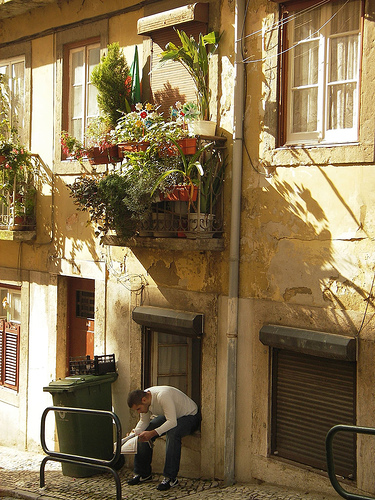 Albert Einstein is HUGE is Portugal...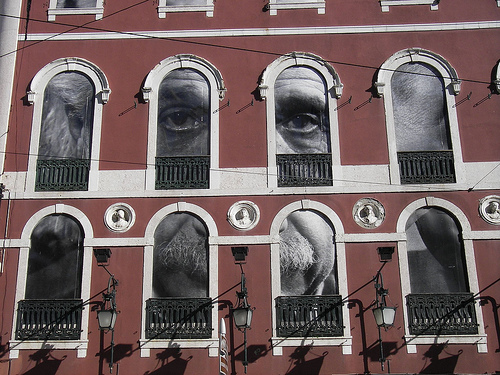 These kids lost their ball on this balcony, so they pushed the little guy up to get it and let him dangle until he dropped. He was not happy with them.
One of our last photos from Lisbon as we waited for the Aerobus to whisk us away to the Airport at Restauradores.
By: leelefever on November 10, 2006 - 3:49pm
Yesterday at 4pm we had a plan for the next morning - we were going to catch a 7 hour train to Tavira in Southern Portugal. Then, we would use busses and trains to make our way to Barcelona via Granada and Valencia over a couple of weeks (quite slowly as it takes forever by train).

Long story short, tonight we are near the French border in the coastal village of Cadaqués, Spain, northeast of Barcelona - very far from Portugal (in fact a flight, train and bus ride from Portugal).

In a few short hours our plans changed completely when we realized that the prospect of more day-to-day travel sounded a bit too much. We've been rolling through cities every few days for months and we need a vacation from the constant travel if we're going to make it to Christmas. So we bagged our plans, got flights to Barcelona and rented an apartment for a couple of weeks. We "move in" to our Gothic barrio apartment on Sunday which gives us a weekend in Costa Brava and Cadaqués - the home of Salvador Dali.

We're both excited about Barcelona and some time to take in a city for more than a few days. We'll have a kitchen, washer and dryer and the closest thing to home we've seen in a very long time. Aahhhhhhh.

(The photo above is a Spanish guitarist we just saw perform tonight in Cadaqués).
By: leelefever on November 9, 2006 - 2:56pm
The above headline in Portuguese reads: "Democrats oblige Bush to look at what he has done in Iraq."

It has been rather strange to watch the mid-term US elections from Portugal. On the morning of the 8th, I got up early, like a kid on Christmas, to see the early results and went back to bed with satisfied thoughts of a Democratic House and the defeat of Rick Santorum in Pennsylvania. Since then, we've been checking in on the headlines, but I think we both miss the analysis (which I imagine most Americans are already sick of). More than anything else, I want to be able to watch The Daily Show with Jon Stewart right now and experience something close to the moment we all hoped for in 2004. I'm sure he has a lot to say.

The election is of course huge news here too. One of the guys that runs the hotel here said it is the top story on the radio, newspaper, TV, etc. From what we've heard many, many times on the trip, we think this election will make some sense to the Europeans. Most of our friends in Europe were completely baffled by Bush being elected a second time. They often say that it seems impossible because they have never met an American that likes him. Our response is usually something like "Well, remember that something like 80% of Americans do not hold a passport".

We both will take some satisfaction in returning home to a government with a different agenda and with a not-so-subtle message having been sent to W from our countrymen. Home is looking better all the time.
By: leelefever on November 9, 2006 - 7:31am
Sometimes things just come together in the most timely ways. Yesterday we stopped by an Internet cafe in Lisbon to check in on the mid-term US elections (Yay!) and found an email from our friend in France, JF Groff. JF had contacted his friend Andre in Lisbon (whom he met at a tech conference) and alerted him of our arrival. In turn, Andre contacted us with an offer to get together in his hometown. I got Andre's phone number and within a few hours we went from being alone and wandering to experiencing Lisbon with Andre and his girlfriend Batixa in their 4 door Smart car.

From their favorite pizzeria to gourmet desserts and a bit of nighttime sightseeing, Lisbon became a different place for us - and all we did was check email.

Andre and Beatrice, thanks so much for taking the time to hang out with us for a night - we had a blast and count you as great friends. I'll remember too that Portuguese dogs say "Ão! Ão!"

new