siemreap
It's safe to say that we have a love/hate relationship with tuk-tuk drivers. They are the most annoying part of being in public in Asia, but they can sometimes offer a good time and a good laugh. When we arrived in Siem Reap Cambodia, we happened to meet a young guy named Wei that ended up being our tuk-tuk driver for three days- and boy did he end up earning his money.
On the third day, we wanted to get off the tourist trail a bit and asked about some ruins called Beng Mealea that are about 2 hours outside of Siem Reap. Wei told that he had never driven a tuk-tuk there, but he would do it for us. We left at 7:30am the next morning.
Wei is a handsome guy and every time we would leave him to do some sight seeing, we'd come back to see a pack of Cambodian girls around his tuk-tuk. He said "all they want is my money", with a coy smile. His English skills and good nature made us like him too and we felt a little bad to put him through so much.
The Beng Mealea ruins have only been open to tourists since about 2001 because of land mines. The attraction is that they are mostly untouched- viewed in the condition that nature left them for some 800 years. Like most things in Angkor- an incredible sight.
Within about one minute of arriving back at the entrance and waking up Wei, it began to rain. It rained very hard for a while and then let up, so we decided to make a move toward Siem Reap. At first, Wei refused a rain coat, perhaps wishfully thinking that it would not be needed. We choose to close ourselves into the tuk-tuk and stay dry. Along the way it rained a bit more, but there was an ominous could hanging on the horizon in the direction of home. It did not look good.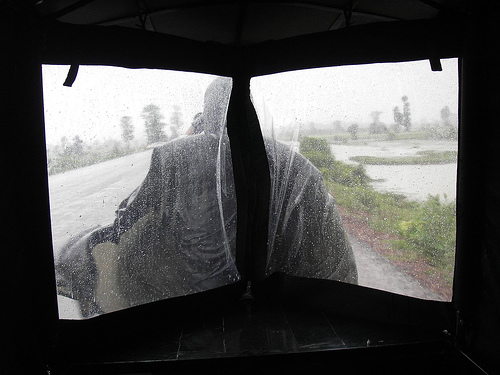 About an hour from Siem Reap, Wei decided to put on his poncho and braved some fierce winds and rain without a whimper. I stuck my head out a couple of times and told him it would be OK to take a break. He told me not to worry about it and continued to power on, holding one hand over his eyes to see. It just rained harder and harder and we could only wonder what it must be like on the front of the tuk-tuk. Wei was showing his determination in the face of adversity.
Just minutes from home, it seemed like a hurricane had come ashore in Siem Reap. I have never seen rain come down harder- it was as if the wind was blowing directly downward onto the ground, splattering the drops into mist upon impact. The Cambodians are used to monsoon rains, but the ones around us were visibly shaken by the force of this rain and wind.
Wei had had enough. He stopped and came around to the open back end of the tuk tuk with a smile- letting us know that he had given up for a while. We laughed until we felt the tuk-tuk convulse a couple of times. It was being shaken by Wei's shivering. The water had sucked every bit of warmth out of him and he was miserable. He finally climbed into the warm and dry cab of the tuk-tuk with us to recover before finally making it home.
We had to hand it to him- he tried his best to get through the worst that nature could offer and he did with a smile. We tipped him well and told him to spend it on a party with his friends, where he could tell stories about being his battles with the monsoon.

3AM: Lee wakes up to watch last half of World Cup finals. Goes back to sleep happy for Italy and wishing bad, bad things for Zidane.

6:30AM: Wake up and pack.
7:05AM: Go to front desk to check out and order breakfast to go. Find only one worker- a bar keep. Order is placed as kitchen shows no signs of life.
7:15AM: Take bags to front desk... Food is being cooked slowly, checkout process begins, slowly. Feel anxiety about catching 7:45am bus.
7:35AM: Breakfast is done, but no takeaway containers. Must wait for someone to run next door. tick-tock tic-tock. Finally board the backs of two motorcycles (motos) for the bus station. Board bus with little fanfare.


8:15AM: Cambodian karaoke plays on the bus TV and sound system.
11:15AM: While arriving in Phnom Penh, Sachi notices a large stream of ants traveling up and down the window on her left as the woman beside me utilizes a third bus-supplied barf bag. Sachi feels thankful for motion patch.
11:55AM: Arrive at first bus station in Phnom Penh only to reboard same bus to go to main terminal to catch new bus for 6 hour ride to Siem Reap. Our bus to Siem Reap is full. Walk to other bus companies, find another 12:30 bus to Siem Reap for US$7 per person.
12:48PM: Depart Phnom Penh for Siem Reap with an ETA of 5:30pm. We'll see.
1:48PM: This bus smells like urine and the AC doesn't keep the sweat away.
3:35PM: Lee commences all out assault on bus toilet door, which swings open incessantly just feet from his seat. After closing it for the 12th time, resolves to find a solution. The urine smell will be defeated!
4:17PM: Lee breaks a new sweat with each close of the toilet door. No one seems to appreciate the effort.
5:43PM: Lee continues to be mocked by the bathroom door and it's rank smells. Despite fastening a canvas strap supplied by the bus people (a victorious solution), a steady flow of fellow passengers fail to recognize our plight and the door remains open for most of the time. Grrrrr. Lee admits defeat in the final moments.
6:10PM: Arrive in Siem Reap and into the typical SE Asian madhouse of tuk-tuk drivers, bags emerging from the belly of the bus and astounding inefficiency. We take a tuk-tuk to our hotel and retire for the evening after spending 10 hours on Cambodian busses.
The reviews of Angkor Wat are invariably the same. The words "stunning", "amazing", "incredible" abound, as do comparisons to the levels of human achievement that produced the Pyramids at Giza of Egypt and the Taj Mahal in India. Our hopes and expectations were high, perhaps too high, because Angkor Wat was not all that we thought it would be. Perhaps we have temple fatigue.
Angkor Wat is a site that should not be missed on any trip to Cambodia and I do not mean to diminish it's reputation. It is huge, it is impressive and it is very old. However, it just didn't measure up to the sky-high expectations. The towers, when you are standing next to them, didn't seem as big or ornate as I expected. I also didn't expect that the corner rooms at the base of two of the towers would be used a toilets. Your milage may vary, but we enjoyed the other ruins at Angkor much more than Angkor Wat itself.
Our favorite of the temples near Siem Reap was Ta Phrom, where the ravages of nature have been left for our enjoyment. Much of Angkor was overtaken by jungle in the 1000+ years since the temples were built and most have been cleared of organic matter. The trees and roots of Ta Phrom are still very much a part of the scene and make for a magical experience that seems like something out of a movie. There is something special about seeing life overtake these structures over so much time. It reminds me of candle wax dripping over the stones.

new