signs
Goofy Signs and Menus from China and Japan
by leelefever (General | china | food | humor | japan | photos | signs)


I think the locals thought we were weird when taking pictures of signs and menus. We were reminded how sensitive language is - replace a few words with synonyms and the results end up a tad off target and usually hilarious.


This was just before boarding a cable car in China:
Also in China, at the Three Gorges Dam. Billions of dollars on the project and they couldn't hire a translator for the sign every tourist sees? Welcome to China. The guy in this photo is Miles Hilton-Barber, Blind Adventurer. Perhaps the most amazing person I've ever met. He didn't turn over.
Concern for the relics I get, but the railings? This is from the Summer Palace near Beijing. The railings were not relics, by the way.

At Yellow Mountain in China, this is truly an earnest request.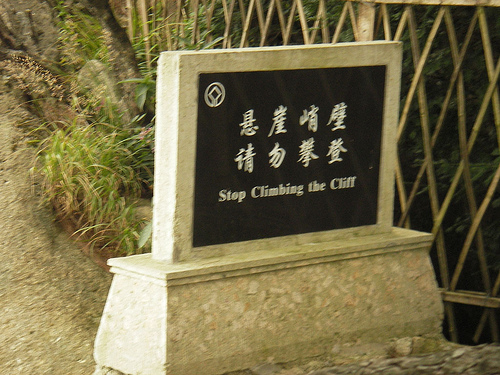 Don't worry, I didn't take it as a compliment, really. From a crappy state-run hotel in Guilin, China.
Yes, China star-rates toilets. Seriously - it was still not great. This is inside the Forbidden City in Beijing.
Menus offered a near-daily source of laughter. This one is from a Dim-Sum menu in Hong Kong: Minced crap (I think they mean crab)
Yes, in fact, that is a cute potatoes with butter. Japan.
I'm just not sure what this is supposed to say. Japan.
Even when Japanese is not translated to English, it has a completely unique style. This is from a hiking trail in Tsuwano, Japan. See if you can decode it...

This was my guess:
1. Scrape the bottom of your shoe
2. Place scraped matter in your hand
3. And smoke it?
I love the design of this Japanese subway sign, seriously.
Stop using rocket shoes. From Osaka Buffaloes Baseball game.

Baseballs hurt. From Osaka Buffaloes Baseball game.
If I could do the trip over, I would build a catalog of crosswalk signs. They exist in every country in different forms along the same lines. This one obviously warns people to watch out for George Washington crossing with a devil child. Japan.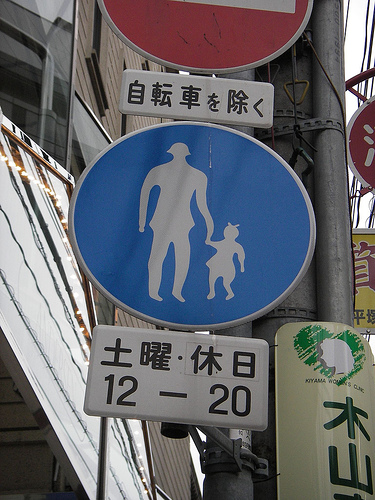 No one wants to see Pac Man drunk. Waka waka waka (hiccup). Japan.
And finally, if you're wondering what strategies Sachi and I will employ when we combine forces in 2007, this describes it perfectly:
Without yours, our trip would not have been then same- thanks.

In Japan: Signs are Endlessly Entertaining
by leelefever (General | humor | InJapan | japan | signs)


The Japanese seem to have a special way of expressing themselves when it comes to signs or placards. While most are normal signs, some are beautiful in their own way, some are hilarious and some are just weird. Here are a few we've seen:

We saw this on the way into a subway. Its design is something I'd like to have on a t-shirt:
Everytime I see this crosswalk sign, I think that we're being warned to watch out for George Washington crossing the street with a devil child.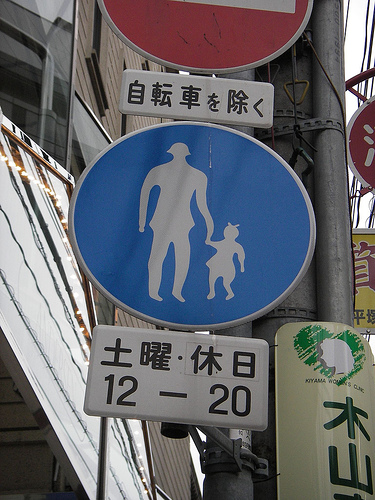 In Japan, you should be sure to STOP using rocket shoes!
Oh, and in Japan, you should never let Pac-man drink. waka waka waka waka.
Of course, we've seen this one in a previous post, but it deserves another look. Scrape it off your shoe, sprinkle it in your hand and smoke it?
Apparently getting hit with a baseball in Japan is bad for your looks too.
There's a lot of fodder around the thousands of bar names, but I thought this one was particularly pertinent. In Japan, Oil is a Dangerous Party!
In Japan, it is endlessly entertaining to keep an eye out for little things like signs that make it even more charming than it already is. You just gotta love Japan.