friends
By: leelefever on December 22, 2006 - 8:19am
I've been called upon by my friend Nancy White to share 5 things about me that others are not likely to know. This is an idea or "meme" going around the blog world now. You can see how other people responded here.
1. Snails for money. I grew up on a Goldfish Hatchery that my family owns called Blue Ridge Fish Hatchery in Kernersville, NC. Sometimes snails would breed in a pond and when it was drained, I would go out into the mud and pick up the snails and sell them to Blue Ridge. It was my first business.
2. My Front Teeth. In fifth grade I was on a concrete playground with a kid named Charley H. and we were doing Kung Fu moves. I kicked my foot up into the air and he grabbed it. The next thing to hit the ground was my face, breaking my nose and chipping both my front teeth. My front teeth are now bonding.
3. Nipple matters. I have a superflous, or supernumerary nipple on my left side. It doesn't do much really. But less than 2% of men have them, so I think I'm special. According to TheSuperfluousNipple.com, I am not alone. These people are also special:

Anne Boleyn - Queen of England
Jackson Browne - Musician
Chuck Cleaver - Musician (The Ass Ponys)
Scatman Crothers - Actor, Singer
John Edwards - U.S. Senator
Brian Jones - Musician (The Rolling Stones)
Frank Langella - Actor
Moms Mabley - Comedienne
Bill Paxton - Actor, Director
Mena Suvari - Actor
Mark Wahlberg - Actor
Tilda Swinton - Actor

4. I love Phish at New Years. I have seen the band Phish over 50 times live and spent 4 consecutive New Years Eve's (4 shows at a time) with them in New England and New York City (94, 95, 96, 97). I still enjoy the music and would see them again if they were around, but I'm not as much of a fan as I used to be. I had fun,fun times being a part of the Phish community and got to see a lot of the east coast to boot.
5. I nearly died in high school. I was in a wreck coming home from a party in thick fog. We ran a stop sign and got nailed by a van on my side of the VW beetle. Both my lungs collapsed, my skull cracked over my ear, ribs were broken and glass became embedded in my face. I still have a piece in my cheek - I'll let you feel it if you like. The first time my Mom saw me in the ER, I had blood coming out of both ears. I recovered 100%.
So now it is my turn to pass it on (no pressure folks!). I'm nudging Sarah, Christi Hurt, Jay and Anastasia, Carrick and Duncan.

Tags: 5 Things Meme

By: leelefever on December 13, 2006 - 8:34am
This is an invitation for anyone in Seattle who would like to come and reconnect with us. We're jonesin' to hook back up with old friends and meet folks who have been following along. Here's the info:
Tuesday, December 19, 2006
7:00 PM

I've also added this as an event on Upcoming.org. We hope we'll see you on Tuesday! There is usually parking in the back.

By: leelefever on December 10, 2006 - 8:17am
Man, talk about serendipity. I first heard about Ask A Ninja from Robert Scales who runs Rain City Studios, the company who designed the Ninja web site (and our site too) . He told me about it when we met in Thailand, and I quicky became a fan from abroad. Ask a Ninja has since become super-popular, and rightfully so in my opinion. The videos of a white guy in a Ninja suit answering reader questions makes me laugh every time.

I was so interested, in fact, that I did a bit of research about the guys behind it. I soon discovered that one guy of the two-man team, Douglas Sarine, is the very same Doug Sarine that was one of my best friends in college. The guy who lived beside me my freshman year is producing Ask A Ninja. Crazy.

So of course I emailed Robert who emailed Douglas and the reconnection began. Today we spent a few hours with Doug on a personal tour of Hollywood, including the taco restaurant where he once broke up with a girlfriend. Doug is still the hilarious, antsy, talented and incredibly good person that I remember from college. It was so great to reconnect, especially while he is in the midst of trying to disrupt the Hollywood status quo. Two guys and a video camera can do so much these days.

Oh, and this is not to mention the experience we had with Doug's brother Bill, who is an operations manager at Disney Pictures. Bill gave us a personal tour of the Disney sound stages, including the set of Pirates of the Caribbean III. We got to walk right through a scene from the movie that takes place at "Pirate's Cove" in an upside down ship hull. It felt like we had an exclusive look behind the movie making curtain at Disney. A true highlight.

We owe the Sarine brothers a huge thanks for a Hollywood experience we'll never forget.
By: leelefever on September 29, 2006 - 4:34am
It's quite apparent that the Russians have mixed feelings about Moscow (depending on where you ask) and after a few days there I think we feel the same. It was at once harsh and smooth, rude and friendly, ugly and beautiful. Overall though, I'd say it was better than I expected.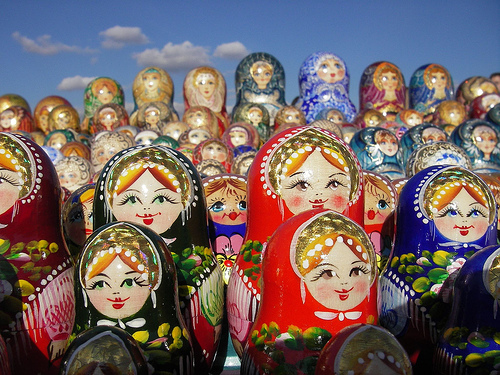 Of course we had friends in the city that showed us around their neighborhoods and homes, which was a perfect introduction to the city. The warmth of the personal connection with people in Moscow made us feel at home. However, once we ventured out on our own, other sides of the city appeared
Suddenly I found myself in center of the former Communist stronghold, surrounded by reminders of the Bolshevik Revolution, the USSR and Communism. I saw the Kremlin-adjacent apartments where Stalin's cronies were arrested and shot. I ate at places where people once stood in line for bread. All the things I learned about the Russians and Communism were right there before me and I could feel the power. In Moscow the grandeur of the buildings are awe-inspiring – monuments to a government that controlled 1/6th of the earth's surface and had plans for world domination. This was the place, right under my feet.
And it is beautiful. Tiananmen has nothing on Red Square. The parks, rivers and thoroughfares are quite delightful, especially on a nice day. I had no idea that Moscow was covered in parks. The legendary Metro subway system is showing its age, but still maintains a world class level of elegance and efficiency. The street food is always-on and yummy. The drab and cold Moscow I expected was a distant vision, but some of what I had heard was confirmed.
It is said that Moscow is the "dictator" and St. Petersburg is the "artist" and having visited both, it is obvious why. Moscow is not a warm and fuzzy sort of place for the visitor. Customer service is very short and cold, there is no English anywhere and downtown sometimes seems covered in police. The people you encounter appear quite gloomy with very few smiles. Also, there is no affordable lodging in the center of town, forcing travelers 20 minutes outside the city.
One of the important things that travelers must remember in Moscow is to carry copies of their visa and passport with them at all times. Often police/military will stop foreigners and ask for passports to extort large sums of money. If an actual passport is handed over, it may cost to get it back. One of our friends was caught urinating outdoors by a young military officer in an oversized uniform and threatened with the "Gulag" if he didn't hand over his actual passport instead of copies. Our friend pretended to call his embassy which caused the officer to reduced the penalty to 500 Rubles (USD$20). They ended up settling at 200 Rubles. To be fair to both sides – public restrooms are impossible to find in Moscow, and the military boys do not get paid one ruble for their two years of mandated service.
On the other side of the coin, the personal experiences we had with random Muscovites were more positive. While looking at a map on a street corner one night (the "tourist distress call") a friendly young woman pointed us in the right direction. It seems that in general, the young people represent a new generation of Muscovites who are more likely to smile, provide great service and welcome foreigners. I would love to come back to Moscow in 15 years to see how it has changed. I'm quite sure that it will be less of a dictator.
By: leelefever on May 31, 2006 - 9:53pm
We're super-excited to be hooking up with a couple of good friends from Canada tomorrow. Kris Krug and Robert Scales have been in China for a few days on business and have come to Thailand to unplug for a while. As luck would have it, we have no plans, so we're heading back to the beach (Ko Lanta even) with them. Life sucks these days.
Along with being good friends, they happen to both work for or run companies that make this web site possible. Robert runs Rain City Studios, who did the design of this site and Kris works for Bryght, who hosts the technology (Drupal) that runs the site. Both companies are TwinF sponsors and have been beyond-the-call-of-duty people to work with. Here we are expressing our love on the night before we left on the trip.
I must profess too that hanging out with these guys is going to be, um, interesting. Case in point... Kris is trying to start a movement where travelers take pictures of themselves naked on top of the wonders of the world. Here he is on the Great Wall of China (PG-13). Yikes. Don't plan on seeing me participating, dear reader. Really though, it's going to be a blast to hang out with these guys.
By: leelefever on December 13, 2005 - 6:10pm
I
first met Anne McKay and Daniel
Harrison at a annual conference called the "Online
Community Summit". They both work at Consumer Reports and I had been looking for a time to take Anne's invitation to visit the headquarters.
We hopped on a train this morning to Yonkers from Grand Central Station to meet Anne and Daniel.
Along with doing a quick talk about online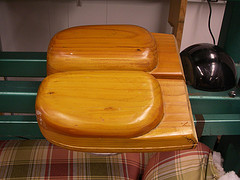 communities,
we got a tour of the headquarters, which is where all the testing
occurs, except cars.
What an amazing place- it's filled with experts on TV's, paints,
washing machines, speakers, mattresses, treadmills, cameras- you name it. They put a group of products through the paces and then rate/rank them, all for the good of us consumers.
The artificial butt to the right is used to test couches by sitting on them millions of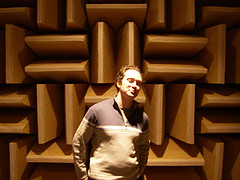 times. Often, they have to create their own machines to do the testing.
One of the most fascinatng parts was the
anechoic chamber, which is used to evaluate
speakers. It's a room designed to be devoid of any sound and is the perfect
example of deafening silence. I know why Daniel says he can't be there long- it's a freaky place.
We owe a big thanks to Anne and Daniel for lunch, a great tour and introductions to interesting people.

new