moscow
By: leelefever on September 29, 2006 - 4:34am
It's quite apparent that the Russians have mixed feelings about Moscow (depending on where you ask) and after a few days there I think we feel the same. It was at once harsh and smooth, rude and friendly, ugly and beautiful. Overall though, I'd say it was better than I expected.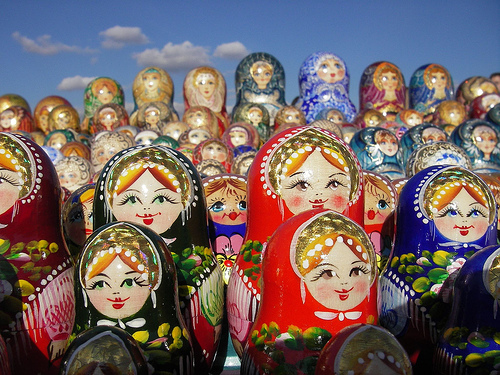 Of course we had friends in the city that showed us around their neighborhoods and homes, which was a perfect introduction to the city. The warmth of the personal connection with people in Moscow made us feel at home. However, once we ventured out on our own, other sides of the city appeared
Suddenly I found myself in center of the former Communist stronghold, surrounded by reminders of the Bolshevik Revolution, the USSR and Communism. I saw the Kremlin-adjacent apartments where Stalin's cronies were arrested and shot. I ate at places where people once stood in line for bread. All the things I learned about the Russians and Communism were right there before me and I could feel the power. In Moscow the grandeur of the buildings are awe-inspiring – monuments to a government that controlled 1/6th of the earth's surface and had plans for world domination. This was the place, right under my feet.
And it is beautiful. Tiananmen has nothing on Red Square. The parks, rivers and thoroughfares are quite delightful, especially on a nice day. I had no idea that Moscow was covered in parks. The legendary Metro subway system is showing its age, but still maintains a world class level of elegance and efficiency. The street food is always-on and yummy. The drab and cold Moscow I expected was a distant vision, but some of what I had heard was confirmed.
It is said that Moscow is the "dictator" and St. Petersburg is the "artist" and having visited both, it is obvious why. Moscow is not a warm and fuzzy sort of place for the visitor. Customer service is very short and cold, there is no English anywhere and downtown sometimes seems covered in police. The people you encounter appear quite gloomy with very few smiles. Also, there is no affordable lodging in the center of town, forcing travelers 20 minutes outside the city.
One of the important things that travelers must remember in Moscow is to carry copies of their visa and passport with them at all times. Often police/military will stop foreigners and ask for passports to extort large sums of money. If an actual passport is handed over, it may cost to get it back. One of our friends was caught urinating outdoors by a young military officer in an oversized uniform and threatened with the "Gulag" if he didn't hand over his actual passport instead of copies. Our friend pretended to call his embassy which caused the officer to reduced the penalty to 500 Rubles (USD$20). They ended up settling at 200 Rubles. To be fair to both sides – public restrooms are impossible to find in Moscow, and the military boys do not get paid one ruble for their two years of mandated service.
On the other side of the coin, the personal experiences we had with random Muscovites were more positive. While looking at a map on a street corner one night (the "tourist distress call") a friendly young woman pointed us in the right direction. It seems that in general, the young people represent a new generation of Muscovites who are more likely to smile, provide great service and welcome foreigners. I would love to come back to Moscow in 15 years to see how it has changed. I'm quite sure that it will be less of a dictator.
By: leelefever on September 27, 2006 - 11:43pm
Phew! The Trans-Siberian Railway trip is officially over - we arrived in hip and modern Helsinki, Finland yesterday. Despite all the writing and videos on the train, we've fallen a bit behind - and we haven't even talked about Moscow and St. Petersburg.
We'll say more soon, but we both want to say a BIG thanks to Lilia, her sister Diana, and her friend Olga for showing us their Moscow. Lilia is from Moscow but lives in Holland and recently did an internship at Microsoft in Seattle, where we got to be better friends. We can't say enough about the generosity and hospitality of our Muscovite friends.
This is Sachi and Lilia over the Moscow River:
This is Olga with Matt (a fellow American traveler) and Sachi in Moscow.
And how can we forget Kuzya,the resident parrot, who can be bribed into speaking a few words for a pomegranate seed.

new