newyork
By: leelefever on December 15, 2005 - 9:22am
The last few moments of New York - not so great. We arrived early and went to the gate printed on our boarding passes. About 10 minutes before take off time we ask what is up and the flight had been changed to a different gate. Had we not asked, I might be writing a much nastier message. Also, there was only one bathroom on the whole concourse and it was closed for repairs for all but the final seconds before we boarded. Ugg. Off to North Carolina now for the holidays and working bathrooms.

By: leelefever on December 14, 2005 - 9:03pm
Susie tol
d us about the Corner Bistro in a comment and we wanted to check it out today, but missed it and thought all is lost. As luck would have it, we had dinner tonight with two awesome folks that live here in Manhattan (Ken and Stephanie) and you guessed it- we went to the Corner Bistro, which lived up to all the hype. It's crowded, noisy, the service is spotty, the urinals in the bathroom are
way too close together and the food is served on paper plates, but damn those burgers are oh-so-thick-n-tasty.
The great company rounded out the night too. Like AJ and Andrew, Ken and Stephanie were a wealth of sage travel advice. I feel like we have learned so much from hanging out with people here and we are very thankful. I'm hoping Sachi will follow up this post (likely our last in NY) with the notes she took tonight.

By: leelefever on December 14, 2005 - 3:12pm
I don't think it's been above freezing since we arrived - according to the local news, this is officially a "Winter Blast". I agree. The other big news here is the transit strike. Tomorrow night at midnight, the transit workers may go on strike, which would grind the city to a halt. We're leaving midday tomorrow, so we don't have to worry about it, but people here are preparing for the worst.
We've learned a couple of things in our limited time on the road so far...
Always leave the room with what you'll need for the whole day- you never know how long you may be gone.

Come back to the room with a bottle of water and some snacks, you never know how long you will be there.

Don't try too hard to see/do everything you can. An afternoon nap can do wonders.

Find a map of the city and transit system early and learn how the system works as soon as you can.

Don't be afraid to ask for help.
I thought this was a neat picture of a Hawaii girl who had never walked on ice before...
By: leelefever on December 13, 2005 - 7:02pm
It's cold, again. We had enough cold in Canada really, but we have yet to see many temperatures in NYC above freezing. It goes with the territory I suppose, and it adds to the the wintery and Christmasy feel of the city, but it's cold and the summer of New Zealand is looking oh-so-good.
Right now we're having an appliance face-off in our hotel room. We have a heater without a thermastat that makes the room too hot. So, we turn on the air conditioning on to acheive some balance in the temperature. .
We're not doing so great on the whole "defeating jet lag" strategy. We were up until past 2 last night and this afternoon we had a 2 hour nap, so I'm sure we'll be up again tonight, faithful to our Seattle schedule.
So far we haven't boarded any wrong trains or been late to any appointments, but we realize that we have the luxury of all signs being in English- but still, it's good practice. I really enjoy the train rides out of the city- going through the Bronx and Harlem, it's seems like the real New York somehow with huge residential high rises.
We're taking it easy tonight. We're in the Murray Hill Neighborhood, which is around Lexington and 30th - due south from Grand Central Station about 12 blocks. We really like the neighborhood- lots of great food. Tonight we got cheap and good Indian take-out from a place called Curry and Curry at 153 East 33rd St. Good stuff. Tomorrow it's downtown, Central Park and dinner with some travelers we met via this site.
By: leelefever on December 13, 2005 - 6:10pm
I
first met Anne McKay and Daniel
Harrison at a annual conference called the "Online
Community Summit". They both work at Consumer Reports and I had been looking for a time to take Anne's invitation to visit the headquarters.
We hopped on a train this morning to Yonkers from Grand Central Station to meet Anne and Daniel.
Along with doing a quick talk about online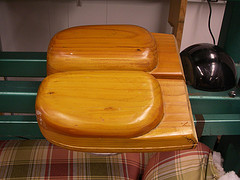 communities,
we got a tour of the headquarters, which is where all the testing
occurs, except cars.
What an amazing place- it's filled with experts on TV's, paints,
washing machines, speakers, mattresses, treadmills, cameras- you name it. They put a group of products through the paces and then rate/rank them, all for the good of us consumers.
The artificial butt to the right is used to test couches by sitting on them millions of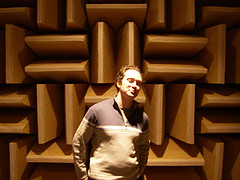 times. Often, they have to create their own machines to do the testing.
One of the most fascinatng parts was the
anechoic chamber, which is used to evaluate
speakers. It's a room designed to be devoid of any sound and is the perfect
example of deafening silence. I know why Daniel says he can't be there long- it's a freaky place.
We owe a big thanks to Anne and Daniel for lunch, a great tour and introductions to interesting people.
By: leelefever on December 12, 2005 - 10:26pm
Today was so fun. We started rushing to White Plains for a meeting
with just seconds to spare and making the train we needed from Grand Central Station, which seemed very New York, with husle and bustle.
Coming back to the city, we met up with AJ and Andrew at a little Mexican Joint called Mi Nidito, very cool. AJ and Andrew, from YourInnerVagabond, have done a ton of travel had tons of stories of practical advice. As we left, they
gave us a couple items that, to outsiders may seem funny, but meant a lot to us. Along with a list of travel wisdom called "The Tao of Travel" and a handful of safety pins and rubber bands- truly practical items for the road.
From dinner we went to the Christmas spectacle at 30 Rockefeller Center. I can't imagine a Christmas in NY without a visit.
On a whim, we went down to Greenwich Village and the serenipity began. We ended up on an industrial
street called Little West and saw a couple of doors with no sign, but a bar and people inside. We walked in, sat down, and ordered a drink. We aked the Bartender about the name of the place and, no shit, this is what he said...
"Yeah, this bar doesn't really have a name. We've only been open for 4 months and we want to keep the opens open for the nest idea. Only the local west village people know about it, I'm suprised you found it." We knew we had found the right place.
After a too-expensive drink or two, we walked up Hudson and met a guy on the corner who happended to be from LA and looking to hang out, so we hung out with Jim for a beer and came home.
All in all, a great time with great people, all of which were out to have a good time. We do love New York.
By: leelefever on December 11, 2005 - 8:34pm
In some ways, I think New York City is the perfect place for us to start. It's like we get a preview of the people, languages and foods of the world all in one place. We're both quite sure that we heard more words in other languages tonight than English.
We also learned how to cross the street like a local. From a few observations, it seems to go like this...
Approach the corner and if there are cars parked by the corner, go ahead and get out onto the street about a cars width from the curb- the parked car can protect you from the oncoming traffic. Then, as the lights begin to change, go ahead and start crossing the street. If you do it correctly, you should be half-way across the street when the crossing light turns to "walk". While I'm sure this isn't just a NY thing, it's different from Seattle and something we witnessed multiple times..
Tomorrow it's up to White Plains to meet with some folks I worked with at the
March of Dimes
and then early dinner with AJ and Andrew from
YourInnerVagabond
.

new