traveltips
By: leelefever on January 6, 2007 - 12:04pm
Dear reader, this dispatch concludes a 2 year odyssey for us – 1 year of preparation and 1 year of international travel. And so it ends with one last dispatch before this site is frozen in time.
Before we say goodbye, we want to remind you that a trip like this is something you can do too. We often hear statements like "I wish I could do a trip like that" or "I could never do that now". Our message is that you can do it if you're willing to make the trip a priority in your life. The hardest part is mental – convincing yourself that a year of travel is a realistic and achievable goal. Once you're convinced, good long-term planning accounts for everything else. It may not happen next year of or in five years, but the key is to start planning now. You'll be surprised at how things fall into place.
Step 1: Set a realistic departure date (this enables you to plan ahead) and stick to it
Step 2: Alter your lifestyle to start saving money responsibly

Step 3: Tell your friends and family (a little peer pressure does wonders)
If you need help, we wrote a lot about our preparation and what we called "The Monetorium" – a change in lifestyle built around financing your next big adventure. Further, you can always contact us with questions.
Lastly, we want to extend an earth-sized thank you to the friends, family and readers who made us feel at home where ever we were. Your comments, emails and advice gave us more support than we can put into words. We hope that, through this web site, our trip became your trip too.
By: leelefever on January 3, 2007 - 1:38pm
Throughout the trip, when the inspiration struck, we would type a few travel tips into our phone. The majority of the tips below came from spur-of-the-moment revelations on the road, now in more organized and long form.
Gadgetry:
To save battery power turn off mobile phones - being connected to or looking for the network drains the battery.

The same is true for laptops and wi-fi signals.

Turn em off.
When you get to a hotel room, open your computer and look for an unsecured wi-fi signal.

You'll be surprised often.
Carry two batteries for all gadgets.

Though, a computer battery may be an exception.
If you are using a mobile phone for more than a few weeks in a country, buy a SIM card for a local network when you arrive.

It's what the locals use and you would have a local phone number with free incoming calls from home

If you want to be able to charge more than one gadget at once, get a travel splitter or multiple outlet adapters for each format.

Always think redundancy - back up often and send home DVDs of your pictures.

DVDs hold a lot more pictures than CDs for back-up purposes - 3 times the amount.

Most internet cafes offer DVD burning services.
Invest in lots of camera memory (lSD cards, memory sticks).

You do not want to consistently be hamstrung by a camera that is full of pictures.

A 1GB card with 5megapixel photos was enough for us.
If you have a laptop, move photos from the camera to the laptop daily.

Always leave the room with 2 charged batteries and an empty memory card.
Take your computer to the Internet cafe and plug it into their network with the Ethernet cable.

They will know how.

Europe doesn't allow this, Asia does.
Wrap your computer in some sort of sealable plastic bag before packing it away. Wetness happens.
Keep your valuable electronics on your person when in transit. Don't put your computer in a bag under a bus.
People can't steal what they don't see.

Limit gadgetry use in public.
Hotel Living:
When leaving a hotel, take the complimentaries with you, like coffee, cream, tea, toilet tissue, etc.

Towels, bedspreads and hangers are not complimentary.
Never, ever miss an included breakfast.
Many cheap hotels require that you insert the key into a slot in order for the power to come on. While it saves energy, it means you can't charge electronics while you're out of the room.

Often you can use a business card in the slot instead of a key.
Don't leave the room for the day without a map, local currency, identification and the room key.
Try to resist giving the front desk your key when you leave – this is very insecure.

Notice that when you return, they will give you any key you request.

If your hotel does not serve breakfast, remember to go to a store on the way home at night to get something for the morning.
Unless the city gets full consistently, don't make reservations in advance.

Get there; find your favorite neighborhood and then a place to stay.

If you are going to be in one city for more than a week or so, consider renting an apartment.

A kitchen and washer /dryer are so nice sometimes.
If you know the part of the city where you want to stay, make a reservation in advance for a single night at a hotel in that area, even if it is more expensive. Then, when you arrive, walk around to hotels and find a better deal for the rest of your stay.
For most major cities, two nights is not enough as it leaves only one full day for exploration.

Three nights is usually a good amount if you're on the move. More is better.

The combination of your padlock is a risk.

You may be asked for it if your bags are lost on international flights (they may need to open the bag).

Make it unique - not associated with bank accounts, etc.
When unlocking your padlock for your bag, remember to spin the numbers once so your combination is not displayed for others, like the housekeeper, to see.
General:
Tear unused pages out if your guidebook.
In inexpensive countries like India remember to carry small bills and change - go to a bank to get the change you need. Making change is a pain.
When wandering a new city at night, adopt the moth strategy and go toward the light.
Buy clothes made of synthetic fiber - they are lighter, stay cleaner and are easier to wash and dry quickly.
Days of the week can start to blend together.

The biggest problems happen on Sundays when a lot of businesses are closed and Mondays when museums often close.
In packing your backpack, make sure you pack it the same each time, giving each item a specific place.

When something is missing you'll know.
Buy a backpack that is built for travel and not camping.

The best ones open from the side, allowing access to everything quickly instead of bags that open from the top only - requiring an unpacking to reach the bottom.
A clean and free bathroom is only as far as the closest McDonalds.
Take a flashlight.
In public, you will never be judged or create a spectacle for being too quiet.

This is made more difficult with alcohol.
Look for English language weeklies in cities to find out about events.
Check local pharmacies for prescriptions that are expensive from home.

Beware of fakes in China.
Do like the Spanish and have a siesta.

Explore for a few hours in the morning, nap in the heat of the afternoon and go back out for the evening.

This is sustainable for long periods.
Only rookies get sunburned.

Be liberal with strong sunscreen. Wear a hat.

When getting up from a park bench, airplane seat or any place where you sat, turn around and look back at the area to ensure you didn't leave anything.
Use the local mail service to send home items you are not using.

Most useful when changing climates.
Remember that you can't do everything. Relax, take a deep breath and enjoy what you *can* do.
By: leelefever on December 4, 2006 - 9:37pm
I suppose this is our 23rd time zone crossing of the year, into New Mexican Mountain Time and out of Texan Central Time.

I'm here to tell you that you shouldn't take extra hours like this for granted. They may tell you at Day Light Savings Time to change your clocks at 2am on Sunday morning - but don't listen to the propaganda. That hour is *your* hour and you can use it how you like. Maybe you'd prefer to use it right after breakfast and have extra time to read the paper. Maybe you want to sleep an hour later or go to bed an hour earlier. My advice is to use it wisely.

For instance, one time Sachi and I waited almost 6 whole days to use an hour of day light savings time. We rented a car in Italy and arrived in Rome on a Friday. On Saturday we met our friend Robin and had a highlight of a day. For the next 5 days we travelled up the Italian coast and finally back to Milan to catch a train to Geneva. When we reached the station on the following Thursday, we noticed something perplexing: the train station clock displayed a time that was one full hour earlier than our watches. How could this be?

As it turns out, the time changed the prior Saturday at 2am - 5 days prior. We had been living in a world that was an hour before us the whole time and had no clue. With no where else to go, we huddled outside an espresso cafe, sat on our bags and spent the hour, OUR hour, shivering as we watched the minutes tick past before boarding our train. This was not a good way to spend our hour and I hope will serve as a reminder to others.
By: leelefever on November 17, 2006 - 2:40am
We've been asked many times about our process and technology for keeping this site updated regularly. So, we decided to shoot a short video showing all the tools we use (hardware and software) and our process. We're not sayng it's the best way - it's just how we do it.
In the video we mention a number of resources. Our camera is the Pentax Optio WP. Our computer is the Sony VGN-T350. This site runs on the Drupal platform, which is hosted and supported by Bryght. Our graphic design was done by Rain City Studios. We share our photos using Flickr. Oh, and the post we created on the video is here.

This post doesn't account for the mobile blogging, where we use the Palm Treo 650 to send a picture and story to this site via Flickr. Oh, and our video camera is the Sony DCR-PC 1000.
By: leelefever on November 16, 2006 - 4:21am
Just sharing a quick photo from our day at the beach in Barcelona - yes even in November. This post was created during the filming of this video about travel blogging.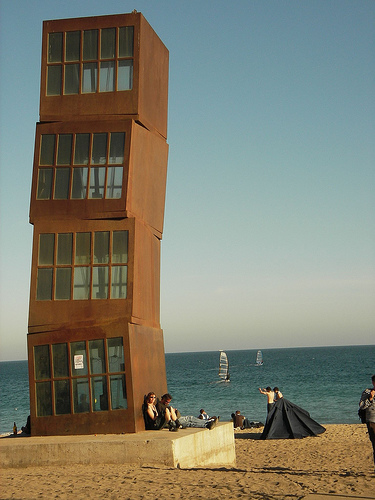 By: leelefever on October 14, 2006 - 9:40am
Our friends Kathy and Sharon have finally reached home in the UK after 420 days, 60 weeks and 60,000 miles and 50 countries. In a recent post they were concerned about "reverse culture shock" from coming home and suggest these treatments (edited for length):
... brushing teeth out of a cup; drinking warm water out of large bottles; mixing up tuna mayonnaise in the tin and continue to use plastic plates and share cutlery; hide money upon our persons; wear clothing with lots of pockets; take photos of random images and people in the street; dry ourselves using our travel towels; not use a hair dryer; hand wash underwear each night; wash up any cooking utensils before eating a hot meal; buy a bus ticket & see where it takes you; talk to strangers and ask them how long they have been travelling for; sleep in a bunk bed with ear plugs in; etc.
These totally identify with us and we have a few additions:
We may continue to...
Shower with flip-flops or sandals
Share deodorant
Never plan for more than a week into the future
Wash laundry in the sink
Communicate using the metric system
Wear a shirt too many times before a wash
Randomly give shopkeepers incorrect change
Communicate in only "hello", "yes" and "thank you"
Blog and video everything
And finally... continue to use only three pairs of underwear.
By: leelefever on August 27, 2006 - 1:54am
I had made a decision and I was going to act on it. Gone were the days of standing passively in line while Chinese people wedge themselves in front of me and place an order before I could react. I was going stand up for myself and try to be a little more Chinese.
This is not the kind of thing you can plan – it just has to happen and just last night, I had my chance. We were in the Shanghai subway terminal in line for our first subway card at a vending machine, as we've done so many times before in other cities. Just as the couple in front of me at the machine received their card and turned away, a young Chinese guy stepped directly in front of me. So, with great determination, I stepped in front of him enough to place my right shoulder at about his eye level and in a single motion stepped directly in front of the vending machine. It was mine! HAHA! I'll show you line breaker! I'm no push-over tourist softy!
So there I was, with this foreign and unfamiliar machine staring me in the face. It was mine, yes, but I realized all too quickly that I had no idea how to use it. The instructions were in English and the #1 read "Select Fare". Scratching my head with waves of embarrassment pending, I searched the machine for anything that said "Fare". Nothing. I inquisitively pressed a couple of random buttons in the hopes that something would happen. Nothing. My pride was on the line here and I was blowing it! Thoughts of fleeing in shame entered my mind when I heard a voice over my shoulder, "Where do you need to go?" It was the line breaker politely asking a simple question that I couldn't answer completely. All we knew was that we needed to go two stops on Line 2. He ended up doing the whole transaction for me and after many "thank yous" I left with our subway cards in hand and my pride more than a little crushed.
The moral here is that if you're going to try to act like a local, be prepared for the entire event. Going off half-cocked is a good way to shoot yourself in the foot.
By: leelefever on April 19, 2006 - 12:35am
In the 130+ days that we've been on the road, we've shunned mechanical and otherwise costly means of doing laundry and relied on doing it ourselves. The system works very well and we've reached a point in the evolution of the system that we're ready to share.
The choices for doing laundry on the road are to visit a laundromat, use a hotel's laundry service, do it yourself or have a local do it for you. In India, to send your laundry out meant that it might be washed in polluted water and dried on the same beach where people defecate. Our advice is to proceed with caution.
Getting laundry dirty needs no explanation, but it happens all too quickly in the tropics. Further, it is up to the individual to negotiate the point at which something must be washed. T-shirts and underwear are the most frequent offenders for us with shorts being the least offensive.
What you need:
A sink or shower
Soap (or shampoo)
Towel(s) for drying
Places to hang clothes
5-7 minutes for each article of clothing
Step One: Fill the sink enough to wet an article of clothing (about ¼ full). If the sink doesn't have a stopper. use a plastic bag or do without. Wet the article completely.
Step Two: Apply soap to stain or "problem" areas (armpits, collar, bottoms) and scrub together. Apply more soap to the water and article before kneading it like bread. Squeeze and scrub. If suds do not appear…rinse, repeat.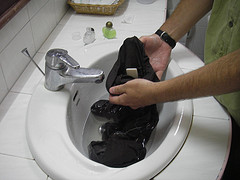 Step Three: Using cold water, rinse the article until soap is gone. Wring the article to remove as much water as possible and repeat these steps with the next article.
Step Four: Lay a towel flat and place the article on the towel, with about 8 inches of towel above it. For shirts (whose sleeves will not often fit in the towel) fold the 8 inch part of the towel over the top of the article and fold it over on itself once. Then, fold the sleeves onto the top of that fold, giving them a place to be dried.

Roll the towel up like a burrito and wring it, forcing the water into the towel. You might even stomp on it.
Step Five: Unroll the towel and hang the article to dry. The best scenario for drying is in a room with air conditioning and a ceiling fan. AC is almost essential for quick drying, but a ventilated area will work well too. To dry a nylon/polyester shirt in an air conditioned room will take 2-3 hours, for a cotton shirt, 5-10 hours (a good reason NOT to travel with cotton clothes). And…Voila! Clean clothes…for free.
NOTE: Shortcuts can be used to speed the process. Washing more than one article at a time is possible. Drying clothes with a blow-dryer (provided by hotel), directly in front of the air conditioner or in direct sunlight helps significantly. The best shortcut I've found is to find a sympathetic fellow traveler to give you a hand (wink-wink).
By: leelefever on February 4, 2006 - 8:40pm
In exploring both islands, I've done my bit of driving in New Zealand
(over 3000 miles) and overall I've been impressed with the quality of the roads and the civility of other drivers. However, there are some differences from driving in America that we've learned the hard way and would like to provide some information we wish we had had.
Everything is Opposite
For an American driving in New Zealand, there is one unmistakable and overwhelming fact – everything is opposite. You're driving on the wrong side of the car on the wrong side of the road and shifting gears with the wrong hand.
In getting started with driving opposites, there are some things to keep in mind. First, as the driver, you should always be nearest to the center of the road. If you look out the driver's side window and see the shoulder, you're in the wrong lane. Also, when you first get started, it will be strange to have the width of the vehicle on your left side and your tendency will be to run off the road on the left side. You have to get used to keeping yourself toward the center of the road- if you're looking down the middle of your lane, you're too far left.
Another example of everything being opposite is where you look when entering traffic (or crossing the street for that matter). Americans grow up learning to look left-right-left before crossing. In New Zealand it's right-left-right.
Interestingly, driving on the left side also governs pedestrian behavior. When approaching another person on a sidewalk in New Zealand, the default is to yield to the left.
Signs and the Metric System
In New Zealand, there are more "give way" (yield) signs than stop signs, more traffic circles than stop lights and less pedestrian right of ways. From what we can tell, the strategy is to keep traffic moving and it often works. Without the volume of cars like you'd find in the US, traffic does seem to keep moving and I like the difference.
In cities and towns, you'll see signs like "P30", "P15", etc. These are parking signs and relate how many minutes you can park there without a ticket.
Like the rest of the world (except the US) New Zealand uses the metric system, so the signs take some getting used to. Here are some hints:
100 kph equals 62 mph and 100 kph is the maximum speed limit NZ wide. You can do 110kph max and not worry about a ticket (what we heard first-hand), which starts with a fee of $120 and goes up rapidly.
Round-abouts or traffic circles are everywhere and are somewhat foreign to Americans. The basic rule when entering a traffic circle is to yield to the right. If you get hit on the driver's side (right side) in a traffic circle, it's your fault. When approaching a circle, know where you plan to exit before entering (the sign before it should let you know). If you look at the circle as a clock and you are exiting the circle from 9-12 o'clock or so, get in the far left lane, yield to the right and follow through. If you are exiting from 1-3 o'clock, turn on your left hand turn signal and watch for any cars coming up on your left before you exit the circle to the left. The best scenario is to be behind a car that is going the same way as you. If you miss your exit, go around again. It took me a couple of weeks of nervousness and honking horns and to get it down.
In the US, it's easy to convert miles to minutes to figure out how long it takes to drive somewhere at 60mph. When miles don't apply, it may seem difficult, but there is an easy way:
When converting kilometers to minutes driving, think about the number of kilometers you need to go as a percentage and then apply that percentage to 60 minutes. For instance, consider how long it takes to drive 25 kms. Being that 100 kph is essentially the same as 60 mph, it makes for a handy way to calculate time and distance. First, think about 25 kms as 25% of 100 (100 kilometers per hour). Then, calculate 25% of 60 minutes, which would be 15. So, it takes 15 minutes to travel 25km at 100 kph.
The Roads
New Zealand has very few expressways, except in the urban areas. Everything else is a mixture of long, straight rural roads and 2 lanes of curvy white-knuckled roller coasters with about a centimeter for a shoulder. The need to pass other vehicles is ever-present. Drivers in NZ expect to be passed and often pull over to the shoulder and put on the left-hand turn signal. This says to you "Please pass now". Many of the roads have passing lanes every so often and these are the safest places to pass.
I've never seen roadkill on the scale I've seen in New Zealand. Like America, it is often the poor possum, which has an uncanny ability to be hit during their nightly scavenger hunts. Other than roadkill, be aware of the errant farm animal. Sheep seem adept at escaping and often appear on the edge of the road, eyeing the other side.
The west coast of the South Island seems particularly fond of one-lane bridges – they vastly outnumber the two lane bridges. Pay attention to the signs when you approach a one lane bridge – they provide information on right of way, which is apparently based on who has the most visible approach to the bridge.
All in All
You'll be fine! You'll get used to it in a few days and in a couple of weeks, the idea of driving on the left side of the car on the right side of the road will seem weird. You'll be fine mate, no worries!
By: leelefever on December 14, 2005 - 3:12pm
I don't think it's been above freezing since we arrived - according to the local news, this is officially a "Winter Blast". I agree. The other big news here is the transit strike. Tomorrow night at midnight, the transit workers may go on strike, which would grind the city to a halt. We're leaving midday tomorrow, so we don't have to worry about it, but people here are preparing for the worst.
We've learned a couple of things in our limited time on the road so far...
Always leave the room with what you'll need for the whole day- you never know how long you may be gone.

Come back to the room with a bottle of water and some snacks, you never know how long you will be there.

Don't try too hard to see/do everything you can. An afternoon nap can do wonders.

Find a map of the city and transit system early and learn how the system works as soon as you can.

Don't be afraid to ask for help.
I thought this was a neat picture of a Hawaii girl who had never walked on ice before...

new