reflection
By: leelefever on January 6, 2007 - 12:04pm
Dear reader, this dispatch concludes a 2 year odyssey for us – 1 year of preparation and 1 year of international travel. And so it ends with one last dispatch before this site is frozen in time.
Before we say goodbye, we want to remind you that a trip like this is something you can do too. We often hear statements like "I wish I could do a trip like that" or "I could never do that now". Our message is that you can do it if you're willing to make the trip a priority in your life. The hardest part is mental – convincing yourself that a year of travel is a realistic and achievable goal. Once you're convinced, good long-term planning accounts for everything else. It may not happen next year of or in five years, but the key is to start planning now. You'll be surprised at how things fall into place.
Step 1: Set a realistic departure date (this enables you to plan ahead) and stick to it
Step 2: Alter your lifestyle to start saving money responsibly

Step 3: Tell your friends and family (a little peer pressure does wonders)
If you need help, we wrote a lot about our preparation and what we called "The Monetorium" – a change in lifestyle built around financing your next big adventure. Further, you can always contact us with questions.
Lastly, we want to extend an earth-sized thank you to the friends, family and readers who made us feel at home where ever we were. Your comments, emails and advice gave us more support than we can put into words. We hope that, through this web site, our trip became your trip too.
By: leelefever on January 6, 2007 - 10:51am
As we're closing up, I wanted to share a small collection of our favorite photos from the trip. As I posted recently, we took over 14,000 photos over the course of the year, all with a point-and-shoot camera (a Pentax Optio WP). Like all our photos, these are untouched with the exception of minor cropping.

If you'd like to browse more photos, the "photos" keyword brings together our dispatches on this site. Also, you can see all our Top 20, top 220 and/or all 1500 photos we shared on Flickr.

OK, on to our favorites:

This is a Costume Play Kid in Harajuku, Tokyo, Japan.
Snow Flowers while dogsledding near Banff, Alberta, Canada.
This little girl just happened to step right into place at the Amber Fort, Jaipur, India.
A violent curl at Kaena Point, Oahu, Hawaii
A Mongolian Horseman on the Mongolian Steppe. Part of the Trans-Siberian railway.
Kabal Chai Waterfall near Sihanoukville, Cambodia
Cyclo in the monsoon, Hoi An, Vietnam
Thai Boy Fishing Near Bangkok, Thailand
Romance with guitar, Cadaques, Spain.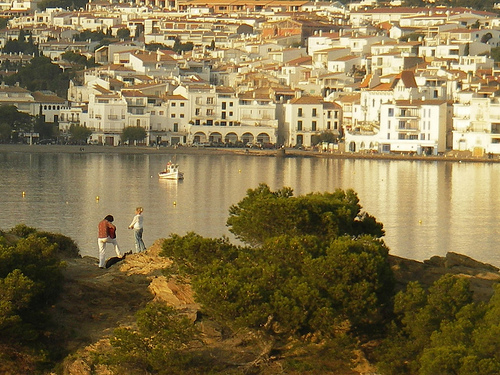 Brother and Sister, Sri Lanka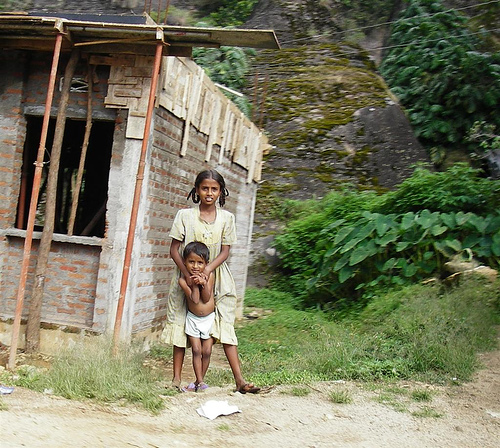 Plumeria, Luang Prabang, Laos.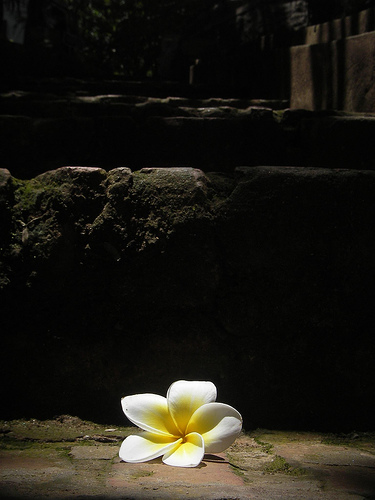 Lofoten Islands Fjords, Arctic Circle, Norway.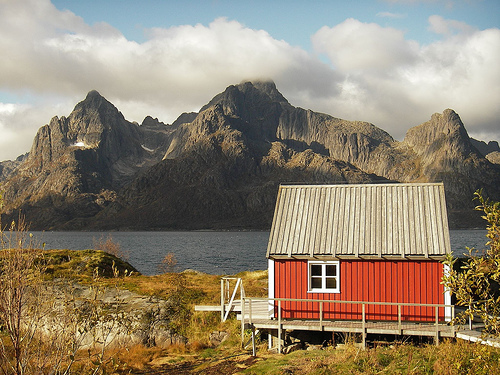 If you like these, I bet you'll dig the panoramas.
By: leelefever on January 4, 2007 - 3:54pm
This is such a hard thing for us to do. To list the best or worst experiences, countries, cities, etc. is like trying to list a year's worth of your favorite foods. The complexity and variety of a year's places or experiences can't be boiled down to a list so easily. So, we've done our best to provide a few lists that reflect some of the highlights and lowlights of the trip. The items in the lists are in no particular order.

The links below link to corresponding dispatches or keywords on the site.
Favorite Countries Overall
Favorite Experiences
Not-So-Favorite Experiences
Favorite Cities
By: leelefever on January 4, 2007 - 2:48pm
About halfway through the trip, we bought a video camera and started creating short videos to capture a different view of our experiences. Making the videos consumed me soon after. I fell in love. These are some of our favorites (the links go to corresponding pages on this site). All videos can be viewed here.
The Trans-Siberian Railway was an experience we'll never forget. This video was from an afternoon of heavy vodka consumption with Russian locals and travelers that ended in yours truly losing a few hours. I think it captures the experience:
The Vodka Train (02:30)
Before we got the real video camera, we shot some video with my point and shoot Optio WP, which is waterproof. When Typhoon Prapiroon hit Macau off the coast of China, we went out into it with the waterproof camera:
Typhoon Prapiroon (02:42)
Somewhere along the way I was inspired to eat strange things on camera - I call it the Jackass Effect. This one is shot from Beijing, China. We hear about this video a lot from friends and family:
Scorpions for Dinner (02:47)
You might also like the video from Hong Kong where I almost barf eating a Century Egg (fermented egg).

I tried to get a little stylistic in the industrial city of Ekaterineburg, Russia, which seems like a classic post-Soviet city in recovery. I really sensed a feeling of coldness and dispair while we were there. It's not that bad, but I tried to capture what I that feeling the best I could. The music is "The Cold Part" by Modest Mouse.
Leaving Siberia (02:30)
The highest rated video on You Tube was also shot in Russian Siberia at Lake Baikal, which is the oldest and deepest lake in the world. I think part of the appeal is related to the video being educational. The music is "You Can Have It All" by Yo La Tengo.
Incredible Lake Baikal (02:52)
From an emotional perspective, the video we shot of surprising my parent's on their 50th anniversary is the best. I can't watch it without getting a little misty-eyed.
Coming to America for the BIG Surprise (03:28)
This video was a surprise. I had no idea Sachi was shooting it, but it is so funny now to see. Watch how my feet react to the pain of a tattoo:
Tattoo Foot Dance (00:09)
By: leelefever on January 3, 2007 - 2:16pm
We've been geeking out a little and trying to summarize the trip according to statistics. We think it's pretty darn interesting.
We'll start with the basics...
Days on the road 366

Countries Visited 29
Hotels 101
Planes 40

Trains 32
Boats 19

Busses 20
New Local Friends 19
Cars Rented 9
Motorcycles Rented 7
Now, let's look at the web site. TwinF was (officially) opened on October 3rd, 2005 and closed on January 6th, 2007. In about 15 months:
We posted about 530 dispatches (350 while on the road)
You (and us) posted about 875 comments
450 of you became TwinF members
You shared 125 travel experiences
We posted 24 original videos
We posted 140 dispatches from our mobile phone
Current Links on Technorati: (296 links from 87 blogs)
Current Alexa rank: 171,443
Current Google Page Rank: 6

What about photos? Ah, yes. Photos are interesting... the links below go to Flickr photos sets.

Total photos taken: 14,340
Total photos shared on Flickr: 1,502
Total panoramas created: 94

Average total photos taken per day: 39
Average photos shared on Flickr per day: 4.2
Country with most photos: Japan (2,026)
Country with most photos/day: Sri Lanka (75)
Country with most Flickr photos/day: Banff, Canada (12.5)
I'm sure we could go on and on, but we'll stop now before we have to bust out the charts and graphs.
By: leelefever on December 31, 2006 - 5:57pm
For now it's still here - we're living it for the last 5 hours of 2006 tonight. Tonight is when the year, our year off, ends. What are we doing? Going to Redmond to spend the night with friends and eat a lot. It's a perfect way to end the year. On January 2nd our year of reality and restarting will begin.
Take a deep breath with me, all the way in, and let it out slowly. Ahhhhh thats better. 2007 - bring it on.
By: leelefever on December 31, 2006 - 12:40pm
One thing that we've gained since the trip is a little different perspective about our "stuff" - the things that build up on shelves, in drawers, hard drives, closets and corners that you forgot. Before we left we may have been likely to let things linger. Now, for a change, we've rounded the corner to purging. It has nearly been a full time job to get all the crap that we've collected over the years out of our sight.
It's all about needs really - and our perspective has changed from valuing the things we need vs. the stuff that might be nice to have once or twice a year. I don't think we need 7 different types of jellies and jams, that sweater from 1989 or the computer that died a year ago. So it's all going. We're both hoping to start 2007 leaner and meaner that we have any year before - when it comes to stuff. Unfortunately, we still have some work to do on the ole body mass index.

By: leelefever on December 29, 2006 - 1:42pm
I'll be posting "best of" photos soon, but for now I wanted to share a few that are not necessarily best-of, but have made an impression on some readers.
This guy in Vietnam with all the LIVE ducks on his motorcycle (next 2 photos) seemed to strike a chord with lots of readers. I couldn't believe how calm they seemed, considering.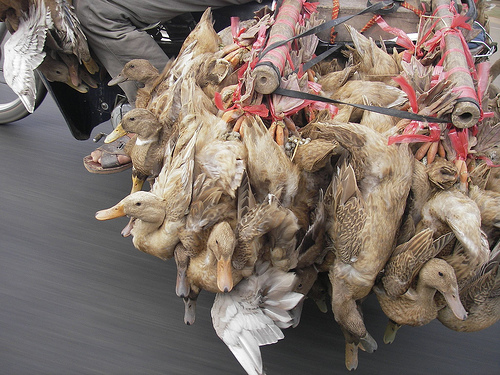 Speaking of motorcycles, this is how I look when I drive.
Speaking of ducks, Mongkol ate this one in Cambodia. A little too, um, mature for me.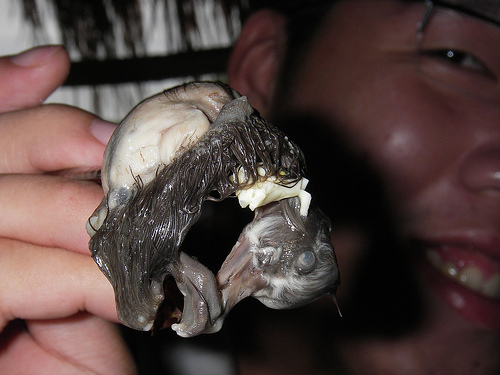 Speaking of eating ducks, this century egg nearly made me barf on video.

The next two photos go together too. As our friend Jeanine pointed out, they offer an interesting juxtaposition of Russia. The second photo is inside a Moscow subway.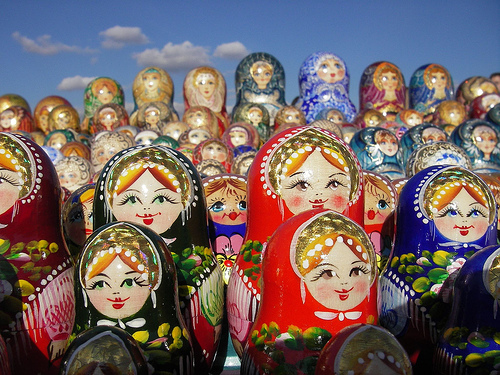 This pier in Koh Lanta, Thailand was not built for this kind of surf and as the waves approached it became rideable. It broke into pieces overnight.
Einstein is huge in Portugal.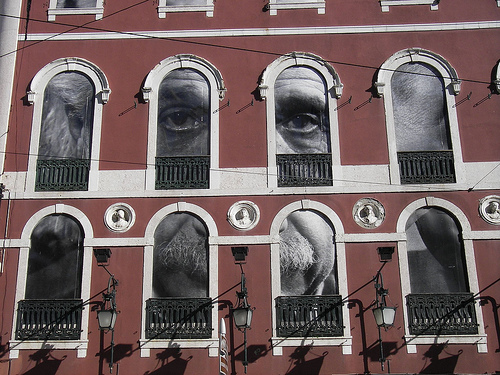 On and on in a crowded elevator.
Purchased at the China/Mongolia border, Johnny Worker was nearly the downfall of a few Tran-Siberian travelers.
This was just before I was decapitated at a hair salon in Shanghai. I recovered fully.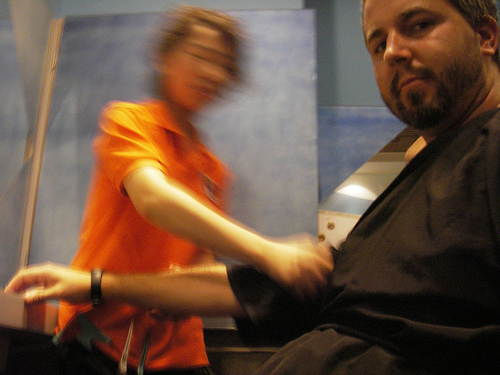 Gender bending Costume Play Kids in Japan. Sometimes cute, but in this case quite scary.
By: leelefever on December 28, 2006 - 5:35pm
Foreign-ness was a concept that became really important to me at the beginning of the trip. I wrote this in March of 2006, just after perhaps the most foreign city/town we visited the whole trip: Negombo, Sri Lanka.
---
I had a picture in my mind of what it would be like to see the world. It included people of different races, driving funny three-wheeled cars, wearing draped clothing with unfamiliar music and language in the background. We would wind our way through cities and towns being the only westerners for miles, in my mind.
Having traveled internationally for two months now, we have finally realized this vision. It happened today in Negombo, Sri Lanka, and I think it was the first of many experiences that will give me much satisfaction. Finally, I feel that we are undeniably away from all that is home to us – something that has been too long coming.
Looking back, I loved New Zealand. It was our first stop and it was chocked full of things to see and do…with its white sand beaches, fjords and glaciers. Being the first stop, it was easy to be excited and I was very interested.
Something was missing for me at our next stop – Queensland, Australia and I couldn't put my finger on it at the time. Retrospectively, I mark it up to a few things with a lack of interestingness being the biggest factor. Queensland was beautiful and the Great Barrier Reef is reason enough to go – but overall I was not all that interested. It was too much like home when I wanted something foreign.
Singapore was a step in the right direction, but still so western, so easy, so clean, so nice. Singapore was not incredibly interesting to me.
Thinking again about that picture in my mind our trip, something becomes clearer. I want, more than anything else, to be interested and I find few things more interesting than foreign-ness. The satisfaction I derive from the trip is linked to how unlike home it is to me.
Arriving in Sri Lanka and traveling through India and Southeast Asia over the next couple of months, I have a renewed sense of what the trip will hold for us. Gone are the days of easy access to the things we take for granted. Gone are the days of drinkable tap water and edible food. Gone are the days of predictable traffic and English speaking people. The days of ease and consistent comfort may be few and far between.
We are now in a new realm of travel and our trip, one that will challenge us a little more and make us work for what we want to experience. It may be hard and it may see us get sick and long for home or some place like it. But it will be foreign and it will be interesting and as long as that is true, I will be happy for a while.
By: leelefever on December 28, 2006 - 3:01pm
I wrote this pretty early in the trip - around the middle of March 2006, just as we were coming to terms with how extended travel actually works. It sounds a little negative, but it's real.
---
We're learning every day, learning to be better travelers. For us, it's about being able to find fulfillment in the bulk of the time between the absolutely fantastic and the miserably horrible experiences. The continuum is long between the two and filled with mediocre and boring attempts to find excitement when none exists.
The idea of a year away from home, away from work, away from normal life was fascinating to us, as I think it would be to anyone. One pictures a montage set to frantic music that displays a life of freedom, exotic locations, new people, interesting cultures, new experiences and drinks with umbrellas. These things are all parts of extended world travel. But, what one doesn't imagine is the constant, constant fear of losing bags or passports or tickets. Far from expectation is the feeling of running for a train in 95 degree heat only to miss the last train of the day. No one looks forward to only having three pairs of underwear and having to wash them by hand in a sink every few days, along with every other piece of clothing. Sweating yourself to sleep is not high on the list of people who look forward to travel. In the list of reasons to see the world, being lost in a strange city late at night with all your belongings on your back does not rank high. Yet, these are all a very real part of the overall experience. The key, for us, is attitude and finding joy in the journey, or making your own joy.
It's easy to get frustrated. As you might expect, the world does not work as you'd prefer sometimes. Despite having spent a whole day to travel to a location, it is sometimes closed for renovation or doesn't allow your type of shoes and you just have to deal with the fact that no one told you, or that you didn't listen, or couldn't understand. You just have to suck it up and move on. Being able to move on and put it behind you is absolutely key, and something I'm currently working on.
Making up for the valleys are the peaks. Unfortunately, it seems that the highest peaks are not something you can plan - they come unexpectedly. It's easy to get excited about the Great Wall of China or the Taj Mahal, but you expect that excitement and plan on it. The expectations are so high sometimes that the reality cannot measure up and there are pangs of disappointment. I battle this feeling often, perhaps because I've psyched myself to too high a level.
The peaks we find often arrive on the wings of chance, happenstance or the kindness of others. The random person that gives us a bit of advice that saves us time and energy is reason for us to celebrate. Finding a hotel at half the price we expected is cause for joy. Sharing a meal with other travelers from other countries gives us a reason to be happy. Capturing a scene with my camera in the way that I want gives me great pleasure. Having clean laundry, charged batteries, good health and tickets to our next destination is almost nirvana.
More than anything else, we are most gratified by knowing that we are learning- learning to be smart travelers, learning about the people of the world, the history, the politics, and the quirkiness. Museums and galleries are nice and we often visit- but they don't often give us great joy. We've found that the good stuff comes from the locals, the driver, the friend of a friend, the person who lives there and has an ear to the ground. Given the choice, we'd spend 10 times more time drinking beer with a local than walking around a museum. Though we've wanted more, connecting with locals have represented some of our highest peaks on the trip.
In the end, it's a balance, a balance of expectations and reality, of fun and boredom, of frustration and success. Joy in travel does not always come from the places you visit, the people you meet or the pictures you take – it comes from the little things that present themselves in the nick of time – just in time to renew your excitement and remind you that travel is a wonderful and complex event and one that, more than anything else, is what you as an individual choose to make of it.

new