geek
By: leelefever on January 3, 2007 - 2:16pm
We've been geeking out a little and trying to summarize the trip according to statistics. We think it's pretty darn interesting.
We'll start with the basics...
Days on the road 366

Countries Visited 29
Hotels 101
Planes 40

Trains 32
Boats 19

Busses 20
New Local Friends 19
Cars Rented 9
Motorcycles Rented 7
Now, let's look at the web site. TwinF was (officially) opened on October 3rd, 2005 and closed on January 6th, 2007. In about 15 months:
We posted about 530 dispatches (350 while on the road)
You (and us) posted about 875 comments
450 of you became TwinF members
You shared 125 travel experiences
We posted 24 original videos
We posted 140 dispatches from our mobile phone
Current Links on Technorati: (296 links from 87 blogs)
Current Alexa rank: 171,443
Current Google Page Rank: 6

What about photos? Ah, yes. Photos are interesting... the links below go to Flickr photos sets.

Total photos taken: 14,340
Total photos shared on Flickr: 1,502
Total panoramas created: 94

Average total photos taken per day: 39
Average photos shared on Flickr per day: 4.2
Country with most photos: Japan (2,026)
Country with most photos/day: Sri Lanka (75)
Country with most Flickr photos/day: Banff, Canada (12.5)
I'm sure we could go on and on, but we'll stop now before we have to bust out the charts and graphs.
By: leelefever on January 3, 2007 - 1:38pm
Throughout the trip, when the inspiration struck, we would type a few travel tips into our phone. The majority of the tips below came from spur-of-the-moment revelations on the road, now in more organized and long form.
Gadgetry:
To save battery power turn off mobile phones - being connected to or looking for the network drains the battery.

The same is true for laptops and wi-fi signals.

Turn em off.
When you get to a hotel room, open your computer and look for an unsecured wi-fi signal.

You'll be surprised often.
Carry two batteries for all gadgets.

Though, a computer battery may be an exception.
If you are using a mobile phone for more than a few weeks in a country, buy a SIM card for a local network when you arrive.

It's what the locals use and you would have a local phone number with free incoming calls from home

If you want to be able to charge more than one gadget at once, get a travel splitter or multiple outlet adapters for each format.

Always think redundancy - back up often and send home DVDs of your pictures.

DVDs hold a lot more pictures than CDs for back-up purposes - 3 times the amount.

Most internet cafes offer DVD burning services.
Invest in lots of camera memory (lSD cards, memory sticks).

You do not want to consistently be hamstrung by a camera that is full of pictures.

A 1GB card with 5megapixel photos was enough for us.
If you have a laptop, move photos from the camera to the laptop daily.

Always leave the room with 2 charged batteries and an empty memory card.
Take your computer to the Internet cafe and plug it into their network with the Ethernet cable.

They will know how.

Europe doesn't allow this, Asia does.
Wrap your computer in some sort of sealable plastic bag before packing it away. Wetness happens.
Keep your valuable electronics on your person when in transit. Don't put your computer in a bag under a bus.
People can't steal what they don't see.

Limit gadgetry use in public.
Hotel Living:
When leaving a hotel, take the complimentaries with you, like coffee, cream, tea, toilet tissue, etc.

Towels, bedspreads and hangers are not complimentary.
Never, ever miss an included breakfast.
Many cheap hotels require that you insert the key into a slot in order for the power to come on. While it saves energy, it means you can't charge electronics while you're out of the room.

Often you can use a business card in the slot instead of a key.
Don't leave the room for the day without a map, local currency, identification and the room key.
Try to resist giving the front desk your key when you leave – this is very insecure.

Notice that when you return, they will give you any key you request.

If your hotel does not serve breakfast, remember to go to a store on the way home at night to get something for the morning.
Unless the city gets full consistently, don't make reservations in advance.

Get there; find your favorite neighborhood and then a place to stay.

If you are going to be in one city for more than a week or so, consider renting an apartment.

A kitchen and washer /dryer are so nice sometimes.
If you know the part of the city where you want to stay, make a reservation in advance for a single night at a hotel in that area, even if it is more expensive. Then, when you arrive, walk around to hotels and find a better deal for the rest of your stay.
For most major cities, two nights is not enough as it leaves only one full day for exploration.

Three nights is usually a good amount if you're on the move. More is better.

The combination of your padlock is a risk.

You may be asked for it if your bags are lost on international flights (they may need to open the bag).

Make it unique - not associated with bank accounts, etc.
When unlocking your padlock for your bag, remember to spin the numbers once so your combination is not displayed for others, like the housekeeper, to see.
General:
Tear unused pages out if your guidebook.
In inexpensive countries like India remember to carry small bills and change - go to a bank to get the change you need. Making change is a pain.
When wandering a new city at night, adopt the moth strategy and go toward the light.
Buy clothes made of synthetic fiber - they are lighter, stay cleaner and are easier to wash and dry quickly.
Days of the week can start to blend together.

The biggest problems happen on Sundays when a lot of businesses are closed and Mondays when museums often close.
In packing your backpack, make sure you pack it the same each time, giving each item a specific place.

When something is missing you'll know.
Buy a backpack that is built for travel and not camping.

The best ones open from the side, allowing access to everything quickly instead of bags that open from the top only - requiring an unpacking to reach the bottom.
A clean and free bathroom is only as far as the closest McDonalds.
Take a flashlight.
In public, you will never be judged or create a spectacle for being too quiet.

This is made more difficult with alcohol.
Look for English language weeklies in cities to find out about events.
Check local pharmacies for prescriptions that are expensive from home.

Beware of fakes in China.
Do like the Spanish and have a siesta.

Explore for a few hours in the morning, nap in the heat of the afternoon and go back out for the evening.

This is sustainable for long periods.
Only rookies get sunburned.

Be liberal with strong sunscreen. Wear a hat.

When getting up from a park bench, airplane seat or any place where you sat, turn around and look back at the area to ensure you didn't leave anything.
Use the local mail service to send home items you are not using.

Most useful when changing climates.
Remember that you can't do everything. Relax, take a deep breath and enjoy what you *can* do.
By: leelefever on January 1, 2007 - 1:15pm
As I've done a few times on our trip, I'd like to get a little geeky and provide our experiences with mobile networks, Internet access and mobile blogging across regions of the world. We try to buy a local SIM card and experiment with the local networks via prepaid mobile phone plans, when reasonable. I cannot vouch for the completeness or accuracy of this information – it changes quickly and my perspective is one of a traveler.
See Also:
Russia
Mobile: The problem we experienced with the mobile networks in Russia was that we could never find a pre-paid SIM card plan that would work across the whole country – they may exist, but we couldn't find one. Megafon may be a good bet. Also, see this list of Russian providers.
We moved quickly on the Trans-Siberian Railway, so it didn't make sense for us to get a SIM card that may only works for a few days.
Russia cities generally have both GSM and CDMA. Our friends from the UK were able to use their phone from home to SMS family in the UK through many parts of the Trans-Siberian trip. GPRS is also available in Russia depending on the service.
Internet: Wifi access is growing quickly in the major cities we visited, with access being very common St. Petersburg, where our guesthouse (and many others) provided it for free. While our hotel in Moscow didn't have wifi, there were many cafes and bars that had great free wifi access. Irkutsk and Yekaterinburg both had cafes that advertised free wifi access, but we rarely found anything that worked for us. Internet cafes were quite common and sporting strong connections. However, unlike Asia, I was not able to plug my own laptop into their network. This trend lasted through all of Europe.
Scandinavia (Finland, Sweden, Norway and Denmark)
Mobile: If there is anywhere a mobile device should work, it is Scandinavia, home of Nokia and some of the highest rates of mobile phone adoption in the world. It's true, it is easy to get a SIM card and the network is 3G, fast and consistent. However, the problem in traveling across Scandinavia is that the PrePaid plans do not work across countries without burning up minutes with expensive roaming. Plus, if you get a plan in Finland and run out of minutes in Norway, it is impossible to top-up your plan. The pre-paid plans don't travel well. I was hoping to find an all-Scandinavia plan but came up empty.
Internet Access: We found free wi-fi to be quite easy to find in cities like Helsinki, Oslo and Copenhangen. Many hotels offer wifi as an included part of the room – though you may have to ask for the password. While wifi is easy, Internet cafes are not as easy. We've found that, in general, Internet cafes are easiest to find in a) places where people cannot afford personal computers, like in SE Asia b) places on the backpacker trail, like Florence, Italy. With Scandinavia being neither, internet cafes are harder to find – but still available.
Europe:
Mobile: We entered Europe from Amsterdam, Holland and it was from here that we started our Vodafone adventure. Vodafone is one of the major European providers that is close to providing near-seamless access across the continent. The key point with a service like Vodafone is that you can travel across countries and still be able to top-up your prepaid account. Vodafone stores are everywhere. However, if you have a Vodafone card from one country and travel to another *be sure* to explain to the Vodafone rep that you need a refill voucher card for foreign cards – they are different from domestic cards. Also, when topping-up your account from abroad, note that you must use a different menu item on the voice menu – wait for the menu to ask about a *foreign* voucher number.
We bought a Vodafone prepaid SIM card in Amsterdam and immediately connected to the voice network. However, the phone (Palm Treo 650) would not connect to GPRS with the built-in settings. When I would try to edit the GPRS Network settings provided by Vodafone, the phone would tell me they are locked. After talking to the Vodafone helpline a couple of times, I learned that I had to add a new network connection with a different APN. I'm sorry that I don't have the info on the APN right now, but the Vodafone help line can help.
Within a couple of days, we had both GSM and GPRS working on the phone. Then, we left Holland and quickly discovered that the coverage may be near-ubiquitous, but there are penalties for roaming. After leaving Holland, we burned through prepaid minutes like wildfire. I was amazed at how quickly GPRS access would burn up minutes. Usually, international voice costs about 1 Euro for the connection and then something like .75 Euros per minute after than. The EU is about to regulate the industry in Europe by forcing them to cut roaming charges by 40-60%. I am a fan – the charges are ridiculous.
Then lesson here is to watch out for roaming charges within Europe on Vodafone. You cannot travel across countries without roaming charges.
Internet: In most of Europe there is no shortage of Internet cafes, particularly if backpackers are frequent. Most cafes charge 3-5 Euros per hour of access. No Internet cafes would allow me to plug my laptop into their network. However, many Internet cafes have wifi that you can use for the same rate as a terminal. We found that outside the major cities in southern Europe, wifi is less available.
A final note: A gadget that would be amazing to have while traveling is a wifi detector so that you could be walking through a new city and find a wifi signal with ease. People sniffed out a wifi signal on a random section of street in Siena Italy.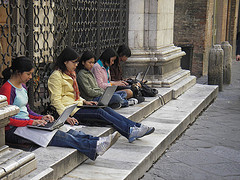 Conclusion
In general, across all 29 countries we visited (except Japan), an unlocked GSM phone will work for voice calling. What is much harder, but still possible nearly everywhere is connecting to GPRS (Internet, email, data). If you absolutely need to connect to GPRS, take a very mainstream and popular phone, such as a Nokia, because the phone store people will have instructions for the connection. I had problems using a Palm Treo 650 because many foreign data plans did not support it for GPRS.
By: leelefever on December 1, 2006 - 5:53am
I've come back to an online world filled with all sorts of fun little social tools that can keep us connected in stange and interesting ways. The one we're experimenting with using on the roadtrip is called Twitter.
Twitter enables me to post something that is a bit like a blog post, but a small and posted more frequently. I can use our mobile phone to send a text message (SMS) to Twitter that then posts it online and on our blog - notice the new format of the "Currently" block on the home page.
Since it is so easy to post something new, I plan to be sending multiple updates a day to Twitter. Most will be goofy and mostly useless, but homefully fun. This little badge will also keep up with the action:
By: leelefever on November 17, 2006 - 2:40am
We've been asked many times about our process and technology for keeping this site updated regularly. So, we decided to shoot a short video showing all the tools we use (hardware and software) and our process. We're not sayng it's the best way - it's just how we do it.
In the video we mention a number of resources. Our camera is the Pentax Optio WP. Our computer is the Sony VGN-T350. This site runs on the Drupal platform, which is hosted and supported by Bryght. Our graphic design was done by Rain City Studios. We share our photos using Flickr. Oh, and the post we created on the video is here.

This post doesn't account for the mobile blogging, where we use the Palm Treo 650 to send a picture and story to this site via Flickr. Oh, and our video camera is the Sony DCR-PC 1000.
By: leelefever on October 21, 2006 - 8:26am
We recently received a nice email from Nath at Blue Fronier Media. Nath asks...

Firstly, how much has running this blog taken over the 'mission' that you guys have embarked upon?

Hi Nathan!
What a can of worms you have opened. We love talking about this stuff... Let's see...about the mission...

TwinF is a huge part of our experience - I am personally thinking about it all the time - usually in terms of what would make great content and where the next Web connection is going to come from (man, I sound like a junky). As for mission though - TwinF was part of the mission from the beginning. We saw it as an opportunity to travel and experiment at the same time. We had a hypothesis that a new type of travel is possible now because the Internet makes it so easy to collect information and meet new people. In testing this hypothesis, I get to learn new things for my work with Common Craft. So, we're very motivated to keep things rolling. I'd also say that our hypothesis has proven to be true - blogs and the Internet have enabled us to learn about places and meet people we never would have known otherwise. TwinF has helped us make our travel world much smaller and more localized. We call it the "Long Tail of Travel", if you're familiar with that idea.

Has it enriched the trip...something to keep you interacting with your world and -- in the case of a travel diary like yours perhaps -- ensuring that you keep engaging critically with what's going on around you; chasing the next post, as it were).

It's a double-edged sword. It is amazing to know that people are watching and are ready to help, but it's also intimidating sometimes. I honestly worry about looking like a rookie or saying something insensitive. Aside from that, the notion of sharing something on the web has pushed us into places and situations that we may not have pursued otherwise. The perfect example is eating weird things in Asia - that would not have been so fun without video and TwinF as a means to share it. Also, it has made us really think about how a place makes us feel because we want to be as authentic as possible. I have no regrets - I would say blogging has enriched more than detracted by a long shot.

Also, Member Travel Experiences along with comments and emails has enriched the trip immeasurably. We found some of our favorite spots by asking for advice from our readers.

Has it become a pain at times when you'd just rather blow TwinF off and be another hedonistic, aimless vagabonding vagrant?

I have a little voice in the back of my head that is constantly keeping track of the length of time between posts and sometimes it is a bit too loud. However, that voice is not specific to TwinF, I've heard it since my first blog and I'm used to it.

It is the administrivia that gets old... Finding a connection, uploading pictures, trying to use the mobile phone, dealing with comment spam, etc. If wifi was ubiquitous and the technology worked consistently, we would have no complaints.

Blowing off TwinF has never even been a possibility and I think we would both count it as a failure if we did. TwinF is a project that are both committed to seeing through to the end and I think we're lucky that we have such fun doing it.
By: leelefever on October 12, 2006 - 8:17am
I knew it would be interesting at least- a standup/improv comedy troupe called Boom Chicago doing a show called "Me, MySpace and iPod". As it turned out, it was completely up my alley and I was very impressed.
It was the first I had seen a comedy routine integrated with technology and social networking - something very close to my job when I'm not traveling.
For instance, they asked the audience who had a page on MySpace.com and someone was chosen for the skit. They went to the live site during the show to check out the guy's page and asked him about some friends on his friend's list. Then, later in the show they did a whole routine that brought his MySpace friends to life based on his descriptions. So freaking funny - and for the skit to work every night they have to find someone in the audience with a MySpace page - in Amsterdam. This goes to show how huge MySpace is.
They also did a skit based on Wikipedia, which is an online encyclopedia that a very large community of people manage by editing pages. Wikipedia works, but is also famous for disagreements about how an entry should be written. In the skit, they ask for an object, in this case a pineapple and they take turns describing it in encyclopedic style. When one performer disagrees, they yell "EDIT!" and it becomes their turn to create the "real" definition. Wiki-based humor, wow.
Being that we are in Amsterdam, they also parodied Anne Frank and showed a YouTube style video blog that was done by Anne Frank back on the 1940's [watch the video]. It was a take-off of the now-famous LonelyGirl15 on You Tube.
I was in awe. It was funny yes, but what really blew me away was that these websites and ideas were too geeky for prime time only a couple of years ago and now, suddenly, it is mainstream enough to become fodder for an entire comedy show. If I was running a technology conference, I would hire Boom Chicago in a second.
By: leelefever on September 2, 2006 - 5:56am
Flickr is surely one of the best websites evar. We're using it to archive and organize the photos that we'd like to share on the web. Just recently they released a new feature called Geo Tagging that allows you to arrange your photos on a map. So, being the Flickr nerd that I am, you can now browse all our TwinF photos on a Flickr map.
Enjoy!
By: leelefever on August 11, 2006 - 11:31pm
Part of our trip is focused on experimenting with technology and mobile networks as we travel around the world. A tech report is our way of relating the geeky side of what we're discovering.
In an SMS with our friend Newley Purnell in Thailand, I wrote that southern Thailand is paradise, complete with great Internet access. In Thailand, it seems that high-speed Internet cafes are never farther than the next corner. In a number of ways, Thailand is a tech wonderland.
Our Treo 650 GSM phone integrated perfectly with the Thai network. I asked our first taxi driver about the best mobile network and he said "AIS" and after spending nearly 2 months in Thailand I know he was right. I bought a new SIM card ($10) with a network called "1-2-Call" and was immediately able to connect to the GPRS network (Internet access and email) and make calls. Thanks to promotions, I often had many credits to use the GPRS network for free. I was able to easily take pictures, send them in email to Flickr and have Flickr post the picture and entry here on TwinF immediately. Mobile blogging was easy in Thailand and comparably cheap too. I spent about $70 on all our mobile phones-based activities, which included daily web browsing, often for extended periods. An unlimited data and phone plan in the US costs about $80 per month.
Mobile coverage in Thailand was ubiquitous – I don't remember a time when we were left wanting for network service. It was easy for us to view this kind of coverage from a tourist perspective, but the fact is that, especially in rural areas, mobile phone access is a lifeline for the Thai people. The people who are conducting business (with or without tourism) can gain significant efficiency with a mobile network. Look for these signs: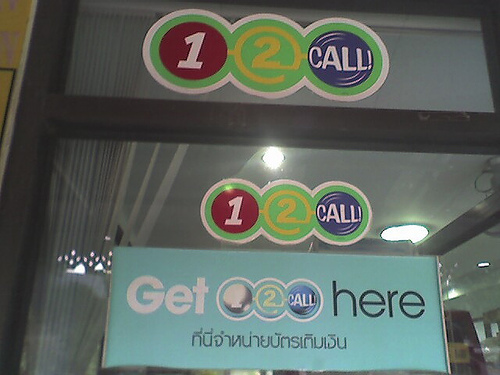 Bangkok and specifically the Siam Square (MBK) area of Bangkok offers some of the best technology shopping in Asia. Bargaining is the norm and it's advisable to pit sellers against one another to get the best price. I bought a 2mb SD card for about US$75 and I priced the same card at $160 previously.
Before we left for the trip, I questioned the need to have a laptop computer. In Thailand, more than any place else, the laptop came in very handy as an entertainment tool. This, of course, is because of the incredible amount of movie and music piracy that occurs in Thailand. Reprehensible or not, we were constantly flush with the latest flicks.
Also, I discovered a new and better way to upload pictures, blog, etc. from Internet cafes. I used to put everything on a USB pen drive and take it to an Internet café. Now I take the whole computer with me and ask them to let me plug it into their Ethernet cable. So far this has worked every time and I can work from the comfort and relative cleanliness of my own computer.
If you're traveling in Thailand for more than a week or two and need to use your phone a lot, I recommend buying a new SIM card (on the AIS, 1-2-Call Network) for your mobile needs.
By: leelefever on August 11, 2006 - 11:11pm
Part of our trip is focused on experimenting with technology and mobile networks as we travel around the world. A tech report is our way of relating the geeky side of what we're discovering.

Japan is one of the places in the world that one would expect to encounter the highest technology and in many ways, we were not disappointed. However, in terms of testing and using the Japanese mobile network, we were left in the cold. Japan's mobile network evolved without integration with the GSM international standards. So my Treo 650 was worthless in Japan. GSM "worldphones" will not integrate with the Japanese network, though the word on the street is that this may change soon. Japan does use CDMA, but it is not as prevalent as their PDC system.
This quote from an informative Japan Zone article may help:
Very briefly, there are three mobile phone technologies supported by the major networks within Japan - PDC (Personal Digital Cellular), CDMA (Code Divisional Multiple Access) and WCDMA. DoCoMo, Vodafone and TU-KA support the established PDC, and DoCoMo and Vodafone have also introduced the newer WCDMA, while AU supports CDMA. All three of these technologies are incompatible with each other.
It is possible to rent phones while in Japan, but we didn't.
Within Japan, the mobile network is quite sophisticated. One of the more advanced capabilities I experienced was when we met up with Gen Kanai in Tokyo. He looked up a restaurant's phone number, put the number into the GPS tool on his phone and then had the phone lead us to the restaurant with a dynamic map and car-style voice commands. Mobile GPS- very cool and something I think (hope) we'll all have in the US soon.
I had assumed that the Japanese are big users of SMS (short message system), but this is not the case. They do use their phones for text communication, but it all occurs via email, not SMS. The difference is the same as it is between instant messaging and email on your home computer.
More than any other Asian country, in-room Internet access in the norm, and often with blazing fiber-optic connection speeds. I made a habit of bit-torrenting all sorts of things while in Japan. Internet cafés are accessible from nearly everywhere, but not nearly as pervasively as in other Asian countries. Like the US, I imagine that home computers and mobile capabilities limit demand for cafés.
Wi-fi is available somewhat ubiquitously, though we did not seek it out often. In most urban settings, I would see networks available, but mostly secured. In the remote Alpine mountain village of Kamikochi, where there is not really even a town, we found a strong wi-fi signal, much to our delight.
If I could do it over again, I would likely rent a Japanese phone and give it a test run. It is also important to remember that buying electronics abroad can sometimes be hazardous. Products like cameras, computers, etc. are meant for the Japanese public and not visitors so they have instruction manuals, cords and even keyboards/controls built to Japanese specifications.

new