Tech Report: Thailand Mobile Networks
By: leelefever on August 11, 2006 - 11:31pm
Part of our trip is focused on experimenting with technology and mobile networks as we travel around the world. A tech report is our way of relating the geeky side of what we're discovering.
In an SMS with our friend Newley Purnell in Thailand, I wrote that southern Thailand is paradise, complete with great Internet access. In Thailand, it seems that high-speed Internet cafes are never farther than the next corner. In a number of ways, Thailand is a tech wonderland.
Our Treo 650 GSM phone integrated perfectly with the Thai network. I asked our first taxi driver about the best mobile network and he said "AIS" and after spending nearly 2 months in Thailand I know he was right. I bought a new SIM card ($10) with a network called "1-2-Call" and was immediately able to connect to the GPRS network (Internet access and email) and make calls. Thanks to promotions, I often had many credits to use the GPRS network for free. I was able to easily take pictures, send them in email to Flickr and have Flickr post the picture and entry here on TwinF immediately. Mobile blogging was easy in Thailand and comparably cheap too. I spent about $70 on all our mobile phones-based activities, which included daily web browsing, often for extended periods. An unlimited data and phone plan in the US costs about $80 per month.
Mobile coverage in Thailand was ubiquitous – I don't remember a time when we were left wanting for network service. It was easy for us to view this kind of coverage from a tourist perspective, but the fact is that, especially in rural areas, mobile phone access is a lifeline for the Thai people. The people who are conducting business (with or without tourism) can gain significant efficiency with a mobile network. Look for these signs: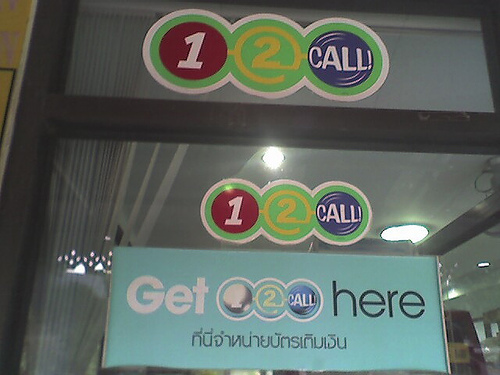 Bangkok and specifically the Siam Square (MBK) area of Bangkok offers some of the best technology shopping in Asia. Bargaining is the norm and it's advisable to pit sellers against one another to get the best price. I bought a 2mb SD card for about US$75 and I priced the same card at $160 previously.

Before we left for the trip, I questioned the need to have a laptop computer. In Thailand, more than any place else, the laptop came in very handy as an entertainment tool. This, of course, is because of the incredible amount of movie and music piracy that occurs in Thailand. Reprehensible or not, we were constantly flush with the latest flicks.

Also, I discovered a new and better way to upload pictures, blog, etc. from Internet cafes. I used to put everything on a USB pen drive and take it to an Internet café. Now I take the whole computer with me and ask them to let me plug it into their Ethernet cable. So far this has worked every time and I can work from the comfort and relative cleanliness of my own computer.

If you're traveling in Thailand for more than a week or two and need to use your phone a lot, I recommend buying a new SIM card (on the AIS, 1-2-Call Network) for your mobile needs.

new