mobile
By: leelefever on January 1, 2007 - 1:15pm
As I've done a few times on our trip, I'd like to get a little geeky and provide our experiences with mobile networks, Internet access and mobile blogging across regions of the world. We try to buy a local SIM card and experiment with the local networks via prepaid mobile phone plans, when reasonable. I cannot vouch for the completeness or accuracy of this information – it changes quickly and my perspective is one of a traveler.
See Also:
Russia
Mobile: The problem we experienced with the mobile networks in Russia was that we could never find a pre-paid SIM card plan that would work across the whole country – they may exist, but we couldn't find one. Megafon may be a good bet. Also, see this list of Russian providers.
We moved quickly on the Trans-Siberian Railway, so it didn't make sense for us to get a SIM card that may only works for a few days.
Russia cities generally have both GSM and CDMA. Our friends from the UK were able to use their phone from home to SMS family in the UK through many parts of the Trans-Siberian trip. GPRS is also available in Russia depending on the service.
Internet: Wifi access is growing quickly in the major cities we visited, with access being very common St. Petersburg, where our guesthouse (and many others) provided it for free. While our hotel in Moscow didn't have wifi, there were many cafes and bars that had great free wifi access. Irkutsk and Yekaterinburg both had cafes that advertised free wifi access, but we rarely found anything that worked for us. Internet cafes were quite common and sporting strong connections. However, unlike Asia, I was not able to plug my own laptop into their network. This trend lasted through all of Europe.
Scandinavia (Finland, Sweden, Norway and Denmark)
Mobile: If there is anywhere a mobile device should work, it is Scandinavia, home of Nokia and some of the highest rates of mobile phone adoption in the world. It's true, it is easy to get a SIM card and the network is 3G, fast and consistent. However, the problem in traveling across Scandinavia is that the PrePaid plans do not work across countries without burning up minutes with expensive roaming. Plus, if you get a plan in Finland and run out of minutes in Norway, it is impossible to top-up your plan. The pre-paid plans don't travel well. I was hoping to find an all-Scandinavia plan but came up empty.
Internet Access: We found free wi-fi to be quite easy to find in cities like Helsinki, Oslo and Copenhangen. Many hotels offer wifi as an included part of the room – though you may have to ask for the password. While wifi is easy, Internet cafes are not as easy. We've found that, in general, Internet cafes are easiest to find in a) places where people cannot afford personal computers, like in SE Asia b) places on the backpacker trail, like Florence, Italy. With Scandinavia being neither, internet cafes are harder to find – but still available.
Europe:
Mobile: We entered Europe from Amsterdam, Holland and it was from here that we started our Vodafone adventure. Vodafone is one of the major European providers that is close to providing near-seamless access across the continent. The key point with a service like Vodafone is that you can travel across countries and still be able to top-up your prepaid account. Vodafone stores are everywhere. However, if you have a Vodafone card from one country and travel to another *be sure* to explain to the Vodafone rep that you need a refill voucher card for foreign cards – they are different from domestic cards. Also, when topping-up your account from abroad, note that you must use a different menu item on the voice menu – wait for the menu to ask about a *foreign* voucher number.
We bought a Vodafone prepaid SIM card in Amsterdam and immediately connected to the voice network. However, the phone (Palm Treo 650) would not connect to GPRS with the built-in settings. When I would try to edit the GPRS Network settings provided by Vodafone, the phone would tell me they are locked. After talking to the Vodafone helpline a couple of times, I learned that I had to add a new network connection with a different APN. I'm sorry that I don't have the info on the APN right now, but the Vodafone help line can help.
Within a couple of days, we had both GSM and GPRS working on the phone. Then, we left Holland and quickly discovered that the coverage may be near-ubiquitous, but there are penalties for roaming. After leaving Holland, we burned through prepaid minutes like wildfire. I was amazed at how quickly GPRS access would burn up minutes. Usually, international voice costs about 1 Euro for the connection and then something like .75 Euros per minute after than. The EU is about to regulate the industry in Europe by forcing them to cut roaming charges by 40-60%. I am a fan – the charges are ridiculous.
Then lesson here is to watch out for roaming charges within Europe on Vodafone. You cannot travel across countries without roaming charges.
Internet: In most of Europe there is no shortage of Internet cafes, particularly if backpackers are frequent. Most cafes charge 3-5 Euros per hour of access. No Internet cafes would allow me to plug my laptop into their network. However, many Internet cafes have wifi that you can use for the same rate as a terminal. We found that outside the major cities in southern Europe, wifi is less available.
A final note: A gadget that would be amazing to have while traveling is a wifi detector so that you could be walking through a new city and find a wifi signal with ease. People sniffed out a wifi signal on a random section of street in Siena Italy.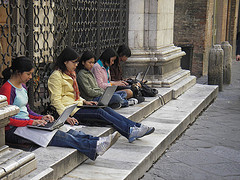 Conclusion
In general, across all 29 countries we visited (except Japan), an unlocked GSM phone will work for voice calling. What is much harder, but still possible nearly everywhere is connecting to GPRS (Internet, email, data). If you absolutely need to connect to GPRS, take a very mainstream and popular phone, such as a Nokia, because the phone store people will have instructions for the connection. I had problems using a Palm Treo 650 because many foreign data plans did not support it for GPRS.
By: leelefever on December 1, 2006 - 5:53am
I've come back to an online world filled with all sorts of fun little social tools that can keep us connected in stange and interesting ways. The one we're experimenting with using on the roadtrip is called Twitter.
Twitter enables me to post something that is a bit like a blog post, but a small and posted more frequently. I can use our mobile phone to send a text message (SMS) to Twitter that then posts it online and on our blog - notice the new format of the "Currently" block on the home page.
Since it is so easy to post something new, I plan to be sending multiple updates a day to Twitter. Most will be goofy and mostly useless, but homefully fun. This little badge will also keep up with the action:
By: leelefever on August 11, 2006 - 11:31pm
Part of our trip is focused on experimenting with technology and mobile networks as we travel around the world. A tech report is our way of relating the geeky side of what we're discovering.
In an SMS with our friend Newley Purnell in Thailand, I wrote that southern Thailand is paradise, complete with great Internet access. In Thailand, it seems that high-speed Internet cafes are never farther than the next corner. In a number of ways, Thailand is a tech wonderland.
Our Treo 650 GSM phone integrated perfectly with the Thai network. I asked our first taxi driver about the best mobile network and he said "AIS" and after spending nearly 2 months in Thailand I know he was right. I bought a new SIM card ($10) with a network called "1-2-Call" and was immediately able to connect to the GPRS network (Internet access and email) and make calls. Thanks to promotions, I often had many credits to use the GPRS network for free. I was able to easily take pictures, send them in email to Flickr and have Flickr post the picture and entry here on TwinF immediately. Mobile blogging was easy in Thailand and comparably cheap too. I spent about $70 on all our mobile phones-based activities, which included daily web browsing, often for extended periods. An unlimited data and phone plan in the US costs about $80 per month.
Mobile coverage in Thailand was ubiquitous – I don't remember a time when we were left wanting for network service. It was easy for us to view this kind of coverage from a tourist perspective, but the fact is that, especially in rural areas, mobile phone access is a lifeline for the Thai people. The people who are conducting business (with or without tourism) can gain significant efficiency with a mobile network. Look for these signs: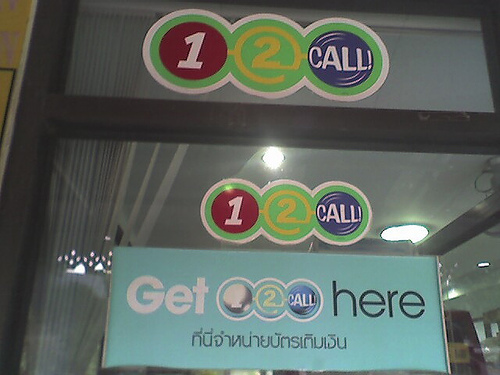 Bangkok and specifically the Siam Square (MBK) area of Bangkok offers some of the best technology shopping in Asia. Bargaining is the norm and it's advisable to pit sellers against one another to get the best price. I bought a 2mb SD card for about US$75 and I priced the same card at $160 previously.
Before we left for the trip, I questioned the need to have a laptop computer. In Thailand, more than any place else, the laptop came in very handy as an entertainment tool. This, of course, is because of the incredible amount of movie and music piracy that occurs in Thailand. Reprehensible or not, we were constantly flush with the latest flicks.
Also, I discovered a new and better way to upload pictures, blog, etc. from Internet cafes. I used to put everything on a USB pen drive and take it to an Internet café. Now I take the whole computer with me and ask them to let me plug it into their Ethernet cable. So far this has worked every time and I can work from the comfort and relative cleanliness of my own computer.
If you're traveling in Thailand for more than a week or two and need to use your phone a lot, I recommend buying a new SIM card (on the AIS, 1-2-Call Network) for your mobile needs.
By: leelefever on August 11, 2006 - 11:11pm
Part of our trip is focused on experimenting with technology and mobile networks as we travel around the world. A tech report is our way of relating the geeky side of what we're discovering.

Japan is one of the places in the world that one would expect to encounter the highest technology and in many ways, we were not disappointed. However, in terms of testing and using the Japanese mobile network, we were left in the cold. Japan's mobile network evolved without integration with the GSM international standards. So my Treo 650 was worthless in Japan. GSM "worldphones" will not integrate with the Japanese network, though the word on the street is that this may change soon. Japan does use CDMA, but it is not as prevalent as their PDC system.
This quote from an informative Japan Zone article may help:
Very briefly, there are three mobile phone technologies supported by the major networks within Japan - PDC (Personal Digital Cellular), CDMA (Code Divisional Multiple Access) and WCDMA. DoCoMo, Vodafone and TU-KA support the established PDC, and DoCoMo and Vodafone have also introduced the newer WCDMA, while AU supports CDMA. All three of these technologies are incompatible with each other.
It is possible to rent phones while in Japan, but we didn't.
Within Japan, the mobile network is quite sophisticated. One of the more advanced capabilities I experienced was when we met up with Gen Kanai in Tokyo. He looked up a restaurant's phone number, put the number into the GPS tool on his phone and then had the phone lead us to the restaurant with a dynamic map and car-style voice commands. Mobile GPS- very cool and something I think (hope) we'll all have in the US soon.
I had assumed that the Japanese are big users of SMS (short message system), but this is not the case. They do use their phones for text communication, but it all occurs via email, not SMS. The difference is the same as it is between instant messaging and email on your home computer.
More than any other Asian country, in-room Internet access in the norm, and often with blazing fiber-optic connection speeds. I made a habit of bit-torrenting all sorts of things while in Japan. Internet cafés are accessible from nearly everywhere, but not nearly as pervasively as in other Asian countries. Like the US, I imagine that home computers and mobile capabilities limit demand for cafés.
Wi-fi is available somewhat ubiquitously, though we did not seek it out often. In most urban settings, I would see networks available, but mostly secured. In the remote Alpine mountain village of Kamikochi, where there is not really even a town, we found a strong wi-fi signal, much to our delight.
If I could do it over again, I would likely rent a Japanese phone and give it a test run. It is also important to remember that buying electronics abroad can sometimes be hazardous. Products like cameras, computers, etc. are meant for the Japanese public and not visitors so they have instruction manuals, cords and even keyboards/controls built to Japanese specifications.
By: leelefever on July 31, 2006 - 9:31pm
My wife is a ninja when it comes to finding cheap airline tickets. For some reason it would have cost about US$650 for us both to fly from Hanoi to Hong Kong or Macau. What Sachi found was that if we flew the opposite direction from Hanoi (to Bangkok) and then flew from Bangkok to Macau, we could save over 1/2, including departure tax and one night in Bangkok. A ninja indeed.

By: leelefever on May 3, 2006 - 5:41pm
Gen Kanai is a Japanese New Yorker who has been living in Tokyo for about 3 years. In fact, he grew up within a couple of blocks from the Murray Hill neighborhood where we stayed in New York in December.
Anyway, Gen and I know some of the same folks and when plans were made to visit Tokyo, we made plans to meet Gen there. Last night we went out to a very nice and tasty tempura restaurant called Ginza Tenkuni, which has been around since 1885. More on the food in a minute.
What excited me was learning about the Japanese gadgetry. First, we met at the Apple store in the Ginza district and used their computers to find a restaurant. Then, Gen put the restaurant's phone number into his GPS-enabled phone. From that point, the phone guided us to the restaurant with voice commands as we walked through Ginza. In Japanese, the voice from the phone would say "In 50 meters, turn right". I was very impressed. Also, did you know that the Japanese don't use SMS (short message/chat)? They use email for mobile text communications. This is the mobile GPS system...
Once we got to the restaurant, it was obvious that we had entered a very fine and traditional tempura house, which is a bit like a high class sushi bar, but only serving seafood and vegetables fried in a light batter. The quality of food was equalled by the japanese service and ambience that could be described as beautiful. The experience was quite a treat.
One of the dishes I had never had was the fried shrimp legs. They were better than they sound- further proving my point that frying anything makes it better. :)
We owe a big thanks to Gen for his hospitality.
By: leelefever on April 5, 2006 - 8:33pm
When I told people about being able to update the TwinF site using the Treo Smartphone, I always said the same thing...

"If I'm looking at the Reclining Buddha in Bangkok and want people to see what I see in real time, I can take a picture and post it directly to the site."

Well, here we are, and here it is- the giant Reclining Buddha in Bangkok. What you can't see is the sweat dripping out of my every pore, which as u know, Sachi loves.
By: leelefever on April 2, 2006 - 2:18am
Dear normal readers, this is a post for folks interested in the geeky aspects of using mobile devices internationally. Please excuse the jargon and acronyms.

A big part of our trip is experimenting with mobile phones in each country. Specifically, we want to be able to post to the TwinF site using our Treo 650 Smartphone. When we arrive in a new country we get a new SIM card and a prepay account, which gives us a local phone number and a non-roaming connection to the local network.

It's likely no surprise that the world, what we've seen anyway, is mobile crazy. Surely one of the most pervasive products in any village is prepaid recharge cards. We've found that coverage is generally strong and there are multiple networks in nearly every location, including the high country of Sri Lanka. Below are our experiences in India and Sri Lanka.

Sri Lanka:

Sri Lanka has GSM and CDMA is apparently "coming soon". The major networks are Mobitel and Dialog GSM on the bands of 900/1800 & 850/1900. Both GPRS and MMS are available. To get started with a new SIM card and 400 rupees of prepaid service costs about $20US. We could not get the Treo 650 to connect to GPRS, though it is supposed to be possible. If you have problems, you must go to a phone store in either Colombo or Kandy. My advice is to make sure you get the GPRS settings when you get the SIM card. It was frustrating and time consuming to try to get GPRS settings to work in Sri Lanka.

India:

India is pretty advanced with mobile technology. They have both GSM and CDMA and the networks support both MMS and GPRS using the bands of 900/1800 & 850/1900. The major networks are Hutch and Airtel, with Airtel being the first and biggest. It costs about $15US to get started with a new SIM card and prepaid minutes. India has some of the cheapest phone rates in the world with calls costing less than $.02US per minute.

In India, note that if you travel across state lines, you may not recharge (top up) your prepay account with a voucher from a store- you must visit a phone store. This was the case with the Hutch Network. Also, I had to visit a Hutch store in order to get GPRS set up properly.

SMS is very popular in both India and Sri Lanka- and is the cheapest way to communciate. By providing our mobile number to the airline, we get flight status updates via SMS for free. One of the drawbacks of it is what I would call SMS spam from the networks who constantly send offers for new services and plans.

Anyone with an unlocked GSM phone should have no problem using a prepaid account in Sri Lanka or India.
By: leelefever on January 16, 2006 - 12:18am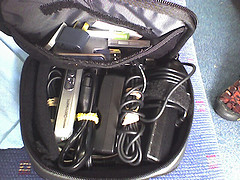 From time to time, I'll be posting about our gadgetry and how it's working for us (or not) on the trip. This is the inaugural TwinF tech report.

I cannot get over how pervasive the cell phone signal is in NZ. It is quite literally everywhere and MUCH better than the US, even to coverage within the Seattle city limits.

Having network access all the time means that our investment in a prepaid SIM card has paid off ($35NZ to get started). By getting a NZ SIM card, we basically use the network the same as the locals. We are using Vodafone.

Calls are .49 NZ

Text Messages .20 NZ

Web/Email by the kb

We have been very happy with how the Treo 650 has performed for mobile email and web access. A couple of tricks I've learned to save $ when browsing the web... disable images (a big help) and hit 'stop' before the page loads completely. I find that letting it get to about 25kb is enough.

Speaking of the Treo... The combination of a 2gb SD card and music player pTunes has made the Treo into a great little MP3 player. The external speaker does the job quite well for hanging out in the campervan.

Here is our blogging process...

We take a lot of pictures and load them onto the laptop. Then, we write a post and save it onto the laptop. We then plug a pen drive into the laptop and move the post and pictures onto the pen drive so all we have to take to a cafe is the pen drive. We sit down and immediately start uploading pictures to Flickr since it takes about 10 mins for 6 photos. Once uploaded, we copy in the entry add the pictures and we're done.

Of course most of the blogging can be done just like this post - by sending a picture and entry to Flickr via email using the Treo, which then posts it to the site. If we wanted, we could easily blog many times a day with the Treo. Sometimes though, we want to share more and better pics.
By: leelefever on November 28, 2005 - 1:41pm
This just came in today and I'm pretty excited about filling it up with music and photos across devices. Here's to hoping it doesn't get lost!


new