europe
By: leelefever on January 1, 2007 - 1:15pm
As I've done a few times on our trip, I'd like to get a little geeky and provide our experiences with mobile networks, Internet access and mobile blogging across regions of the world. We try to buy a local SIM card and experiment with the local networks via prepaid mobile phone plans, when reasonable. I cannot vouch for the completeness or accuracy of this information – it changes quickly and my perspective is one of a traveler.
See Also:
Russia
Mobile: The problem we experienced with the mobile networks in Russia was that we could never find a pre-paid SIM card plan that would work across the whole country – they may exist, but we couldn't find one. Megafon may be a good bet. Also, see this list of Russian providers.
We moved quickly on the Trans-Siberian Railway, so it didn't make sense for us to get a SIM card that may only works for a few days.
Russia cities generally have both GSM and CDMA. Our friends from the UK were able to use their phone from home to SMS family in the UK through many parts of the Trans-Siberian trip. GPRS is also available in Russia depending on the service.
Internet: Wifi access is growing quickly in the major cities we visited, with access being very common St. Petersburg, where our guesthouse (and many others) provided it for free. While our hotel in Moscow didn't have wifi, there were many cafes and bars that had great free wifi access. Irkutsk and Yekaterinburg both had cafes that advertised free wifi access, but we rarely found anything that worked for us. Internet cafes were quite common and sporting strong connections. However, unlike Asia, I was not able to plug my own laptop into their network. This trend lasted through all of Europe.
Scandinavia (Finland, Sweden, Norway and Denmark)
Mobile: If there is anywhere a mobile device should work, it is Scandinavia, home of Nokia and some of the highest rates of mobile phone adoption in the world. It's true, it is easy to get a SIM card and the network is 3G, fast and consistent. However, the problem in traveling across Scandinavia is that the PrePaid plans do not work across countries without burning up minutes with expensive roaming. Plus, if you get a plan in Finland and run out of minutes in Norway, it is impossible to top-up your plan. The pre-paid plans don't travel well. I was hoping to find an all-Scandinavia plan but came up empty.
Internet Access: We found free wi-fi to be quite easy to find in cities like Helsinki, Oslo and Copenhangen. Many hotels offer wifi as an included part of the room – though you may have to ask for the password. While wifi is easy, Internet cafes are not as easy. We've found that, in general, Internet cafes are easiest to find in a) places where people cannot afford personal computers, like in SE Asia b) places on the backpacker trail, like Florence, Italy. With Scandinavia being neither, internet cafes are harder to find – but still available.
Europe:
Mobile: We entered Europe from Amsterdam, Holland and it was from here that we started our Vodafone adventure. Vodafone is one of the major European providers that is close to providing near-seamless access across the continent. The key point with a service like Vodafone is that you can travel across countries and still be able to top-up your prepaid account. Vodafone stores are everywhere. However, if you have a Vodafone card from one country and travel to another *be sure* to explain to the Vodafone rep that you need a refill voucher card for foreign cards – they are different from domestic cards. Also, when topping-up your account from abroad, note that you must use a different menu item on the voice menu – wait for the menu to ask about a *foreign* voucher number.
We bought a Vodafone prepaid SIM card in Amsterdam and immediately connected to the voice network. However, the phone (Palm Treo 650) would not connect to GPRS with the built-in settings. When I would try to edit the GPRS Network settings provided by Vodafone, the phone would tell me they are locked. After talking to the Vodafone helpline a couple of times, I learned that I had to add a new network connection with a different APN. I'm sorry that I don't have the info on the APN right now, but the Vodafone help line can help.
Within a couple of days, we had both GSM and GPRS working on the phone. Then, we left Holland and quickly discovered that the coverage may be near-ubiquitous, but there are penalties for roaming. After leaving Holland, we burned through prepaid minutes like wildfire. I was amazed at how quickly GPRS access would burn up minutes. Usually, international voice costs about 1 Euro for the connection and then something like .75 Euros per minute after than. The EU is about to regulate the industry in Europe by forcing them to cut roaming charges by 40-60%. I am a fan – the charges are ridiculous.
Then lesson here is to watch out for roaming charges within Europe on Vodafone. You cannot travel across countries without roaming charges.
Internet: In most of Europe there is no shortage of Internet cafes, particularly if backpackers are frequent. Most cafes charge 3-5 Euros per hour of access. No Internet cafes would allow me to plug my laptop into their network. However, many Internet cafes have wifi that you can use for the same rate as a terminal. We found that outside the major cities in southern Europe, wifi is less available.
A final note: A gadget that would be amazing to have while traveling is a wifi detector so that you could be walking through a new city and find a wifi signal with ease. People sniffed out a wifi signal on a random section of street in Siena Italy.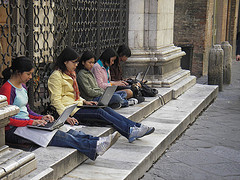 Conclusion
In general, across all 29 countries we visited (except Japan), an unlocked GSM phone will work for voice calling. What is much harder, but still possible nearly everywhere is connecting to GPRS (Internet, email, data). If you absolutely need to connect to GPRS, take a very mainstream and popular phone, such as a Nokia, because the phone store people will have instructions for the connection. I had problems using a Palm Treo 650 because many foreign data plans did not support it for GPRS.
By: leelefever on November 12, 2006 - 3:47am
One of my friends recently sent an instant message that said "France seems boring compared to the other places you've been on the trip J". He was only kidding and it was a compliment in some ways, but I know what he is talking about. I wasn't too excited about Europe. I had been twice before and it seemed a little boring and easy compared to Mongolia or China for instance.
Fortunately the reality has been much different. I have enjoyed and been captivated by Europe more than I ever expected. Despite being very much on the beaten track, I've found it to have an authenticity that I didn't find as much in Asia, or at least it is more cleverly disguised.
One of the major factors in the difference between Europe and Asia is the degree to which travelers live in the world of the locals. I have found that the more I can experience the world of the local, the more interesting a place seems. I'm not talking about hanging out in a Vietnamese pool hall or a Chinese cockfight – I mean the everyday reality of grocery stores and coffee shops.
For example, in Asia, being a white foreigner is an inescapable part of the experience. Because of the way we look, we are treated a different way. Our world is governed by what the country has learned about dealing with tourists. From their perspective, we only want to eat certain food, stay in certain hotels, use certain toilets and see the important temples. This forces travelers into a bubble in places like China where the experience is well planned and every need is accommodated for. For travelers like us, this is disappointing because if you don't work to get out of the bubble, you'll never see the real world. Vietnam without a little struggle for the foreigner is not the real world Vietnam.
This is also true from an economic perspective. The average Thai person cannot afford to experience the world of the western traveler inside Thailand. This enables Thai tourism to focus on the western experience instead of trying to accommodate both Thai and western tastes. Few westerners visit Thailand and stay in places that are frequented by Thai locals. So, the experience is a westernized bubble version of the real world Thailand. Wonderful still, just not the real world.
Turning to Europe, the situation is very different for us. Coming from very similar backgrounds and socio economic classes, we blend in with the European travelers – we stay in the same hotels, eat the same food and use the same toilets as everyone else. The locals usually have no idea where we are from or what expectations we may have for service or facilities. We often get questions as if we *are* locals. This makes Europe more foreign than Asia in many ways.
When we visited the very familiar-seeming Germany, we found that many of the basic everyday facilities were more foreign than we encountered in Asia. Remote controls, window blinds, showers, heaters, elevators, door handles were different in a uniquely German way. Further, while the people often speak English, few public facilities cater to English speakers. Germany never had to create an environment for tourists from another hemisphere – they never built the bubble to make travelers feel safe.
Without the bubble, the experience is more real. We experience Germany, an economically similar country to the US, in the same way that the French, Japanese, Chinese or Brazilian travelers do. The Germany we experience is the real Germany and it seems to be a uniquely foreign experience that we didn't find as much in Asia where every country has learned how to cater to the westerners.
In short, Europe has been surprising because the reality of the traveler's experience is so much more closely matched to the reality of the local world.

new