norway
By: leelefever on October 19, 2006 - 7:07am
We learned a valuable lesson on the day we shot this video. Europe is not Asia and apparently whole cities can sell out of hotel rooms - especially on football match days.
Also, in the video I mention the "stupid" check in procedures of Norwegian Airlines. This is what I mean...
All international travelers are lined up in front of 7 check-in counters. As flights get close to leaving, the attendants yell out "Anyone going to Berlin! berlin anyone??" When they do, anarchy nearly breaks out as all the people going to Berlin are allowed to the front, replacing people in line. This was repeated 3 times as our departure time got closer and closer. The system punished people who arrived early (us) and rewarded the late ones. We were so frustrated. I don't know why they don't segregate the travelers by flight. Ugh.
By: leelefever on October 6, 2006 - 7:47am
Put simply, Norway's Lofoten Islands are surely the most stunning mountain scenery we've ever experienced. I'll let the pictures and a few anecdotes tell the story...
We stayed in a tiny fishing village called Henningsvaer,or Henningsvær, if you want to be accurate. Our lodging for three nights was a "rorbu", which is a fisherman's cabin redone for visitors. It was low season, so we got it for half price for three nights (USD$80 per night). It had a kitchen, a view over the water, four beds and low doorways - as my head would tell you. Our expectations were exceeded from the start.
Having a kitchen was nice because Norway is obscenely expensive: $8 dollars to rent a DVD, $10 for a pint of beer at a restaurant. We ate meatballs and noodles at "home". Speaking of home, this was the view out of the back.

and from the side...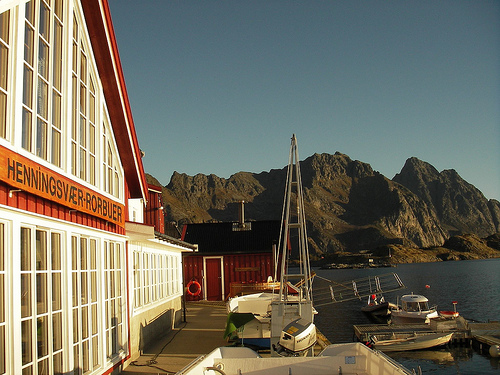 The little town of Henningsvær, is called "the Venice of the Lofotens". I think every country has a "Venice of" and "Paris of". It is an incredibly charming place.

Here's a closer look at the mountains in the back...

However, the real sights, the real drama and the reason we took two days to arrive were the mountains that seemed to go on and on and provide a perfect backdrop for quaint arctic dioramas.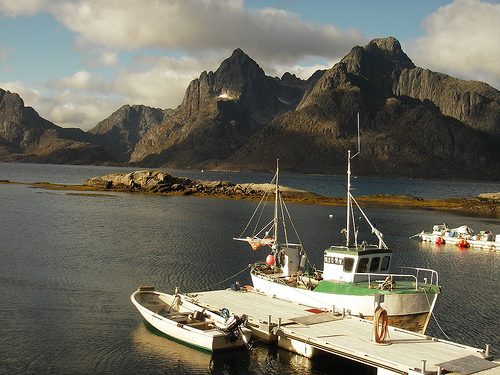 The Lofotens only get about 280,000 tourists a year, likey thanks to being so far out of the way. When we were there, it was low season and the place was empty - closed for the season and preparing for weeks of darkness. We would both like to experience an arctic winter some day. We've done an Asian summer - why not an arctic winter?

Did you know? Fjords are fjords because they are by the sea and are formed by glaciers. That is why you find them in places like Norway and New Zealand - places where giant glaciers existed.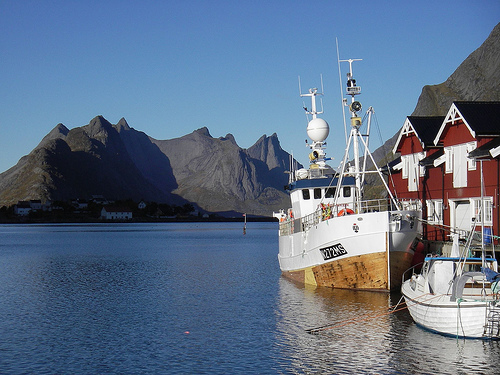 Despite all the focus on sealife and catching cod - we saw little wildlife, but I made friends with a jellyfish that liked to pose for the camera in the unbelievably crystal clear water...
In the end though, it was the glaciar-carved mountains in the rural artic settings that really peeled our scalp back, as our friend Tom would say.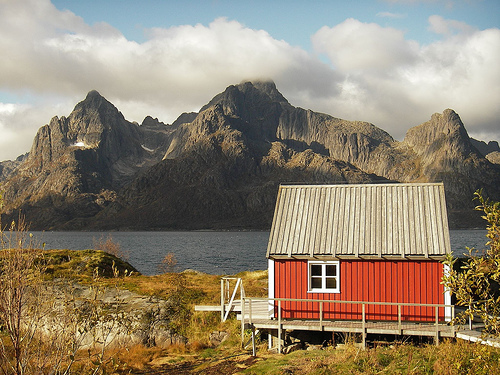 By: leelefever on October 6, 2006 - 7:18am
The little countdown gizmo on this site tells me that we've been on the road for 299 days as of today. You'd think that in that time I would have travel arrangement down to a science. Apparently not.
We were in Narvik, Norway and needed to fly to Oslo. Before taking off to the Lofotens, I volunteered to get tickets on Norwegian Airlines. Somehow, I managed to get a single ticket for myself and zero for Sachi. To make up for it, I speedily got another ticket and we were set to fly in four days. Upon returning to Narvik and our trusty wireless Internet connection, we checked email to verify our flight time and found that something was amiss. Apparently, in my haste, I got Sachi a ticket for a flight that left at that day instead of my flight at that night. Of course, we discovered this too late at about . Despite my pleas with the Norwegian customer service, we were forced to buy another ticket, this time with Sachi on the same flight as me.
I was humiliated and embarrassed – how could I be so careless? Apparently it was easy, because when I got the third ticket, I purchased it under my name instead of Sachi's, creating two Lee LeFevers on same flight. Ugghhh.
This was further proof that Sachi and I make a great team and my part of the team needs to stay away from airline reservations for a while. Luckily though, we have a killer jump shot and lots of team spirit.
By: leelefever on October 5, 2006 - 6:30am
It's funny how things tend to work out. Sometimes a tiny bit of information can turn into something wonderful. Without this helpful post, it's likely that we would have made other plans and not gone north at all. As it turned out, our decision to keep moving northward turned into a highlight of the whole trip. Thank you Internet!
Our overland trip across Scandinavia...
This video is from two days of exploring the Lofoten Islands via car. Despite being a couple of hundred miles into the Arctic Circle, it is quite mild thanks to the gulf stream current. A stunningly beautiful place our jaws are still on the floor. Pictures and more info coming soon...
By: leelefever on October 1, 2006 - 10:50pm
It took us 4 busses and 3 trains to do it, but we have finally arrived in Narvik, Norway, from Helsinki, Finland - the starting point for exploring the Lofoten Islands and fjords via rental car over the next few days. Narvik is a cool little town that has the northernmost train station (and supposedly disco) in the world. It is a few hours north of the Arctic Circle by train.
This completes our overland trek from Beijing - from the Pacific to the Atlantic across Eurasia. Going from Asia to Norway seems like traversing planets instead of the same land mass. What a contrast.
On the way through we stopped at Rovaniemi, which is known for being so close to the Arctic Circle and having Santa's "official" residence. Surprise, surprise - it was a giant gift shop!
I wasn't really upset - i just love making stupid faces in these contraptions.
We did cross the Arctic Circle for the first time there though...
...so we can check that one off the list.
By: leelefever on November 17, 2005 - 12:30pm
I just love this picture. I hope that we can get far enough North in Scandinavia to get it hooked up. It looks sooo cold.

new