mountains
By: leelefever on November 6, 2006 - 1:33am
Early on the trip, I got an email from a person calling himself JFG and saying that he was working on a new project related to travel and was a fan of TwinF. Further, he said that if we were ever near the French-Swiss border to let him know – that we had a place to stay.
Over the last couple of days we took him up on his offer and spent a couple of days with him, Jean François Groff, his wife wonderful Masumi and their sons August and James (and lovable dog Yu). Coincidentally, we were married on the exact same day and the women of both couples are Japanese (Sachi being half).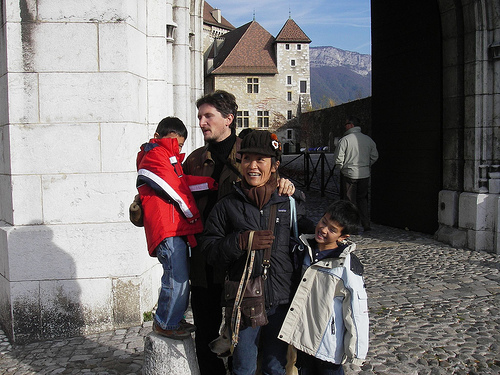 Apart from staying in a charming French house in the French Alps and eating delicious food with the family, I got a chance to geek out with someone who I learned is a true Internet pioneer. In short, JF was a member of Tim Berners Lee's team at CERN that originated the World Wide Web that we all use today. He was there at the very, very beginning when Tim worked at the office beside his. Today he is the CTO of Netvibes – a handy web site that brings together all sorts of information from the web in one place. So, it was a pleasure to speak geek with someone who has seen it all happen and is into exciting things now.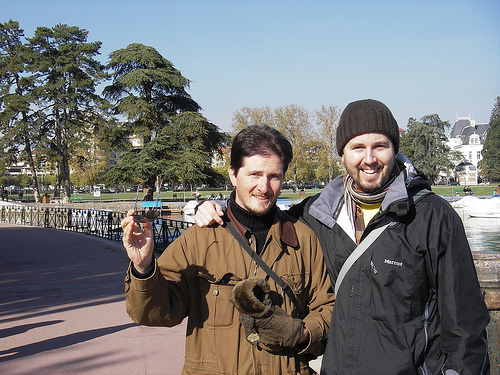 Apart from the geeking out, our time with them also made us a bit envious. Not because of their house or cars or anything material. We were envious because they have a warm and lively home – something that we have been without for 328 days now. Seeing their everyday life made us miss home a bit more and look forward to our arrival by the end of the year.
We owe the Groffs a big thanks for their hospitality and hope we can return the favor in Seattle some day.
Here are some photos from a walk we took just outside their home in Savoie…
This was shot from their front porch...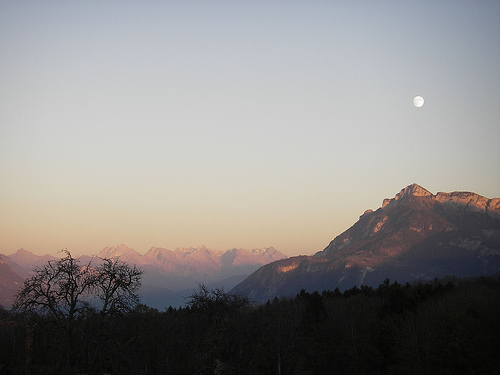 These are from the charming town of Annecy, France...
By: leelefever on October 6, 2006 - 7:47am
Put simply, Norway's Lofoten Islands are surely the most stunning mountain scenery we've ever experienced. I'll let the pictures and a few anecdotes tell the story...
We stayed in a tiny fishing village called Henningsvaer,or Henningsvær, if you want to be accurate. Our lodging for three nights was a "rorbu", which is a fisherman's cabin redone for visitors. It was low season, so we got it for half price for three nights (USD$80 per night). It had a kitchen, a view over the water, four beds and low doorways - as my head would tell you. Our expectations were exceeded from the start.
Having a kitchen was nice because Norway is obscenely expensive: $8 dollars to rent a DVD, $10 for a pint of beer at a restaurant. We ate meatballs and noodles at "home". Speaking of home, this was the view out of the back.

and from the side...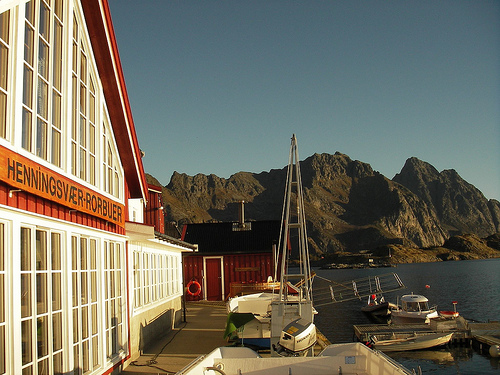 The little town of Henningsvær, is called "the Venice of the Lofotens". I think every country has a "Venice of" and "Paris of". It is an incredibly charming place.

Here's a closer look at the mountains in the back...

However, the real sights, the real drama and the reason we took two days to arrive were the mountains that seemed to go on and on and provide a perfect backdrop for quaint arctic dioramas.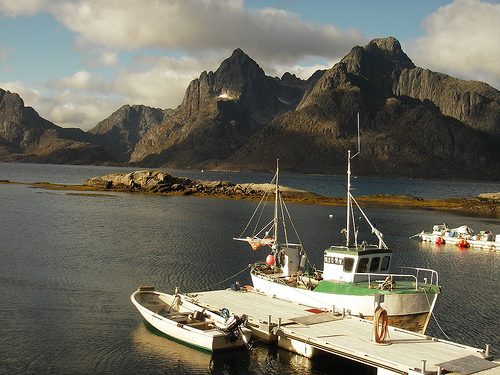 The Lofotens only get about 280,000 tourists a year, likey thanks to being so far out of the way. When we were there, it was low season and the place was empty - closed for the season and preparing for weeks of darkness. We would both like to experience an arctic winter some day. We've done an Asian summer - why not an arctic winter?

Did you know? Fjords are fjords because they are by the sea and are formed by glaciers. That is why you find them in places like Norway and New Zealand - places where giant glaciers existed.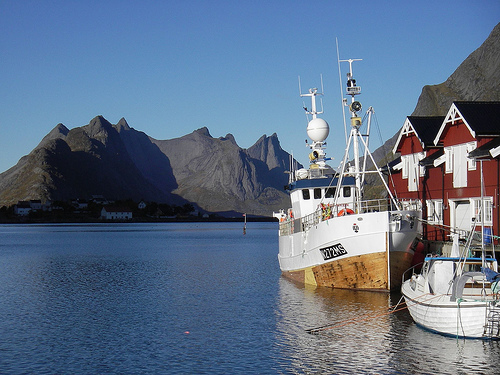 Despite all the focus on sealife and catching cod - we saw little wildlife, but I made friends with a jellyfish that liked to pose for the camera in the unbelievably crystal clear water...
In the end though, it was the glaciar-carved mountains in the rural artic settings that really peeled our scalp back, as our friend Tom would say.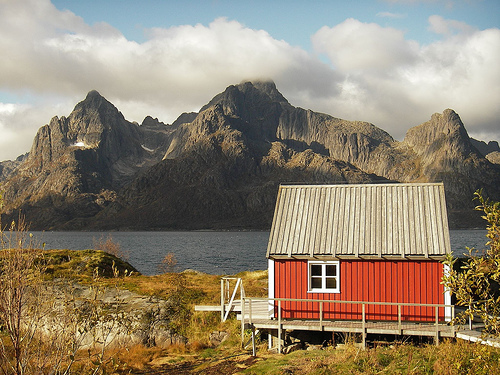 By: leelefever on September 7, 2006 - 6:26pm
We went into deciding that we would laugh and find humor in the situation - no matter what. Being in Beijing, we needed to see the Great Wall and really didn't feel like working out the details for an independent trip to Simitai - a part of the wall 150km from Beijing. So, we just booked a tour from our hotel and hoped for the best.
It started with a nice surprise - a minibus with 8 well-travelled and youngish Italians and some a few rows of spare seats. Italians are so fun and full of life.
Anyway, after sitting in ridiculous Beijing traffic for about 2 hours (where we witnessed car-to-car turtle selling), our Tour Guide "Prudence" announces a stop for 40 minutes at pottery factory - a famous "Factory Tour", the often loathed-but-required element of group travel. Usually a busload of tourists are led through a "factory" where crafts are made by hand – pottery, woodcarvings, rugs, etc. and then presented with a giant gift shop. The tour operator likely gets a kick-back for every person who visits, so the traveler is a pawn in the competition for the tourist dollar. It's basically a stop at a gift shop with a bathroom that wastes time for the disinterested. Our group was clearly disinterested and the seeds of mutiny were sown.
Prudence is a very nice and gentle tour guide and it was hard to conspire against her. We huddled together to plot our resistance - we would not be taking the tour and we would demand to get back on the bus and proceed to the Great Wall. Stephania was our leader and the negotiations began while each of us used the bathroom and returned to the sidewalk by the bus, sure not to be lured into the fold.
Somewhere along the way, it was discovered that an espresso machine was present and the discussions were moved to ensure that Italians could get an espresso fix in the midst of the overthrow. A lesson in espresso-making ensued.
Prudence put up a valiant fight for our time spent in the factory, insisting on 40 minutes, then 30, 20 and finally 10 before capitulating completely and allowing us to board the bus to the Wall. Stephania was our rock and the insurrection was complete before too much time was wasted...and there was much rejoicing.
I encourage all travelers to call bullshit on the factory tour scheme when they travel - you will rarely find it on the itinerary before you buy the ticket, yet it will waste time that could be spent at the actual destination. If the group is small, ask about interest and organize your mutiny - remember that you are paying for the experience. Viva la Résistance!
Oh, and we saw the Wall too...
By: leelefever on August 25, 2006 - 9:20pm
By all accounts, the Yangtze cruise was an amazing experience and one that exceeded our expectations. It also reminded us how much we value our independence as travelers.
We've often witnessed large groups of people being led around popular tourist sites by someone holding a colored flag and possibly a loudspeaker slung across their shoulder. These are usually groups that arrive by bus and travel together as part of a package tour. For the first time on the trip, we became part of one of these groups, and it sometimes made us want to scream.
China is the sort of place that is often best explored with a tour group, as sites are set up to manage groups and not the independent traveler. After all, we heard it was only 20 years ago that each tour group had a "government spy" that would submit a report to the central government about the sights seen and questions asked. I suppose we should feel lucky to have access at all.
At least once each day, we would be led off the boat and onto a bus where a government-employed tour guide for the day would provide information about the sites and answer questions. Upon arriving at a destination, we would disembark the bus and follow the flag to a meeting spot, where more details would follow. Sometimes, you could break away, other times you had to stay with the group, all being herded through the tourist area as if we might get lost or hurt ourselves without the flag being in sight at all times.
After traveling independently for so long we came to resent the flag and all for which it stands. We mocked the flag and joked about how we wish we had a flag in all parts of our lives. We called ourselves The Fellowship of the Flag. The flag became the symbol for all the things that we eschew about dependent travel. Once, upon being told where and when to meet the group Sachi looked at me and said "There is something about being told when and where to be that makes me sick." I know how she felt.
The flag does offer some security I suppose and the flag bearer is often a knowledgeable and friendly person. However, as we discovered at Yellow Mountain, the flag bearer can ruin a day. I had been looking forward to Yellow Mountain for many months as it is the place of classic Chinese mountain scenery, with steep misty and craggy cliffs.
Unfortunately, our flag bearer was a control freak. All we wanted to do was be on our own and return at a specified time to catch the bus – but this guy would not let us. I asked him for information so we could leave the group and he would blatantly ignore me and only say "it is a highlight, I'll take you there". Then as Sachi asked "Can you show it to us on the map?" He just stared at her defiantly in the face and puffed away on his cigarette. You could almost hear him saying to himself "independence in NOT a virtue".
We and a few other Western couples attempted a break-away while waiting for the geezers in the group to ascend the steps but he stopped us in our tracks saying that he needed to "make an important announcement" – more waiting. In the end, we spent about two-thirds of our time waiting around with the flag Nazi and one-third actually exploring the scenery. He made us feel as if we were 5 years old and he was the sage grandfather who held the sacred knowledge of the mountain. This grandfather never uttered a word of wisdom, except where to go to catch the next cablecar.
Somehow we have made it through over 12 countries just fine without a flag leading the way and if we have a choice, the next twelve will be flag-less as well.
By: leelefever on August 16, 2006 - 8:04am
As a child, I remember seeing pictures of a magical place where the earth seemed to have burst right out of it's shell and created giant rounded stone mounds, set amongst rice paddies, rivers and farms. I said then that I was going to see that place one day. Much to my enjoyment, we found this place in Guilin, China.
The mounds are actually called karsts and are made of limstone. 200 million years ago this part of China was under the sea and limestone was thrust upward from the earth's crust and then eroded into the shapes we see today.
The karsts are best viewed from a boat on the Li River and as most things in China, it is done as part of a package tour, complete with flag waving guide. Our guide was the delightfully geeky "Jack". The tour included lunch and costs about US$58 per person.
We learned today that English teachers in China often suggest western names for their students. The person who told us was given the name "Norman" but didn't like it - so he chose "Steven" instead.
Jack led us on a 4 hour trip down the Li River, accompanied by a very long line of similar boats, each holding about 100 sweating people.
The whole trip was narrated by a women with English skills far inferior to Jack's. She told us how the Li River "winds through the grotesque peaks exactly like a blue silk ribbon" and how we should watch out for the peaks that "look exactly like 9 oxen". Most aboard looked around in a confused state, amazed at the scenery nonetheless. And the scenery was amazing. There is surely no other place in the world like the karsts near Guilin - it's the stuff of poetry and paintings. In fact, the area appears on the back of the 20 RMB (chinese currency) note.

By: leelefever on May 22, 2006 - 6:45am
Lately it's been seeming like things are flying by so fast that if you don't stop and document them, they just fly away. With this post, the doucmentation is going to have to be mostly pictures, as it represents a few days. Enjoy...
Kamikochi Japan is a tiny village in the Alps with expensive lodging ($200 per night) and some of the best scenery in Japan. Despite rain, we really enjoyed the natural beauty.
Mt. Yakedake:

The Azusa River:
From Kamikochi, we spent a couple of nights in Matsumoto, where it rained a little more. This caption should read "Damn you rain!!!"
Alas, Matsumoto has a stunning castle:
We took a day trip to a town called Hotaka, where you can rent a bike...
...ride across picturesque rice patties...
To Japan's largest wasabi farm:
To end this session, we went to Himeji Castle, one of Japan's most famous sites, and a UNSECO World Heritage site. We happened to arrive on a beautiful day that also corresponded with the colorful Matsuri Yatai Festival.
These guys were all wearing shoes "tabis" like this:
But we really came for the castle:

And it's original architecture.
And views for miles...see the festival below?
And then we went to Osaka, where we'll be for a while as we explore Kyoto, Nara, etc.
By: leelefever on May 20, 2006 - 12:45am
I never knew much about the mountainous areas of Japan other than the fact they are high enough and get enough snow to host a Winter Olympics, as they did in Nagano in 1998.
Despite being hard to get to from the west coast (Kanazawa) and rain being the dominant condition, the Japan Alps have been a truly worthwhile experience. We've spent the last three days in small city of Takayama and the tiny village of Kamakochi, both in the Japan Alps.
Takayama is famed for its charm, as it has been able to hold onto it's historical past through the preservation of traditional family homes. You can walk across the whole town in 20 minutes and most of the sites are within a 500 meters of one another. Like so many towns, it has it's special selections of foods and Takayama's is Hida Beef and Hodo Miso, which is cooked on a magnolia leaf. We enjoyed the street food as always. This is Sachi with grilled mochi (rice) balls.
Like Tsuwano, Takayama has a too-good-to-be true feeling. I don't know how these places stay so impeccably clean and orderly.
We've been referring to the movie "The Truman Show" where Jim Carrey plays a character that discovers as an adult that his whole life has been staged for an elaborate TV show. Walking around some of these towns feels like we must be walking through a movie set, where a director is whispering directions into the ears of the townspeople via tiny earphones. "OK Ms. Fujimori, when they walk by, stop watering the bonsai tree and smile and wave". But, it's all real- all of it, and that's the charm for which places like Takayama are known.
Alas, we did get tired of the rain and went bowling for an hour. Sachi beat me in points, but I beat her 2 games to 1 and declare final victory- though she's filing an appeal. The alley was exactly like any one in America, except it didn't sell beer. Everyone sells beer in Japan! It's even in vending machines. No beer in the bowling alley? That's just plain un-Japanese!
We stayed in the mostly characterless Hotel Hana, which is close to both the train station and the sights. We paid about $93 for a western style room. Many of the hotels we choose are called "business hotels" and are low on charm but have the amenities we prefer, like an attached bathroom and Internet access.

By: leelefever on May 18, 2006 - 1:04am
I don't think I'm genetically inclined to remember all the names of these Japanese towns. They all have four syllables and seems to all begin or end in yama (which makes sense as "yama" means mountains and we're in the Japanese Alps). No matter though, what I will remember is the beauty of these places.
Unfortunately, Mother Nature has not been kind of late. In the past week we've seen the sun on one day. Other than that, it has been rather dreary with occasional rain. On the other hand, it has been abour 65(f) degrees- which is simply luxurious compared to SE Asia.
We talked about some of these places, but didn't get to provide many pictures, so here is a load of pictures from the last week or so...Oh, and a big thanks to TwinF member (and long-time friend) Kai for pointing us in the right direction.
My favorite small town so far has been Tsuwano, where we stayed in the ryokan. Here's the town from above:
The view above is from a hike we did up the Tsuwano Castle ruins- from about 1500AD.
Here's Sachi on the ruins:
I got to ride in this little bike thing called an Anttcycle. It's pedal powered with a little extra juice from solar power. Very cool, but I need an XL.
Tsuwano has a ton of these types of scenes too. I keep trying to find a picture that captures, to me at least, the essence of traditional Japanese style.
We're on trains a lot and it's fun and quite entertaining. Not once has a train been more than one minute late.
Some of the trains have been around a while.
Sachi's not sad, just tired.
Kanazawa was next. We really liked Kanazawa- it was very kind to tourists with good maps everywhere and a great overall experience- you can tell they are trying to become a tourist destination. The city has the most amazing train station exterior I've seen. OK, maybe there were two days of sun.
Kanazawa's main attraction is Kenrokuen Gardens. It may have been that we don't "get" Japanese gardens. This one is nice and it may have been a bad time of year, but we were a little let down. The Kenrokuen Garden is rated as a top-3 garden in Japan. Still nice, but not what we expected.
Updated: I wanted to say a little more about the Japanese gardens. I'd say that we do "get" most gardens, but the Kenrokuen was different than we expected. It is known as the "Garden of Six Attributes", which are: seclusion, antiquity, spaciousness, human ingenuity, water and scenic views. The one attribute that seems to get in the way for us is human ingenuity. All over Kenrokuen, trees are being propped up by braces- so much so that you can't appreciate the trees for the braces in the way:
The bracing is an ancient practice and is particularly useful in Kanazawa where it snows heavily. However, from my western and amateur perspective, the bracing is obtrusive and takes away too much of the natural beauty of the scenery and trees. But that's just me.
By: leelefever on March 31, 2006 - 4:02am
Tiger Hill is about 12km from Darjeeling and is a mecca for tourists visiting the mountains. You have to get up at 4am to make it there in time for sunrise, over the Mount Kangchenjunga range. As the sun appears, the mountain changes color in what is a pretty darn amazing sight. It is the third highest mountain in the world and Everest is viewable in the distance.
Here are a few sequential panoramas from the event...
This one is of Darjeeling Town, outside of our window at the Dekeling Hotel, which we love for about $25 per night (off season). Notice the mysterious, view obscuring and ever-present haze.
By: sachilefever on March 29, 2006 - 9:37pm
I am feeling better! Finally. It's been too many days - though not unexpected here. On our way up to this mountaintop town of Darjeeling, I had some time to recover a little from the rattling jeep ride (Lee mentioned the strike). The word was out that at 6:00 the road would be opened, so we waited it out below the road block on the side of the road with hundreds of others.
I'm getting used to all the stares and Indian men trying to bump into me all the time (bumpers up - I say). But yesterday one man who looked intent and unfriendly walked by our sitting Jeep a few times after Lee had gotten out to stretch his legs. The man stared the entire time. I had sunglasses on and ignored him. He walked to the front of the jeep obviously looking for the driver, then into a storefront door to find him, all the while making sure I was still there. Then he began talking to the timid teenager in the front seat that spoke almost no English. He was obviously asking about me - the kid kept saying I don't know - I don't know. I made sure my door was locked and then Lee leaned in on his door. "He's asking about me." I said. Lee looked over at him across the Jeep and scowled and shook his head saying NO. The man shook his head back and walked away from the vehicle. Yay Lee! I was in no shape to deal with that situation. If the driver had been around, I'm sure he would have told me to get out of the jeep and at least take a picture with the guy - and he would have tried to receive a pretty rupee from it. Not that I would do it.
I was never in any danger or felt unsafe at any time. It was just the ridiculousness of the situation and my low tolerance of it feeling so ill. We laughed about it for a while afterwards. When you feel healthy you have so much more confidence to be assertive and handle any situation that may arise. I think I might just climb a small mountain today!

new