luangprabang
By: leelefever on June 26, 2006 - 11:04pm
Like so many of the things we do, the journey is so much better than the destination. This was certainly the case when we decided to go river rafting in Laos. We didn't expect real white water and white water was not what we got. What we did experience were some authentic moments with Lao people on the banks of the Nam Ou river.
The day began with the precarious stacking of various river floating paraphernalia on top of an open air truck called a song tao (phonetic spelling) and meeting two of the more unfriendly travelers we've met thus far. Funny thing, their noses seemed to be permanently lifted into the air to such a degree that they found it unnecessary to interact with the likes of us. We could only chuckle in our bewilderment.
It was really more like river floating or river paddling than river rafting, I'd say. The rapids were surely class 1 and we spent much of the time paddling through nearly stagnant yoo-hoo colored water. In fact, on a couple of occasions, our trusty guides Pon and Jon napped (as is apparently customary in SE Asia). All the clothes below are for protection from the sun.
The fun began when we stopped to have lunch at a small 300 person village. As we pulled up on the banks of the river, the kids from the village came down to greet us. For the next hour or so we all played in the river and my camera, or the images it produced, was often the center of attention. They laughed so hard when they saw the picture below.
The guides let them take the boat out in the river and before long they started using it as a diving board.
The guides gave them a little help in the air too.
The girls from the village were a bit more reserved.
We got thankfully separated from the other group and in our time waiting for them, Jon saw his cousin on the river and they invited us to the shore for a fish fry.
We pulled up on the banks as his family and friends proceeded to make a fire, set up a table and serve a freshly caught meal of river fish, stewed vegetables, pumpkin seeds, sticky rice and plenty of "lao-lao" or homemade Lao Whiskey. The whiskey is akin to moonshine, but made from sticky rice. They made us feel right at home.
Though the rafting itself wasn't that exciting, the scenery was amazing and we didn't need to remind ourselves that we're floating down a river somewhere in the middle of Laos – so far from home.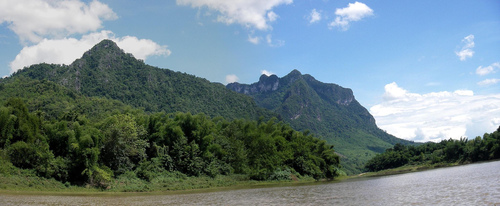 Looking around, it really felt like something from a movie with village fisherman, kids playing on the beach and not a speck of modern civilization in sight. It was surely some of the best Laos can offer.
By: leelefever on June 26, 2006 - 10:50pm
We didn't know what to expect from Laos. We had heard that it is laid back, poor and without a lot of the modern conveniences of home. What we didn't expect was the beauty and ease of Luang Prabang, it's second largest city.
Loas, like it's brothers in SE Asia, is a former French colony. Set at the confluence of the Mekong and Nam Khan rivers, Luang Prabang is a jewel of a town with as much French colonial style as traditional Laotian charm. In fact, the whole place is filled with contrast and contradiction. Perfectly laid brick thoroughfares wind through traditional bamboo, thatch roofed homes. Fine European style restaurants serve patrons beside food stalls of traditional Laotian food. The town is listed as a UNESCO World Heritage site, with good reason.
With a number of wats (temples) it is nearly impossible to move around without seeing young monks. Our guesthouse is directly across the street from a wat and every morning at a drum is beaten rhythmically for about 2 minutes. The first time I heard it I was a bit upset that we chose a place with such an annoyance. After hearing it a couple of times, it has me rapt and I now look forward to hearing it each morning.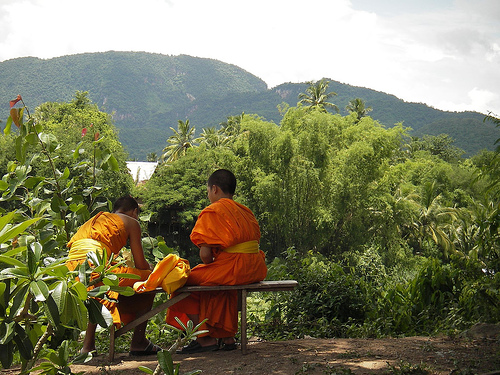 The mighty Mekong
A plumeria on the way up Mount Phousi Hill in the middle of the city...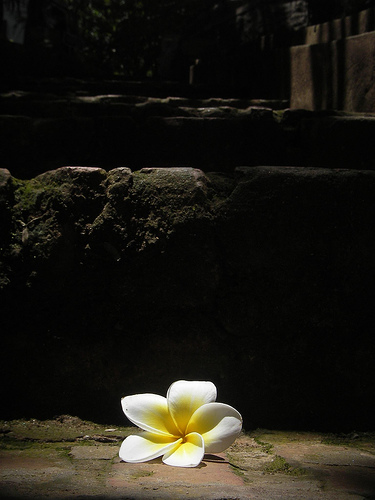 new