australia
By: leelefever on December 28, 2006 - 5:35pm
Foreign-ness was a concept that became really important to me at the beginning of the trip. I wrote this in March of 2006, just after perhaps the most foreign city/town we visited the whole trip: Negombo, Sri Lanka.
---
I had a picture in my mind of what it would be like to see the world. It included people of different races, driving funny three-wheeled cars, wearing draped clothing with unfamiliar music and language in the background. We would wind our way through cities and towns being the only westerners for miles, in my mind.
Having traveled internationally for two months now, we have finally realized this vision. It happened today in Negombo, Sri Lanka, and I think it was the first of many experiences that will give me much satisfaction. Finally, I feel that we are undeniably away from all that is home to us – something that has been too long coming.
Looking back, I loved New Zealand. It was our first stop and it was chocked full of things to see and do…with its white sand beaches, fjords and glaciers. Being the first stop, it was easy to be excited and I was very interested.
Something was missing for me at our next stop – Queensland, Australia and I couldn't put my finger on it at the time. Retrospectively, I mark it up to a few things with a lack of interestingness being the biggest factor. Queensland was beautiful and the Great Barrier Reef is reason enough to go – but overall I was not all that interested. It was too much like home when I wanted something foreign.
Singapore was a step in the right direction, but still so western, so easy, so clean, so nice. Singapore was not incredibly interesting to me.
Thinking again about that picture in my mind our trip, something becomes clearer. I want, more than anything else, to be interested and I find few things more interesting than foreign-ness. The satisfaction I derive from the trip is linked to how unlike home it is to me.
Arriving in Sri Lanka and traveling through India and Southeast Asia over the next couple of months, I have a renewed sense of what the trip will hold for us. Gone are the days of easy access to the things we take for granted. Gone are the days of drinkable tap water and edible food. Gone are the days of predictable traffic and English speaking people. The days of ease and consistent comfort may be few and far between.
We are now in a new realm of travel and our trip, one that will challenge us a little more and make us work for what we want to experience. It may be hard and it may see us get sick and long for home or some place like it. But it will be foreign and it will be interesting and as long as that is true, I will be happy for a while.
By: sachilefever on February 24, 2006 - 1:01am
The game is on folks! We decided for this very rainy evening on a movie at the big mall in central Cairns. We haven't seen very many previews or trailers, and we have been noticing that movies and TV series are released later here than in the US, so off we went to check out the selection. We stood in line and asked the clerk about Munich showings – it was only showing during the day, not in the evenings. Why?
So we discussed it and stood in line a second time. We went for Derailed with Jenifer Aniston and I'm not sure who the main actor was. AUD$29 (US$22). What? A ticket was $14.50. I couldn't believe it, but bought the tickets anyway. Maybe that's Cairns. We must have lost the Monetorium game tonight.
We then had a few hours before the movie so we walked around the food court of the mall. At the last stall, an Indian place was offering a meal and movie deal. Instead of paying $14.50 for a movie, we could get a meal, drink AND a movie ticket for $16. Don't forget I could have leftovers for breakfast too. We were in. Only…we already had tickets…could we get the tickets we purchased earlier refunded? I didn't want to buy the package if we couldn't get a refund!
The third time standing in line we realized we met up with the same clerk again – she laughed and with a confused shrug helped us with the refund. Okay, now we can get the meal deal with the movie passes. The curry was good and we ate before we stood in line for the fourth time to use our new passes with full tummies.
By: leelefever on February 23, 2006 - 7:56pm
Like in New Zealand, I've been fascinated with the tiny differences in language. There are all the British English words, but what I found truly Australian was the addition of a "y" or "ies" to the end of a word.

Here are a few I noticed:

People who drive trucks are truckies

People who sail yachts are yachties

Tasmania is tassie

Breakfast is brekky

Getting sick is feeling sicky

Sunglasses are sunnies

Cigarettes are ciggies

Names are often altered like Pammy Jilly

A drink is a drinky

A stuffed animal is a stuffy

and of course... Australians are Aussies.
By: leelefever on February 23, 2006 - 7:41pm
Our trusty Lonely Planet guidebook warns of "rain that comes and stays for days" in tropical Queensland. I think it came today. From what we understand, a stationary category 1 cyclone called "Kate" is lurking northeast of Australia. Kate is eerily close to Katrina eh? There is no current threat, but she is being blamed for a long day of heavy rain around Cairns. We spent the day inland in a place with lakes, rainforests and waterfalls called Atherton Tablelands. Wet and cloudy, but fun. We also toured a mostly-indoor partly-interesting dairy factory. They gave us a dish full of cheese and olives at the end of the tour, half of which we stuffed in our backpack for future snacking in case we end up holed up in some cyclone shelter. It's the backpacker way.

Really though, we say let the rain come... We're on our way now for one day in Brisbane before heading to Singapore and then to Sri Lanka... we decided today.
By: leelefever on February 21, 2006 - 10:13pm
I had hoped to be posting more underwater shots today, but it ain't gonna happen. We got in the water for more snorkeling on the Great Barrier Reef and I noticed the camera didn't work. I figured the battery was in backward and went on knowing there was a second reef later in the day.

After getting back on the boat, Sachi noticed something ominous about the camera - moisture around the inside of the LCD screen. Water had gotten inside, possibly due to the backward battery preventing a solid seal. When we opened it up, the SD card and battery were dripping. This sucks. I suppose there is hope after a complete dry out, but I'm not confident. For now, get used to camera phone pics. :-(
By: leelefever on February 20, 2006 - 12:17am
The Hardy Reef at the Great Barrier Reef is a platform reef, which means that it has reached its full height and is now expanding outward. This means that when you dive or snorkel around it, there is a wall that goes from the surface to the sea floor, which is about 20-30 meters down. Swimming over it felt like flying out over a cliff.
I was in awe. I had never seen such a reef and it convinced me to get SCUBA certified soon, but it won't happen here- not enough time.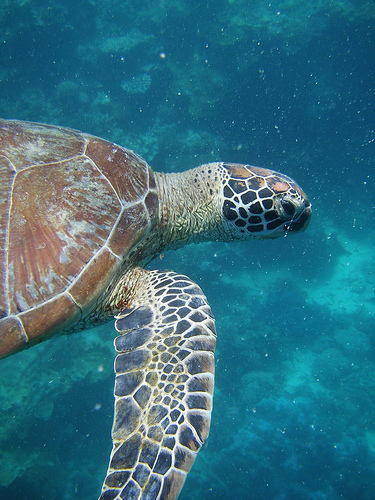 The water, the fish, the coral, all amazing...but what I enjoyed the most was the giant clams, which seems like a rather banal thing to be excited about.
First it was their sheer scale. Despite what you may have seen in a OO7 movie, they don't eat people, but they do react and close up if you get near them. The rings that you see are like tree rings- one per year.
Second was the color. They were by far the most brilliantly colored animals on the reef. Some of them glowed in the sunlight and designers couldn't put colors together more beautifully.
Third was the variety. They say that clams are like fingerprints, there are no 2 that are exactly alike and I never two that were even close.
By: leelefever on February 19, 2006 - 3:41am
I've had it. We will go broke paying for rooms with air conditioning from now on. Despite what the travel agent told us, our room for the next 2 nights is more like a hot box, with bunk beds and a fan that apparently used to oscillate, but now hangs down with the pull of gravity, as if its neck has been snapped. Hot air being blown around is still hot air anyway.

The heat of the day is fine with me, I can deal with sweat and stickiness and sunscreen and smell, but at the end of a long hot day, I need a shower and I need relief from the swelter. No more do I want to feel the sweat trickle down my neck and onto my pillow as I try to sleep, no more do I want to wake up with clothes dirtier than when I went to sleep. It's over.

AC is now the magic word when looking for lodging at the next stop. I already have a plan for taking vengance on the "Where? What? How? Whitsundays" travel brokers in Airlie Beach, Queensland, Australia for promising AC when none existed. In case you missed that, it was the "Where? What? How? Whitsundays" Travel Brokers in Airlie Beach that misled us. The next broker will swear on their first born that AC does indeed exist when planning a multi-day trip.

Of course, from here, on one of the Whitsunday Islands (at Long Island Resort), we are going north, towards the equator, towards Asia, towards more humidity and more need for AC. Luckily AC will be cheaper there.

I know some of you will call me lame or weak or tell me to get over it. I hear ya... I admit to being spoiled, but dammit I'm not a 21 year old backpacker anymore. At 32, I have needs and the means to support those needs and from now on, the need to sleep sweat-free will be served. Mark my word.
By: leelefever on February 19, 2006 - 12:37am
We thought it was a coincidence, we thought it might be different in other countries. But no, she is universally attractive to all things that bite and sting. Today it even happened underwater via jellyfish. Twice even, when no one else got stung. I guess they don't make bug spray or lotion (as pictured above) for that.
By: leelefever on February 15, 2006 - 8:35pm
I just wanted to share some of the strange things we've seen in the form of pictures.
On Great Keppel Island, there were a bunch of "Flying Fox bats that hung around as if they were protecting Draculas house. They were huge and fun to watch and completely harmless... but the locals hate them for eating their fruit.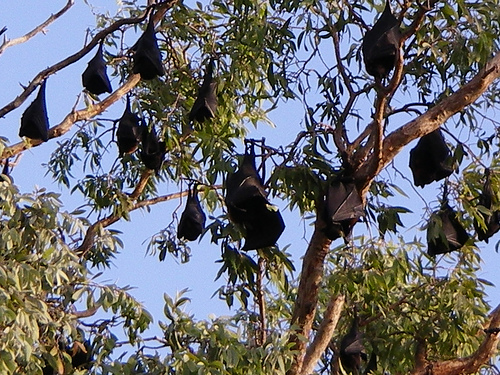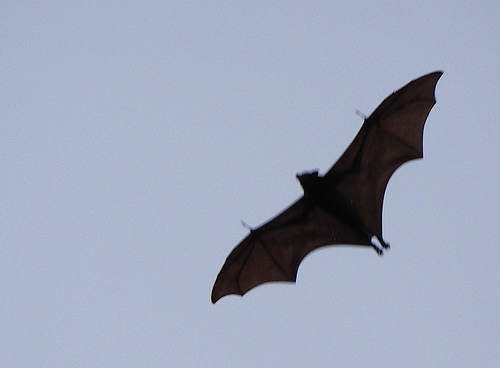 I almost got eaten by a shark...
If I named bugs, I would call this "Mask of the Mexican Wrestler"
By: sachilefever on February 15, 2006 - 8:24pm
A few nights of staying in the cheapest backpacker places possible (I think we're well versed in distinguishing drag racing engine sounds at 3AM) allowed us to splurge a little at the Mercure resort on Great Keppel Island (USD$126) – a room without A/C.
Snorkeling was our morning activity and I was excited - Warm clear waters and a sunny day. The girl at the water sports hut gave us fins and snorkel gear and said "you guys won't be needing stinger suits – we've had no reports of stingers (jellyfish) in 5 weeks and there's only 14 days left in the season. I'll show you the secret - how to get to the really cool coral." Despite another vacationer advising us "just in case", we decided on no stinger suits.
So we headed on a 45 minute dry and sandy trek across to Long Beach. It was in the mid-90's with a blazing sun, very humid, and the last section was slow in super heated sand. We saw a broken sandal left in the path and wondered how that guy survived without severe burns. Eventually it opened up to an almost deserted beach from one of those brochures…
In preparing to snorkel, we took a few strokes in the cooling water and I saw something that was familiar from Hawaii – A Man O' War jellyfish. Aussies call them Blue Bottles. This sight would make our steaming 45 minute trek meaningless. There we were, hot and sweaty with beautiful water in front of us, all geared up and no where to go- without stinger suits.
So back we went for another 45 minutes trek through the hot sand dragging our snorkel gear and water. Now it was close to high noon. Ugh!
As it turned out, all the snorkeling we wanted wasn't 45 minutes away but only a 4 minute swim from our back door. This time, we wore the very flattering suits and saw rainbows of coral, fish and even a few stingrays scurrying along the bottom. Not one transparent jellyfish in the lot.

new