Do You Enjoy Travel Stories?
This website chronicles our trip around the world in 2006. It has lots of photos, videos and stories. We invite you to come in, relax and enjoy the scenery.
~Lee and Sachi LeFever
To see what we're up to now, check LeeLeFever.com or CommonCraft.com
Our Recent Dispatches Are Below.
A Dispatch is a report from our trip. Browse via keywords or global map.
By: leelefever on December 1, 2006 - 5:53am
I've come back to an online world filled with all sorts of fun little social tools that can keep us connected in stange and interesting ways. The one we're experimenting with using on the roadtrip is called Twitter.
Twitter enables me to post something that is a bit like a blog post, but a small and posted more frequently. I can use our mobile phone to send a text message (SMS) to Twitter that then posts it online and on our blog - notice the new format of the "Currently" block on the home page.
Since it is so easy to post something new, I plan to be sending multiple updates a day to Twitter. Most will be goofy and mostly useless, but homefully fun. This little badge will also keep up with the action:
By: leelefever on December 1, 2006 - 5:39am
After spending some quality time with the family and eating our weight in southern home cookin', we are about to depart for the final leg of our journey. This afternoon we pick up our rental car and head west toward Seattle (actually only slightly west to Atlanta for now).
Home here in North Carolina is certainly an authentic slice of Americana, but being where I'm from, it's just home. However, on the road trip over the next 2 weeks, we will be on the lookout for those things that seem to be uniquely American for us. For example, one of the most striking things has been the sheer size of everything. People, voices, homes, yards, vehicles, portions, TVs, everything. It all seems so, um, big.
Thanks too for the folks who have welcomed us back stateside with warm emails. It is indeed nice to be back in the US and speaking complete sentences again. I had a dream last night about our dog Amos who will be on the top of our minds all the way across and possibly causing a mad dash to the finish line at the very end.
Our route very basic will go something like: Atlanta --> Dallas --> Grand Canyon --> Las Vegas --> LA -->San Francisco-->Home.
By: leelefever on November 28, 2006 - 8:19am
Man oh man, did the 50th wedding anniversary surprise work perfectly. After planning on it for over a year with my brothers(even before we left) it was so wonderful to see my parents' reaction - particularly my Mom's.
As I described before, we told my parents that we would be abroad until Christmas and would miss their anniversary party. In order to understand how big of a surprise it was when we were revealed, you just have to watch the video. I can't watch it without getting a little misty.
By: leelefever on November 27, 2006 - 7:12am
I'm sorry that we have had to deceive you for so long, but it was required so that we could give my Mom what she described as "one of the biggest thrills of her life" on her 50th wedding anniversary.

You see, she is a devoted reader of TwinF and in order to fool her, we had to fool everyone into believing that we would be abroad until Christmas. In fact, we spent Thanksgiving in New York and took a train to North Carolina last Friday.
For instance, the little box on the home page says "351 days en route and in San Sebastian, Spain." A complete untruth.
In Sachi's recent post...
Tomorrow we are catching a train to Zaragoza and Pamplona for just a night or two each on our way to San Sebastian on Spain's northern coast. A BOLD FACED LIE.

Like I said, we did it to pull off a big surprise. This weekend my parent's celebrated their 50th wedding anniversary and they believed we would not make it home for the event. Of course, we would not miss it and planned to attend-by-surprise before we left. So we planned all this over a year ago - all so that we could see this reaction...
(all photos by our friend Greg Parks)
I hope you'll forgive us. We'll have a video of the trip home and the surprise coming soon. From here, we drive across the country to Seattle over next next 2-3 weeks (the truth, I swear!)
By: leelefever on November 25, 2006 - 8:41am
Antoni Gaudi is my home boy. In all of our travels, in all the buildings we've seen, nothing speaks to me like his buildings. I'm not alone of course, and I realize that it is almost pedestrian to proclaim a love for his work, but man is it fascinating.
In a lot of ways, Gaudi has become THE symbol of Barcelona. His buildings and structures are the main feature of almost all of Barcelona's tourist souvenirs - and well deserved in my opinion.
What I value so much about his work is sheer originality. His work has a unique flair and nature-inspired look that is all his own. Even a century after most of his work was designed, it seems timeless, as if it still looks like some vision of a more beautiful future. It leaves me quite simply, inspired. Here are some photos from what we called "Gaudi Day" - the day we dedicated to exploring his creations in Barcelona. Hint: it requires more than a day.
His crowning acheivement (though left unfinished) is the La Sagrada Familia, a church... This photo provides further proof thati it is impossible to take a picture in a city wihtout including at leasr one construction crane.
This is the ineteriour, not finished by a long shot. Construction was started in 1882 and we heard a possible date for completion is 2025.
Park Guell is like walking around in a hallucination. It was supposed to be a neighborhood is 60 houses designed by Gaudi, but only two were completed - his time was focused on the Sagrada Familia (above).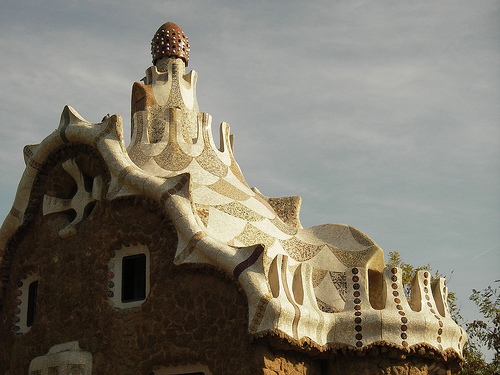 He also desinged a number of residences around the city. This is Casa Batllo...
By: leelefever on November 22, 2006 - 2:53am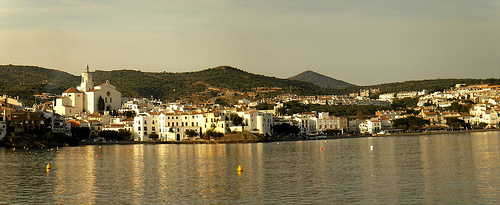 In terms of seaside villages, it really doesn't get much more charming than Cadaques, which is near the Spanish border with France. It's a whitewashed town that has built a reputation for art and bohemian culture. Indeed, it is one of Spain's locations that attracts rock stars, artists and anyone seeking to get away from it all. I'll let the photos say a little more...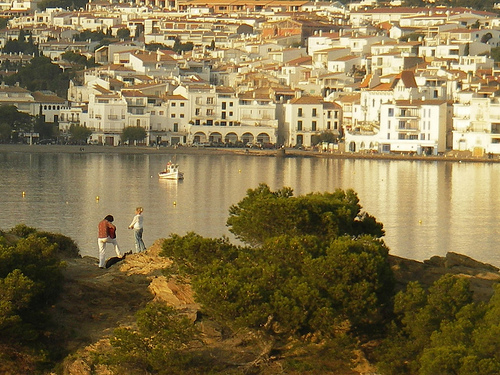 One of my all-time favorite passtimes... skipping rocks.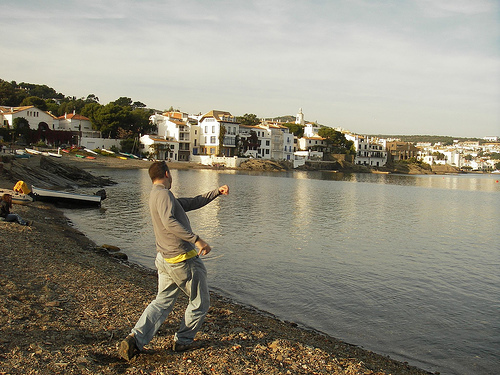 By: sachilefever on November 21, 2006 - 2:54pm
We highly recommend renting an apartment in Barcelona if you are here for more than just a few days. It feels so nice to stroll back to our flat (right in the heart of the Gothic quarter) with a few bags of cheese, veggies, fresh seafood and pasta from the local market after climbing a few hills in the area. Lee will have more pictures coming of course - Gaudi buildings are not to be missed - but for now we are saying a heartfelt goodbye to our washer/dryer, kitchen, separate bedroom, and terrace looking over the city. A perfect place for a short break from moving every three days.
Tomorrow we are catching a train to Zaragoza and Pamplona for just a night or two each on our way to San Sebastian on Spain's northern coast. The guidebook reads, San Sebatian is..."the undisputed queen of Basque resorts". And it is supposed to have the best restaurants in the country. We can't wait.
By: leelefever on November 21, 2006 - 3:01am
We are both continually amazed at how having this web site has connected us with people we would have otherwise never known. Just a couple of nights ago, we had dinner with the sister of a friend's former roommate, Maria. I was asked her in an email how in the world she knew about us. Here is the connection…
Maria was a housemate with my long time friend JJ in Seattle (1999-2002). We met a few times, but only at parties etc. A couple of years ago, JJ moved to S. Carolina and Maria lost touch, so she recently Googled him, hoping to make contact. She then found a blog post from me about his wedding in 2003. While reading about his wedding, she noticed a reminder that Sachi and I were traveling around the world and started reading TwinF. Once she saw us reach Barcelona, she contacted her sister Camila, who got a group of her friends from business school to take us to their favorite local tapas bar in Barcelona's Gracia neighborhood. Though we only barely know Maria, the tiny connection was enough to help us make new friends in a foreign country. Thanks Maria and Camila!
If this wasn't enough, Maria also reminded us that we help her brother too…
My brother Fernando and his wife printed out all your Thailand dispatches and read them on the plane to Thailand in early September.
Crazy. We both think it is pretty amazing that suddenly, because of blogs and the Internet that these sorts of connections are possible. What a world in which we live. What a world.
By: leelefever on November 19, 2006 - 2:34am
This morning we experienced one of the strangest, most perplexing things ever. To give you an idea, at this morning, from our 6th story bathroom window in Barcelona, I watched a guy walk across the gap between the roofs of two buildings on a wooden garden umbrella. I'm not kidding.
Let me start from the beginning. We awoke to the sound that was something like the Tin Man from the Wizard of Oz climbing up a fire escape – all bangs and crashes. It sounded like once he got up onto the roof (we're on the top floor), he then dropped a bag of kindling sized wood onto the street below, 50 feet down. I rose to investigate these weird sounds.
Looking out of our bathroom window, I looked up to the roof to see the heels of a pair of feet shuffling across the very edge of the roof above me with about an inch of each foot hanging off. I thought it might be a suicidal person. Then, after a scuffle, an umbrella appeared right above our bedroom window. The garden-sized umbrella stretched from the roof of our building to building next door over a small alley about 70 feet below.
After a bit, the umbrella started to bow and tremble, obviously under significant weight. I went to the bathroom and looked out the window again and caught eyes with the perpetrator for an instant. He was taking practice runs on the umbrella. A bit scared, I retreated to the bedroom window view, where I watched this guy walk very carefully across the umbrella to the building next door; a feat of bravery and amazing stupidity to be sure. You can see his foot and leg in this photo…
Now in plain view, he proceeded about his business with a cigarette in his mouth the entire time. This is "Roof Guy".
On the other building, he found an aluminum step ladder and proceeded to carry it up and over the terrace of the building to the other side, out of my view. He seemed to care little that he was making a HUGE scene with the ladder banging about like a wind chime. We were both concerned that he may be trying to get into buildings and considered packing our valuables and leaving for a while. We didn't.
He returned to the visible side of the building with the ladder a bit later and tried to place it in between the two buildings, perhaps to come back across to our building. This time, as he swung the ladder out over the alley it unfolded into the A-frame position, perpendicular to the wall, much to his disway. For a while he was stuck – the ladder was caught on the edge of the building and he had no where to go as the ladder trapped him against the wall over the alley. He finally coerced and kicked at the ladder until it cooperated and I snapped this picture as he fell back over the wall with the ladder in hand. If I wasn't a bit more freaked out I would have laughed out loud (and taken more pictures). It was amazingly poetic.
He was an English guy who seemed to be talking to someone the whole time. I heard "of course they'll call the cops", "no cops yet" and something about "catalan drug lords". When a baby started crying, he said "oh screw you!", prompting Sachi to say "… "a model citizen".
He didn't seem to be drunk or intent on breaking into homes. He just seemed intent on using whatever he could find to move around the roofs of the area. He had no regard for the height of his adventures – a misstep and he would have met his end. What he lacked in grace he made up for in confidence.
About 2 hours later the police arrived and I peered out of the bathroom window again to see them questioning him on the ground below, much to the enjoyment of everyone on the street.
He had emptied his pockets and was pleading that he did nothing wrong. I think he may have moved the umbrella from our roof-top terrace (which can surely be found on the neighbor's roof now) and generally caused a scene, but I don't think he was out to hurt anyone or take any property for himself. He was just a weirdo climbing around on the roofs of Barcelona on a Sunday morning and I really, really wish I knew why.

By: leelefever on November 18, 2006 - 3:40pm

You've likely seen the people who paint themselves silver and pose on a box to earn spare change. The folks in Barcelona takes this whole idea to whole new level. The creative, the absurd, the animated, the banal, it's all there and it's all just so weird.

Correction: In the video, I mention an article by a UK paper called the Guardian. I meant to refer to this article in the Independent - not the Guardian.

new